A Humbled Sean McVay Puts Remaining Teams on the LA Rams' Schedule on Notice: 'We're Going to Come Back Freakin' Swinging'
Head coach Sean McVay and his Los Angeles Rams are at a turning point.
Once thought of as a hands-down Super Bowl contender, the LA Rams have lost two games in a row. Now with a 7-3 record, LA finds itself in second place in the NFC West and looking ahead at the Packers, Cardinals, Cowboys, and Buccaneers in the race for the top of the NFC.
It's not just the losses that have hurt the Rams, but rather, how they've lost.
LA has suffered two resounding defeats in a row, the latest being a 31-10 drubbing at the hands of a San Francisco 49ers team that just hasn't been all that good this season. The Niners looked great against the Rams, though.
Yes, the Rams are certainly in the middle of a storm, but McVay is vowing that his team will come out on the other side even stronger.
Sean McVay says the Los Angeles Rams have been humbled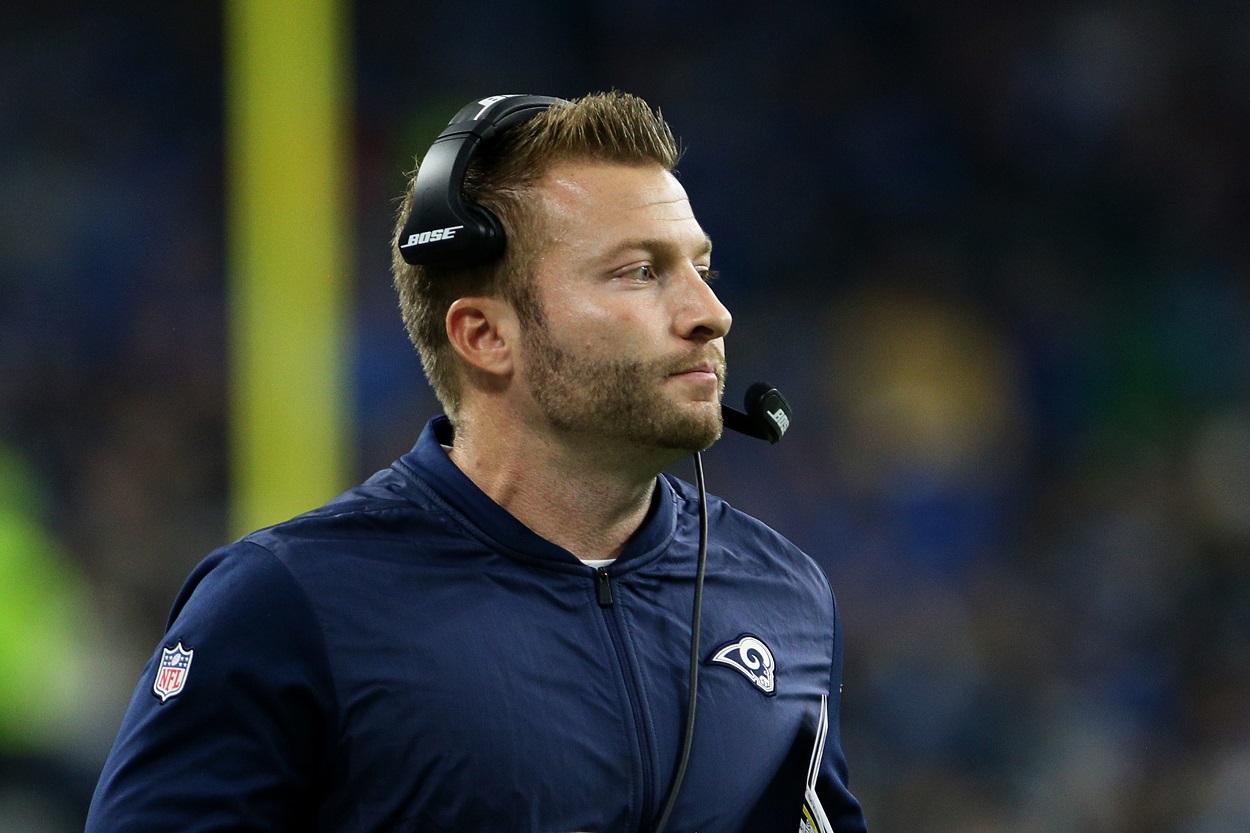 Not only did the Rams lose to the 49ers, but they frankly didn't look all that good. Usually thought of as a potent offense, they accumulated just 278 total yards of offense. They went 3-of-10 on third down and 0-2 on fourth down. LA lost the time of possession battle, 39:03 to 20:57
"It was a humbling night for us as a team," McVay said, via ESPN. "And a great opportunity for us to be able to take a deep breath, step away, look at the things we need to correct."
Defensively, the Rams allowed the 49ers to rush for 156 yards as a team, including 91 yards on 27 carries from rookie Elijah Mitchell. Jimmy Garoppolo was an efficient 15-of-19 passing for 182 yards and two scores.
Matthew Stafford threw two more interceptions or the Rams.
"We'll look inwardly, we're going to figure this thing out," McVay said. "And we're going to come back freaking swinging. I promise you that these last seven games of the regular season."
Matthew Stafford has been struggling for the Rams
The Rams executed a blockbuster trade to get Stafford from the Detroit Lions. They sent away two first-round picks and a third-round pick for the veteran quarterback, hoping that much of the speculation about the Detroit quarterback was true: That he was a great player stuck with a horrible franchise.
Much of that hope has been proven true during the 2021 season because Stafford has at times looked like an MVP candidate. Many of his flaws in Detroit have still haunted him in LA, though.
Stafford is generally an accurate quarterback, but he has struggled with interceptions during his career. He threw 144 interceptions in 12 seasons with the Lions. Yes, some of that was because he was playing with inferior talent, but many of those picks resulted from either a bad throw, a bad read, or both.
Interceptions have plagued Stafford during this two-game losing streak for LA. He threw two straight interceptions in the Ram's 28-16 loss to the Tennessee Titans, including one that was returned for a touchdown. Stafford experienced Deja Vu against the Niners, again throwing two interceptions to start the game. The second was taken back to the house by San Francisco safety Jimmie Ward. In fact, Ward secured both picks against Stafford.
"Definitely want to get away for a little bit mentally and just try to come back recharged and ready to go," Stafford said, looking ahead to the Rams' by week after two terrible games.
He's gone just 57-of-89 passing the past two games, throwing for two touchdowns compared to four interceptions.
The Rams have their work cut out for them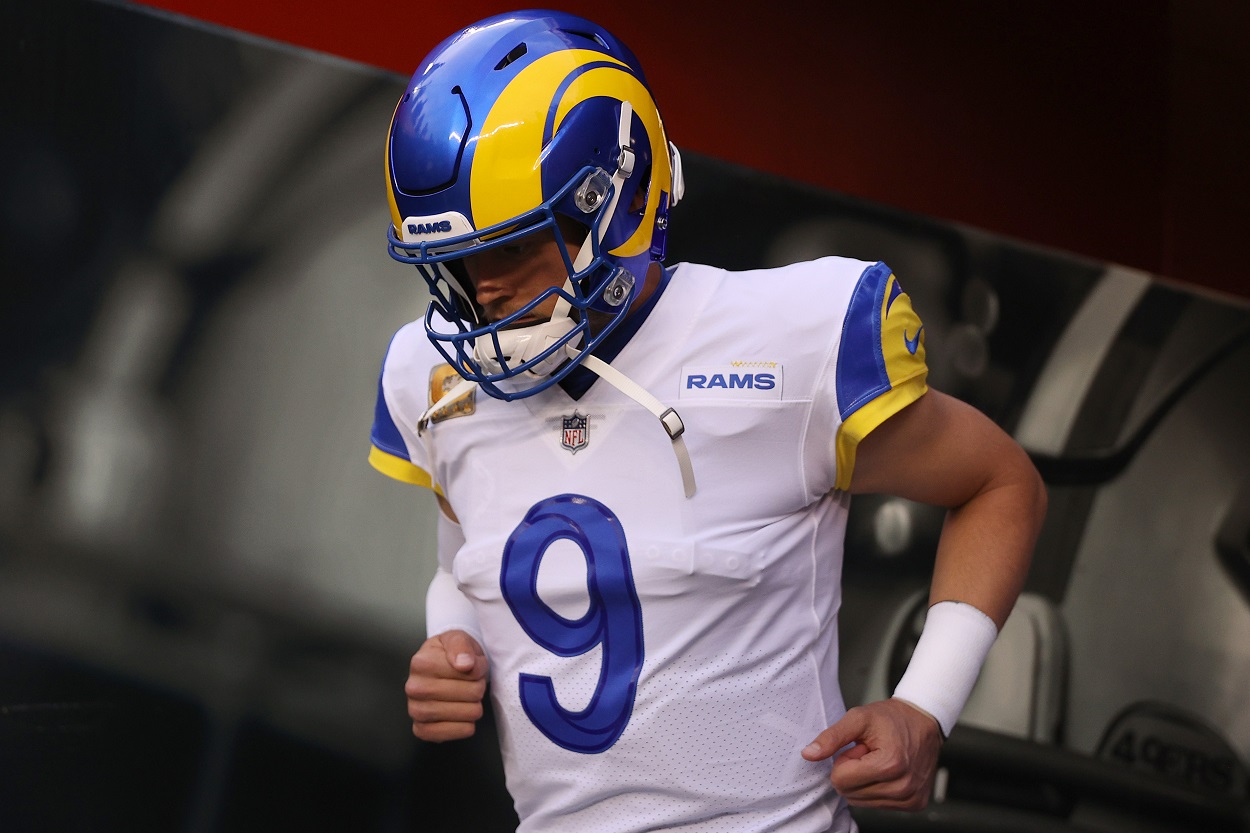 Though McVay promised that his team will come out of the bye swinging, that's going to be easier said than done for LA.
That's not to say the Rams won't make the playoffs because, at this point, they're still firmly in contention. It's just a bit shocking to see a team that seemed like the clear Super Bowl favorite coming out of the NFC struggling as it has.
The issue for the Rams is that there are still a few very tough opponents on the schedule.
After the bye, LA has to travel to Green Bay to take on Aaron Rodgers and the 8-2 Green Bay Packers. Considering Stafford's recent struggles, the Packers project to be a formidable opponent, especially at Lambeau Field. Green Bay boasts a Top 5 defense, and the Packers are surprisingly good at picking off opposing quarterbacks with 11 interceptions as a team so far.
The Jacksonville Jaguars are next on the schedule, sandwiched between the Packers and Arizona Cardinals, and that has all the makings of a trap game. Jacksonville is only 2-7, but Urban Meyer has the Jaguars playing scrappy football. They're a tough underdog.
All told, the Rams still have to play at the Packers, Cardinals, Vikings, and Ravens to close out 2021. That's four games on the road against opponents that have a combined 26-12 record at the time of this writing, so nothing looks like it will come easy for the Rams as the weather starts to turn.
Still, McVay doesn't seem to think these past two weeks have been an indication of the type of team he has.
"I choose to believe these last couple of weeks are not who we are," McVay said. "I refuse to believe that, even though you're only as good as your last game."
If you're only as good as your last game, the Rams have to be worried as they look ahead at the rest of the schedule.
Stats courtesy of ESPN and Pro Football Reference.