Ian Rapoport Reports That Bringing Aaron Rodgers Back Is the Green Bay Packers' Top Offseason Priority, and It Should Be
Unless the Green Bay Packers are ready to restart and rebuild completely, their best option for sustained success after the 2021 season is to do everything they can to keep Aaron Rodgers.
According to reporting, that's the number one priority for the Packers this offseason, and it better be.
It's the only option that makes sense.
The Green Bay Packers No. 1 offseason priority is Aaron Rodgers
As the Packers were preparing to take on the Minnesota Vikings at Lambeau Field on Sunday Night Football, NFL reporter Ian Rapoport dropped a Sunday afternoon tidbit regarding Rodgers and his potential future with the Packers.
"My understand is Aaron Rodgers came into this season planning for this to be like the 'Last Dance.' Win the Super Bowl and then go somewhere else. Of course, before the season, the Packers verbally agreed to take a look at some potential trade options for him, and if everyone was OK with it, send him somewhere that they are good with," Rapoport recapped. "However. Big, however. Since then, things have improved. He's had regular conversations with the front office. They've listened to him in several different ways. Green Bay wants him back. This is their No. 1 priority in the offseason. It's just a question [of] have things improved enough for Rodgers to want to stay?"
Green Bay wants Rodgers back, because of course, the Packers do.
The problem is we have no real idea what Rodgers is really thinking. He recently told reporters that retirement after this season is not out of the picture, but it sure seems like he's taking a page out of his old mentor's book and just using retirement to keep his name in the headlines. Brett Favre was a constant media focus for several offseasons near the end of his career with the Packers. Perhaps Rodgers is looking for the same type of media circus.
Either way, don't expect him to get any more explicit than he was earlier in the week. He's known for being vague and for saying a lot while saying very little at the same time.
Rodgers is not going to come out and definitively say anything anytime soon, but clearly, the Packers have made their desire clear.
Rodgers is a major 'domino' for the Packers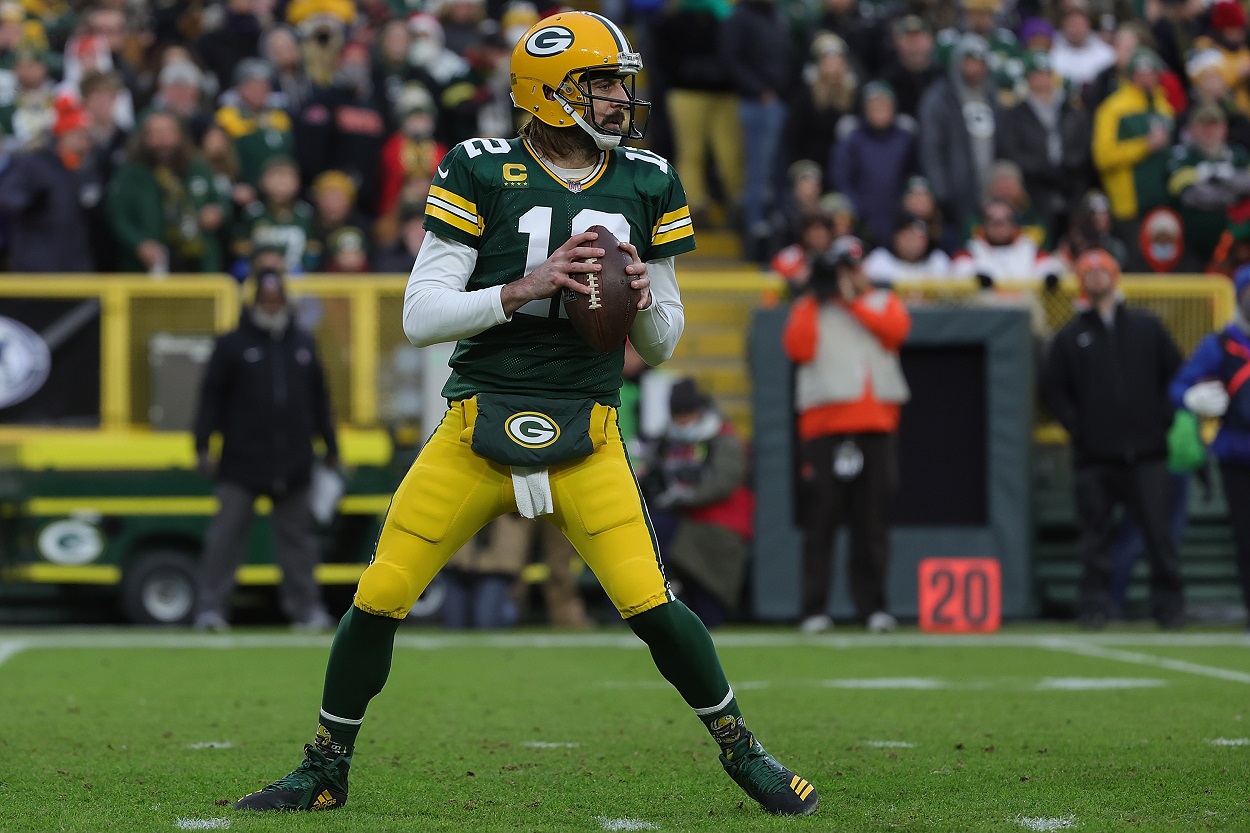 Rodgers' long-term happiness is really key for the Packers because, hypothetically, his state of mind will also impact the satisfaction of a few other key players on the team.
Davante Adams has become the best wide receiver in football, and a large part of that is because of the unreal connection he and Rodgers have developed on the field. They have great chemistry, and breaking that up could be detrimental not just to the Packers' offense but to any long-term future the Packers want to have with Adams as well.
Adams is set to be a free agent once this league year ends, and we saw earlier this year that his contract talks with the Packers appear to be closely tied to Rodgers' future. When Rodgers was thinking about potentially retiring or asking for a trade this past offseason, the Packers and Adams simultaneously broke off contract extension talks. As soon as Rodgers came back to training camp, though, talks resumed. Nothing was settled heading into the season, but the tone was much better with Rodgers around.
It makes sense too. One would think that Adams would want to tie his long-term fortunes up with the quarterback who has helped him become a household name. They're good for each other.
New reporting suggests that either way, Adams is likely headed for the franchise tag, but the last thing the Packers need is for Rodgers to decide to retire or demand a trade…and then all of a sudden, they have an unhappy star receiver on their hands who be equally as disappointed not to be locked into a long-term contract.
There are other key players coming up for new contracts soon as well. That's a list that includes Jaire Alexander and Elgton Jenkins, both of whom will be free agents in 2023. As long as Rodgers is playing at this MVP level, the Packers will be Super Bowl contenders, not just this season but for the next few seasons as well. If he decides to leave or ask for a trade, though, the Packers' long-term future is much more cloudy. They'd look a lot more like a rebuilding team than a Super Bowl contender. One has to imagine the Packers being in rebuilding mode would make testing the free agency market a little easier to do for players liken Jenkins and Alexander if things go south in Green Bay in a hurry. Conversely, Rodgers being in the picture long-term makes it a lot easier for those players to choose to stick around and maybe even take a team-friendly deal to keep the band together.
Speaking of deals, of course, there has to be money for all these players, and that's something the Packers definitely will have to figure out. Still, you can bet any long-term extensions for what Rodgers would likely include a restructuring of his contract in order to clear up money.
The Packers need to swallow their pride and commit to Rodgers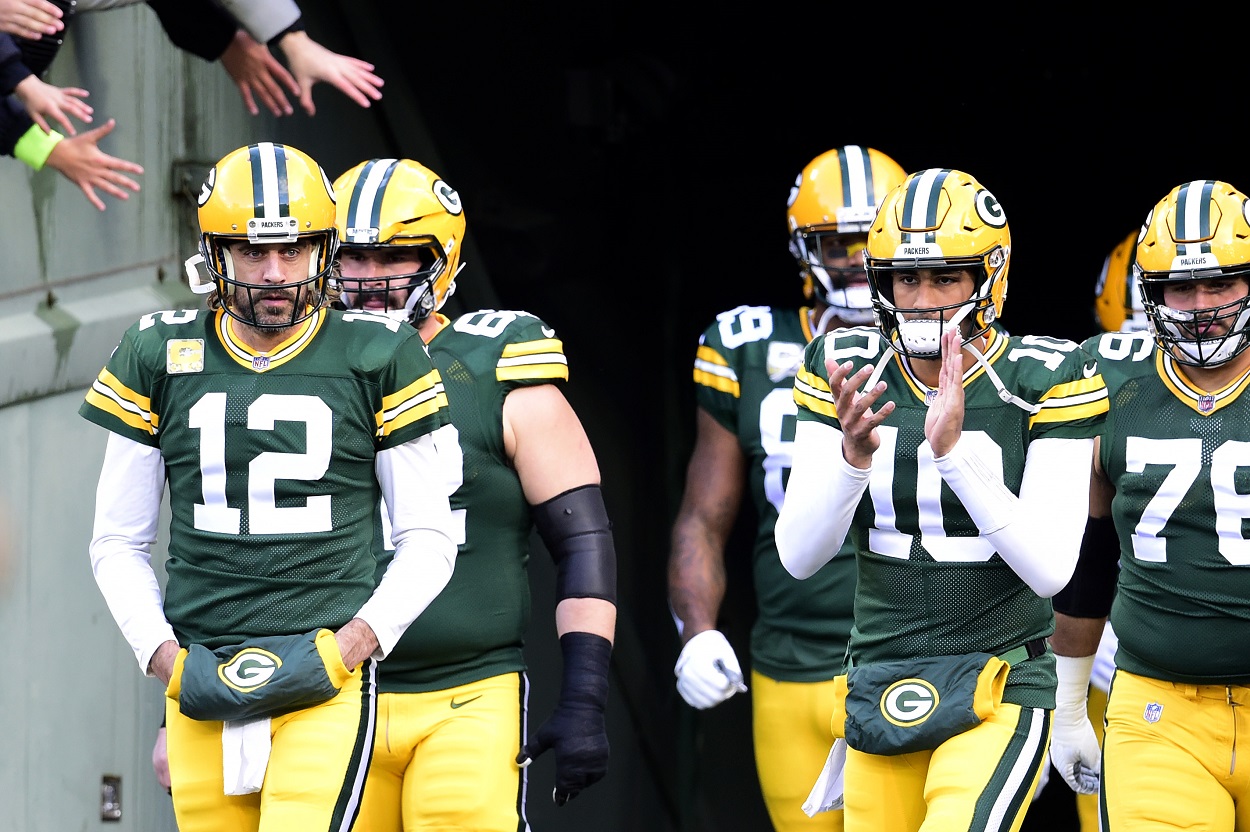 When the Packers traded up to draft Jordan Love with the No. 26 pick in the 2020 NFL draft, the front office was signaling that they were ready to plan to transition away from Rodgers.
Rodgers knew it, and that played a massive role in the drama of this past off-season.
Rodgers' issue has never been with Love as a person or a player. It was more so about what Love represented, and that was Green Bay's willingness to look forward to life without him. Keep in mind, Green Bay drafted Love and then Rodgers went out and won the NFL's MVP award. He's a favorite to do it again this season.
The Packers gambled that Rodgers was on the decline, and he proved them wrong. Good on them for being bold enough to have a plan but also good on him for stepping up and proving that he's still got a lot left in the tank.
Now Green Bay has a choice to make. The Packers can either admit they were wrong for setting the plan in motion too early and give Rodgers a long-term deal. The other option is that they can continue to groom Love and force Rodgers to either strongly consider retirement or demand a trade. Rapoport's reporting suggests that the Packers know that their best option moving forward is to ride with Rodgers, which means that they're going to have to suck up their pride a little bit and find a way to make things work.
The Packers know where their bread is buttered. The Packers want to ride with Rodgers into that beautiful mystery for better or worse.
Barring injury, it will likely be for better.
Stats courtesy of ESPN and Pro Football Reference.