Two Champs and a 'Hack:' Iconic Hendrick Motorsports Owner Lists Current Stable as Best Team of Drivers, Over Legends Like Jeff Gordon and Terry Labonte
Hendrick Motorsports Owner Rick Hendrick has employed some of the top NASCAR premier Cup drivers in the history of professional stock car racing over the past five decades.
At the top of the list are Hall of Famers Jeff Gordon, Mark Martin, Terry Labonte, Darrell Waltrip, and Benny Parsons, as well as future Hall of Famer Jimmie Johnson, who retired with seven Cup titles.
If you ask Hendrick to list his best season roster, some fans may be surprised with his answer.
Hendrick did not wax poetic about the good ol' days of the 1990s and 2000s. The career car salesman went with his current stable, the Cup Series' two most recent champions, a "Hack," and "Willy B," who sounds more like a Delta Blues performer than a race car driver.
Hendrick Motorsports teammates continue to pace the NASCAR Cup Series
Since its founding in 1984, Hendrick Motorsports has evolved into one the most successful NASCAR Cup Series organizations in professional stock car racing history. Including NASCAR's three national series, Hendrick drivers have compiled 307 wins and 16 driver's championships.
During the Championship 4 race at Phoenix Raceway on Nov. 7, Hendrick fielded Kyle Larson and Chase Elliott in the desert finale. Buoyed by quick pit work during the final stop at the 1-mile raceway, Larson captured his first Cup title. Defending champion Elliott placed fifth.
Teammates gunning for a title is an old problem for Hendrick.
Several times, at least two ends of Hendrick's garage have battled each other for a championship.
Terry Labonte rallies to top teammate Jeff Gordon during 1996 title chase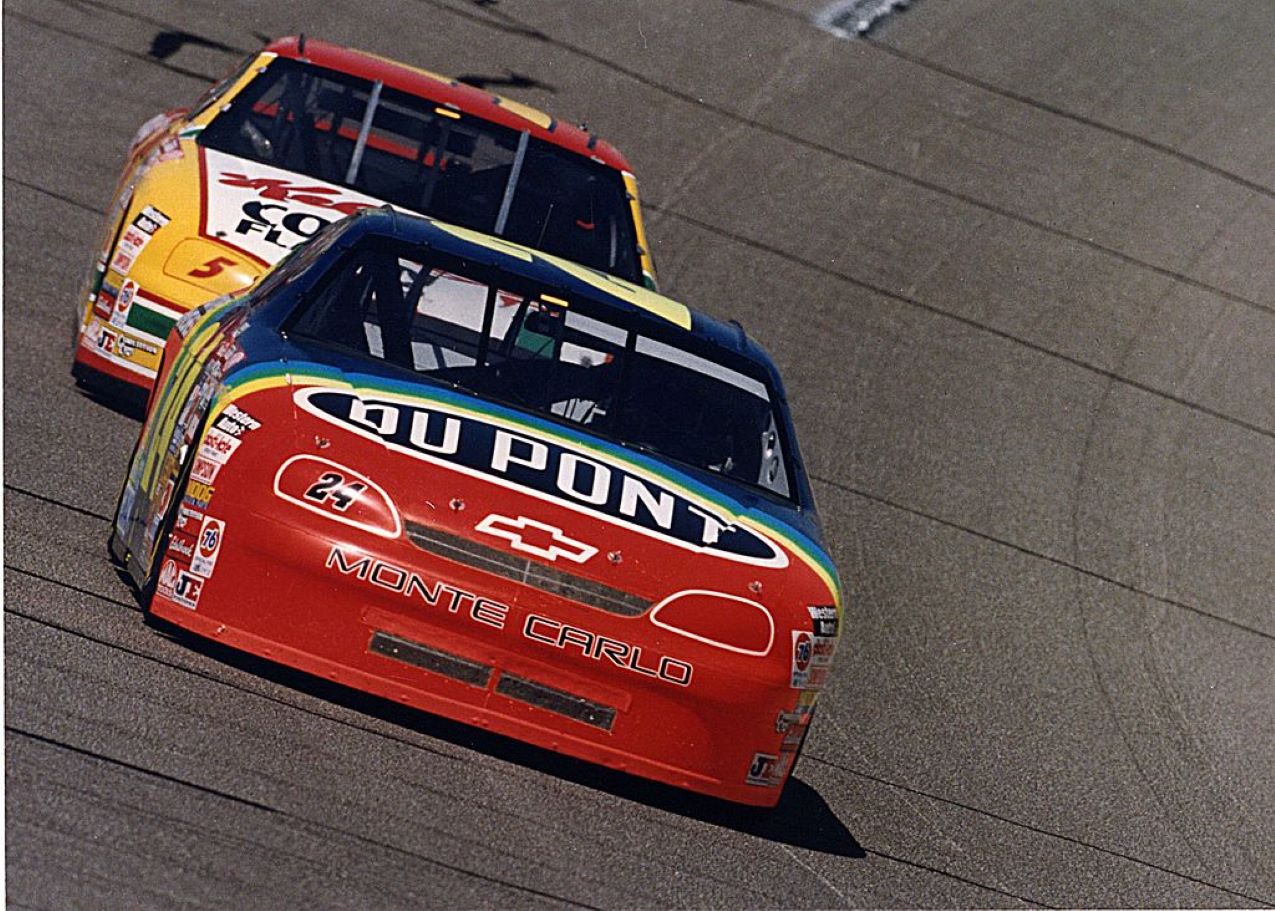 Take the Gordon vs. Labonte battle in 1996, for example.
Gordon fought off Dale Earnhardt Sr. to win at the last race at North Wilkesboro Speedway and remained ahead of Labonte in the points race.
In the pre-playoff era, a combined points system determined the series champion. Gordon's 10th win of the '96 season kept the No. 24 car ahead of the No. 5.
But not for long.
Texas Terry utilized consistent runs over the remainder of the 31-event Winston Cup schedule to steal the title from his teammate.
Much like Larson 25 years later.
On Nov. 7, Larson and Elliott raced side-by-side for extended runs on several occasions, working off each other in a bid for the lead. At least twice, the teammates nearly crashed.
Hendrick's expanded garage of Larson, Elliott, Alex Bowman, and William Byron has emerged as a personal favorite of Rick Hendrick, according to The Associated Press.
What's not to like?
Rick Hendrick would like to add more 'hacks' to the motorsports team
Hendrick took a chance on Larson, who was suspended and fired in 2020 for uttering a racial slur during an iRacing streaming event.
Elliott, the son of "Awesome" Bill Elliott, earned his first Cup title at 24 years old and remained one of the most popular drivers on the circuit.
The "Hack" is Bowman. He won four races this year but drew the ire of Denny Hamlin after Bowman bumped him late in the Round of 8 elimination race at Martinsville Speedway on Oct. 31 to capture the checkered flag.
Hendrick later said he wanted more "hacks" on his team.
Rounding out the garage is the youngster, Byron, AKA "Willy B." The 23-year-old already has earned rookie of the year honors in all three NASCAR national series.
Hendrick Motorsports collected 17 wins in 36 events. Larson also claimed the all-star race.
Looking back to the good ol' days can prove comforting to Hendrick.
Except he prefers to look forward.