Idle but Iconic: North Carolina State Budget Includes $18M for Improvements at Original NASCAR Landmark North Wilkesboro Speedway: 'The Smell of Racing Feels a Whole Lot Closer'
Not long ago, overgrown weeds and trees blanketed the idle but iconic North Wilkesboro Speedway, an original NASCAR landmark.
With the help of local volunteers, much of the unsightly overgrowth has been pulled, and now federal, state, and local governments are funneling pandemic relief funds to the site. A sense of hope is returning to business owners and residents of North Wilkesboro, North Carolina.
The community has not hosted a Cup Series event since 1996, but it appears racing is in the air.
North Wilkesboro resident: 'We hope to have racing back here again'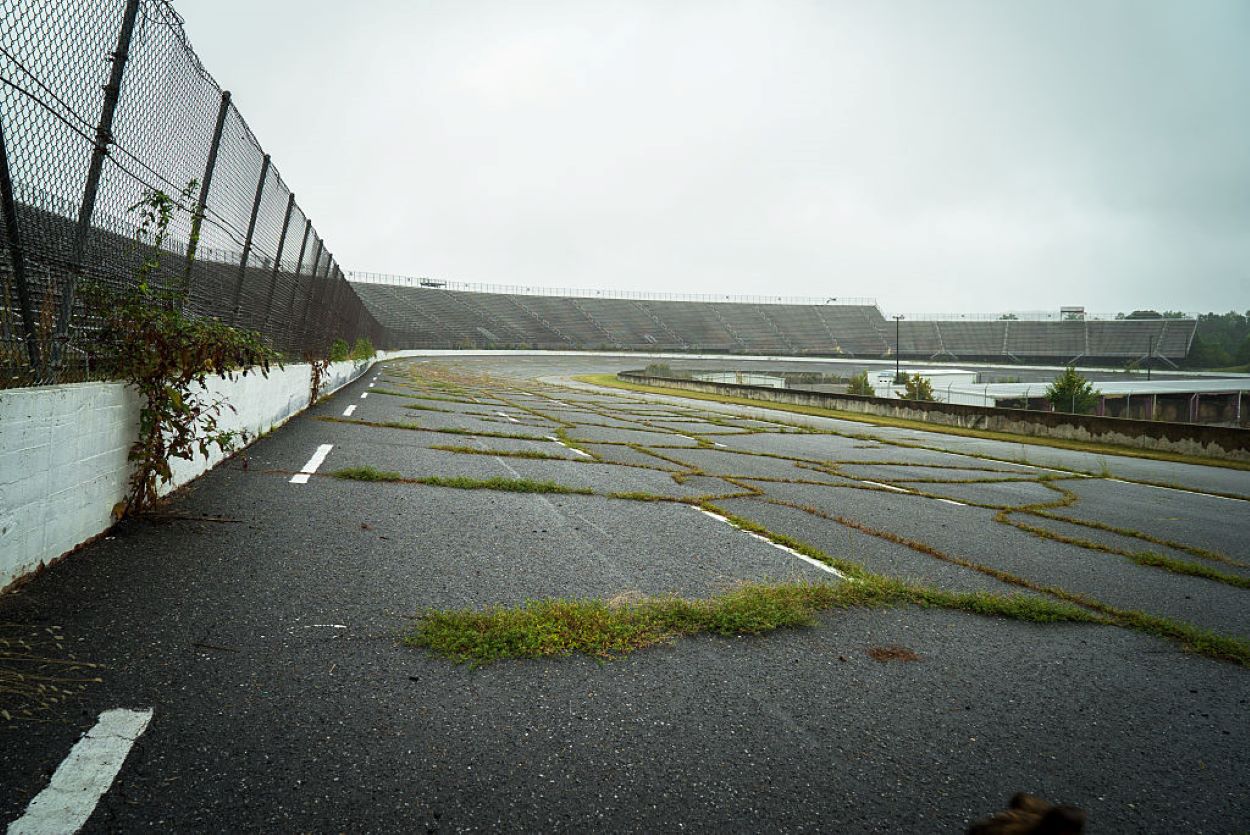 "The smell of racing feels a whole lot closer," Keith Huffman told WBTV Charlotte. Huffman is a manager of a local IGA grocery store. He said the region would benefit from NASCAR's annual presence, and a return could be a local boon.
"We hope we have racing back here again," Huffman said. "Businesses in Wilkes County (are) looking forward to watching our businesses grow again with the speedway and the revenue it brings to a county."
As part of the American Rescue Plan, the state of North Carolina designated the funds to pay for things like asphalt repair and revitalizing the track's grandstands and bathrooms.
North Carolina's proposed budget also includes $13 million for Charlotte Motor Speedway and $9 million for Rockingham Speedway for similar upgrades.
Wilkes County Commissioners are committed to earmarking approximately $4.5 million to aid the North Wilkesboro Speedway project.
North Wilkesboro Speedway has a long, exciting NASCAR history
Signs with the speedway's logo line North Wilkesboro neighborhoods: "We Want You Back."
Who can blame the residents?
Who can blame old-school NASCAR fans for yearning for racing to return to North Wilkesboro, a .625-mile short track which staged 93 premier Cup events from 1949-96?
Among many of the track's highlights:
During The Wilkes 400 in 1972, Bobby Allison and Richard Petty exchanged leads 13 times in a 39-lap duel. Over the final five laps, Petty found himself caught up in slower traffic, then caught Allison again.
They slammed into fences. Their machines slammed into each other. They kept going. Allison led on the final lap, but Petty didn't hold back. He passed Allison just before the finish line, taking the checkered flag.
During the fall 1988 event, Dale Earnhardt Sr. dominated early but was challenged by Ricky Rudd late. Over the final 41 laps, Earnhardt and Rudd banged fenders and were black-flagged to the rear. They collided again with five laps remaining.
Meanwhile, Rusty Wallace claimed the lead with 10 laps to go by passing Geoff Bodine. At the start of the final rotation, however, Bodine tapped Wallace, who responded by pushing Bodine's machine sideways. Wallace cruised by Bodine for the win.
Is NASCAR Cup Series racing coming back to North Wilkesboro Speedway?
The owner of the parent company, which owns the site, Speedway Motorsports, said in a statement: "The proposed allocations from the American Rescue Plan can have a significant impact on renovating parts of Charlotte Motor Speedway as well as starting restoration efforts at North Wilkesboro. Our team at Speedway Motorsports will get to work on the best ways these funds could be utilized."
Some business owners in North Wilkesboro are not concerned with the politics centered on the funding.
"I don't study the logistics, the politics, I know it's heavily involved, but it would have to be good for the town," said Anna Holland, who owns a local antique shop.
The bottom line?
Racing could soon be returning to a refurbished North Wilkesboro Speedway and a revitalized community.