If a Damian Lillard Trade Is the Ultimate Dream for the Philadelphia 76ers, It's Going to Cost Them $107 Million More Than They Might Have Expected
Conflicting reports continue to surround a potential Damian Lillard trade away from the Portland Trail Blazers, which is usually accompanied by mention of the Philadelphia 76ers and Ben Simmons. There's a front-office shakeup underway with Dame's current franchise, which has only put a hot plate under the trade rumors. At the same time, though, Lillard has steadfastly refused to demand a trade out of Portland.
The 76ers' ultimate desire seems to be Lillard. But if that's the case, it now appears acquiring the star point guard will cost a lot more than just Simmons.
Dame reportedly wants a two-year extension that would run through 2026-27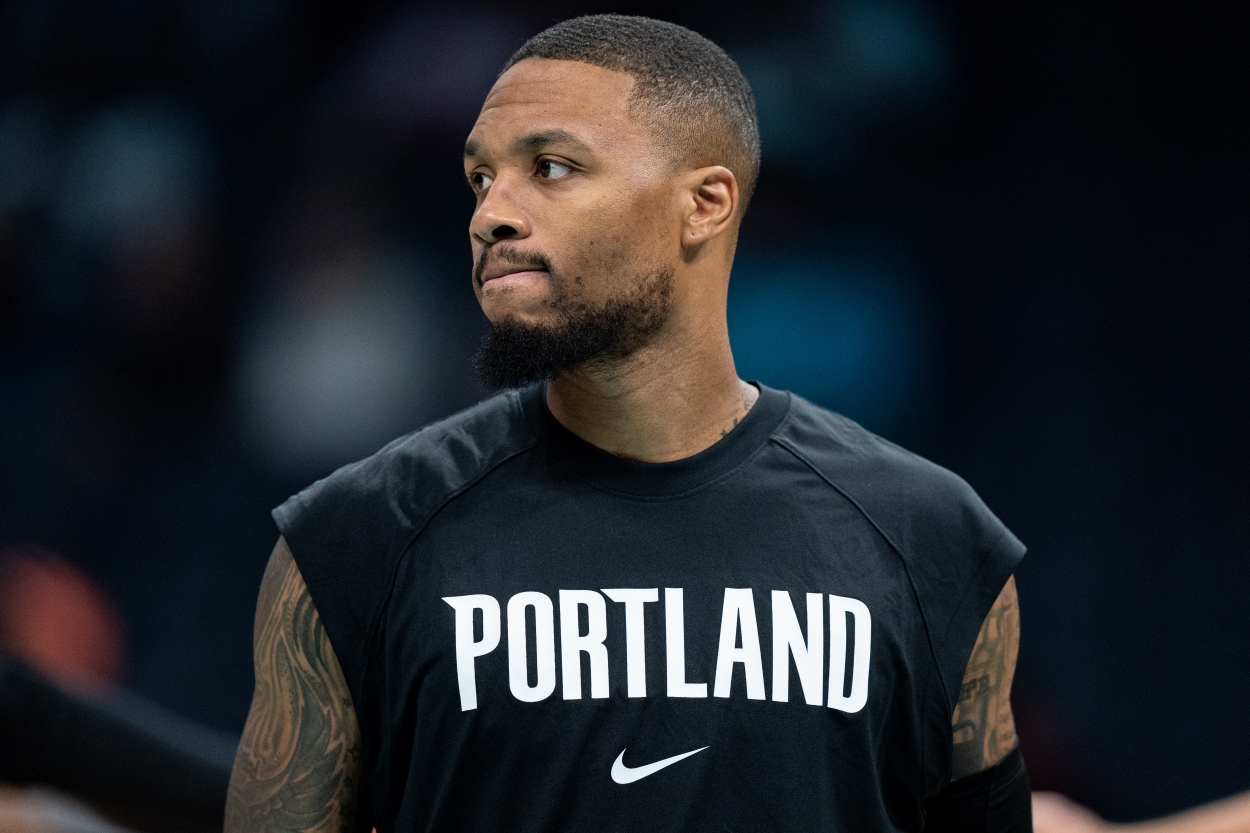 News and rumors seem to be flying fast and furious since the Blazers fired longtime general manager Neil Olshey. Now that the organization is looking to find his replacement, a handful of questions have arisen.
Will the new GM want to keep Lillard? Will their first move be to find a trade suitor? Is it time to blow things up and start over? Or, if Lillard is traded, is it for pieces that will help Portland remain relevant?
As these questions fly into the ether, the latest news is that Dame might want a two-year contract extension that would end up costing whichever franchise he plays for $107 million.
Adrian Wojnarowski of ESPN (h/t Bleacher Report) described how the 31-year-old point guard's desire to tack more years and money onto his deal would make the Blazers' new GM's job even more complicated:
"Among several top-level GM candidates who fit the profile of Portland's applicant pool, there's no enthusiasm to grant Lillard his massive extension contract through the 2026-27 season. In fact, several executives told ESPN they would be far more interested in the Blazers job with ownership's blessing to move Lillard sooner than later."
Chris Mannix of SI, however, detailed on The Crossover podcast that these rumors are not true. So, like anything involving a Lillard trade, there are contradicting rumors.
But usually, where there's smoke, there's fire.
If Philly really desires a Damian Lillard trade, it may cost $107 Million more
The 76ers and GM Daryl Morey have coveted Lillard more than any other player in a Simmons trade. They are still holding onto Big Ben for that reason — they're going big-game hunting, and they haven't been able to convince Portland to part with their franchise centerpiece.
But if this rumor is true, there are two significant ramifications: One, it might make the Trail Blazers more inclined to send Lillard packing; and two, it might make it easier for the Weber State product to fall into Morey's lap.
There are inherent issues in extending Dame's contract another two seasons. According to Spotrac, his current contract runs through 2023-24 with a player option for '24-25. That option would be worth $48.7 million.
If Lillard gets his wish and does get another two-year deal, he would be earning more than $50 million per year during his age 35 and 36 seasons.
The list of small guards who age well through their mid-30s isn't long. Dame has already dealt with injuries in 2021-22 and is statistically having his worst season since his second year in the league.
But Morey isn't known for being cautious. If he wants Lillard, he'll likely be willing to pull the trigger.
And that might be the right call.
Acquiring Lillard would still be worth it for the 76ers
The 2025-26 season, when this new extension would kick in, is a lifetime away in NBA terms. The Sixers want to win right now, and for legitimate reasons.
Joel Embiid, when healthy, is an MVP-level player. He's a dominant big man who can score inside, rebound, protect the rim, and stretch the floor. His biggest issue has been staying healthy.
He's also never had a dominant scoring guard around him. That's part of why Simmons is on his way out of Philadelphia — the fit between the two was never there.
Lillard, on the other hand, at his best, is another legitimate MVP candidate. The 76ers would have two of the best players in the NBA, and the combination of Dame and JoJo would have the potential to unlock the best aspects of each player's games.
If the franchise wants to win now, tacking on $50-plus million five years from now shouldn't hinder getting a deal done.
Bringing in Lillard to play with Embiid would make the Sixers a championship contender as soon as Dame landed in Philly. Isn't that what Morey has been pining for all along?
All statistics courtesy of NBA.com.