If Ben Simmons Gets His Wish He Would Accomplish a Feat Never Before Seen in NBA History
At this point, Ben Simmons' trade demand out of Philadelphia is well documented. It's been months of trade speculation, which eventually has led to a stalemate – Simmons won't report to camp and maintains he'll never play for the franchise again. At the same time, 76ers general manager Daryl Morey won't budge in trading away a former No. 1 pick without equal value in return.
With four years left on his current contract, the former LSU star is in unprecedented territory. If he gets his way and is sent packing from Philly, it will be a historic trade, the likes of which have never been seen in NBA history.
Simmons signed a five-year max contract with Philadelphia in 2020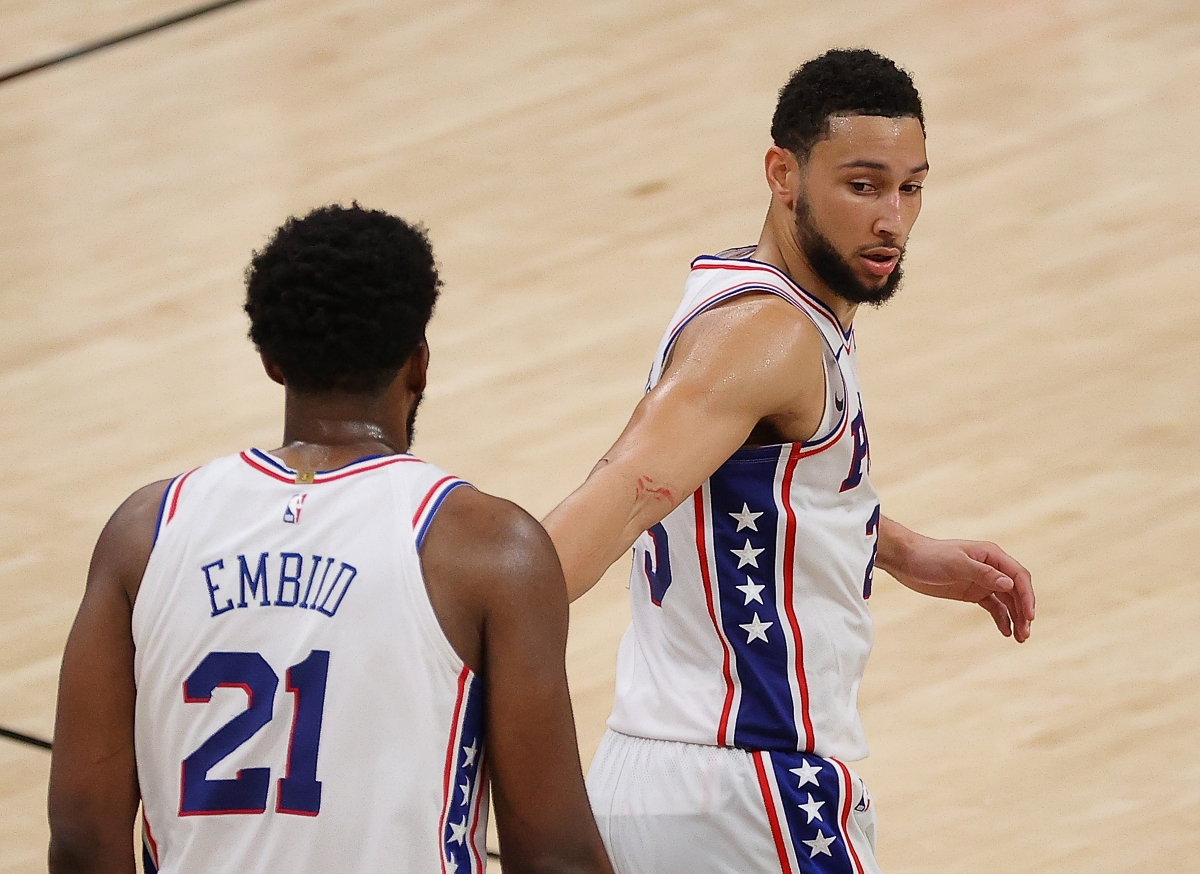 The 6-foot-11 point guard re-upped with the Philadelphia 76ers before last season, signing a five-year deal worth more than $177 million. He was coming off a season in which he averaged 16.4 points, 7.8 rebounds, and 8.0 assists. Ben Simmons was thought to be a franchise building block with the Sixers alongside Joel Embiid.
Then last year's playoffs happened. Prior to the Sixers' Eastern Conference semifinals series against the Atlanta Hawks, there weren't any rumblings that Simmons was unhappy with the organization. But then the team's starting point guard passed up a wide-open dunk in Game 7, and minutes later, Philly's season was over.
Simmons also finished those seven games with a total of three fourth-quarter field-goal attempts.
His timid play prompted post-game comments from Embiid and head coach Doc Rivers, neither of which painted Simmons in a positive light. Then came reports that the three-time all-star was actually unhappy at the beginning of the 2020-21 season when Morey offered him to the Houston Rockets in a trade for James Harden.
It's been a long road, but now we're in a good old-fashioned standoff.
If Simmons is dealt it will be the first trade of its kind
There have been plenty of trade demands from superstars over the past few seasons alone. But no player has ever been dealt with as many years left on his contract as Simmons has. If he really does get his wish and leaves Philly, it will mean a trade never before seen in NBA history.
The first overall pick in 2016 has four years and $147 million left on the deal he signed barely more than one year ago. He's owed $33 million this season. If he's suspended by the organization, he will lose $227,000 for each game missed, regular season and exhibition, for the first 20 games. After that, he's docked $300,000 per game.
Simmons has reiterated he will not report to Sixers' training camp. He's also stated he's not concerned with losing money and is prepared to sit out the entire season if he needs to. At least as of right now, he seems unwavering in his decision to make that financial sacrifice.
But no one has made this kind of power play before.
For reference, James Harden, Anthony Davis, and Kyrie Irving each had two years left on their deals when they demanded a trade.
It's now just a matter of who blinks first between Simmons and the 76ers
The 2017-18 Rookie of the Year has entered the metaphorical bunker and is apparently in this for the long haul. But Morey is just as stubborn and will not send Simmons packing unless he gets a return he believes is worthwhile.
Philadelphia also holds all the leverage in the situation — the 25-year-old is under contract for almost the next half-decade, and the longer he refuses to show up, the more money he loses. The Sixers can hold onto Simmons and let him sit at home for the next four years if they choose to.
The showdown will eventually end with either a trade or Simmons deciding he's done losing money. But the franchise point guard sure seems determined to never play in a Philly jersey again.
If he wins the staring contest, it will mean the first trade of this magnitude in league history and will create an entirely different level of player empowerment in the NBA.
All statistics courtesy of Basketball-Reference and contract details courtesy of Spotrac.
RELATED: Ben Simmons' Dramatic Trade Saga May Finally Be Leading Him to His Ultimate Destination