If Bubba Wallace's Intense Workout Routine Sharpens His NASCAR Skills, What Happened at the end of the Pennzoil 400?
Bubba Wallace uses his morning workout sessions for more than maintaining good physical health.
His specialized program also helps the NASCAR Cup Series driver maintain a sharp mental approach to his discipline.
If he works so hard, why was he so slow to react to the moving obstacle nearly 15 seconds in front of him at the end of the Pennzoil 400 at Las Vegas Motor Speedway?
Netflix's 'Race: Bubba Wallace' docuseries showcases NASCAR's lone Black driver as intense, driven
In the Netflix docuseries "Race: Bubba Wallace," the 28-year-old Cup driver taped his program. The routine covers a variety of fitness goals. Wallace not only builds muscle mass, but he also works out to improve his mental focus.
Enhanced by a voiceover, Wallace tells the docuseries viewers that his workouts commence at 8:45 a.m. with, among other exercises, a series of box jumps, box toe-taps, and heavy medical ball throws sled pushes.
The timing of the regimen is part of his mental training. Wallace is not comfortable with early-morning fitness sessions.
"I still haven't accepted that routine," Wallace said, reported by Men's Health. "I still b**** and complain about it just because I don't like being early or working out.
"I still do it, though, just to keep me mentally focused and not become an enemy of self."
Wallace's focused and determined workouts remain intense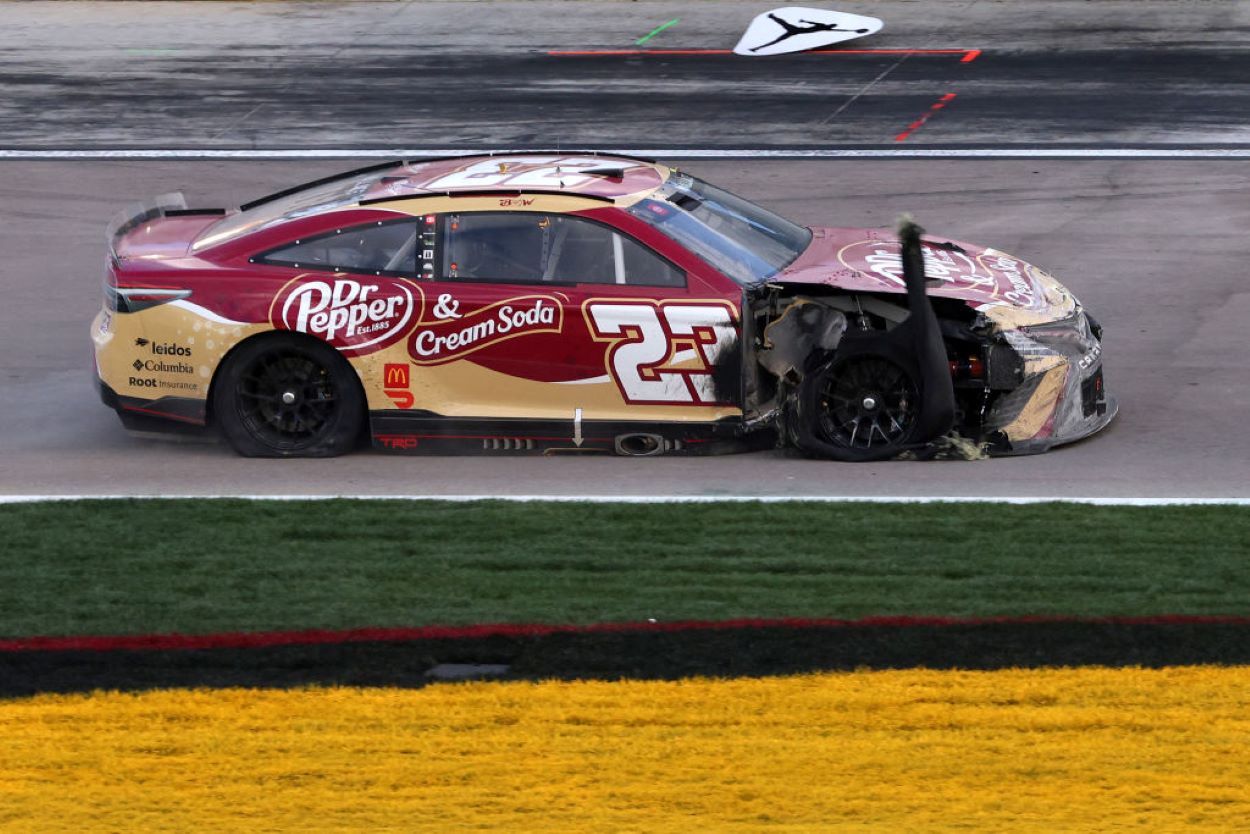 In the six-part docuseries, Wallace's workouts demonstrate his intensity, focus, and determination. Wallace moves from one exercise to another with a steeled glare. He has a purpose to succeed, work harder, and become more focused than his peers.
Wallace has a lot to prove as the lone Black driver on the NASCAR premier series. In 151 career starts, Wallace has compiled just one win and 13 top-10 finishes.
Wallace realizes he cannot continue registering top 10s at an 11.6% clip much longer. Not with NBA icon Michael Jordan as a co-owner of his 23XI Racing ride. Jordan is watching and texting his employees.
The pressure for Wallace, who is active for issues like social equality and justice, to succeed must get overwhelming at times.
He can't afford to lose focus the way he did with three laps remaining of the Pennzoil 400 on March 6.
Wallace lacked focus during the late Pennzoil 400 mashup
When Jones lost control of his No. 43 Chevrolet during the Pennzoil 400 on March 6, he was running in eighth place, and Wallace was in 15th, 21.97 seconds behind the leader, Kyle Busch.
With damage to his right front tire, Jones skidded along the low side of the track for nearly nine seconds before it started venturing out-of-control up the track.
Well behind the wreck, Wallace and his spotter should have communicated better. With Jones on the low side, Wallace appeared to be positioned correctly in the middle of the track but he made a careless mistake not checking his speed with the caution flag out.
With Jones' car starting to creep up the track, Wallace, at a reduced rate of speed, could have saved his machine from a needless mashup with the supply chain still in disorder. Was 14th that important?
Wallace silenced some critics with a runner-up finish during the season-opening Daytona 500, but he followed it up by finishing 19th at Fontana and 25th at Las Vegas.
It's obvious Wallace still has some physical and mental things to work out.
Eight forty-five in the morning comes early, you know.
Like Sportscasting on Facebook. Follow us on Twitter @sportscasting19.
RELATED: Kyle Larson, Ryan Blaney, Bubba Wallace Recall First-Time Daytona 500 Experiences