If Deal Closes, Colton Herta Adding Endorsements for Andretti Autosport to Promote IndyCar Driver to Formula 1
IndyCar driver Colton Herta should retain fellow pilot Pato O'Ward as his agent.
If Andretti Autosport completes a deal to buy a stake in the Alfa Romeo Formula 1 team during the offseason, Herta has been rumored to be in position for a promotion, possibly as soon as next season.
Herta "has everything to be successful," O'Ward said.
IndyCar driver Colton Herta ended the 2021 campaign on a hot streak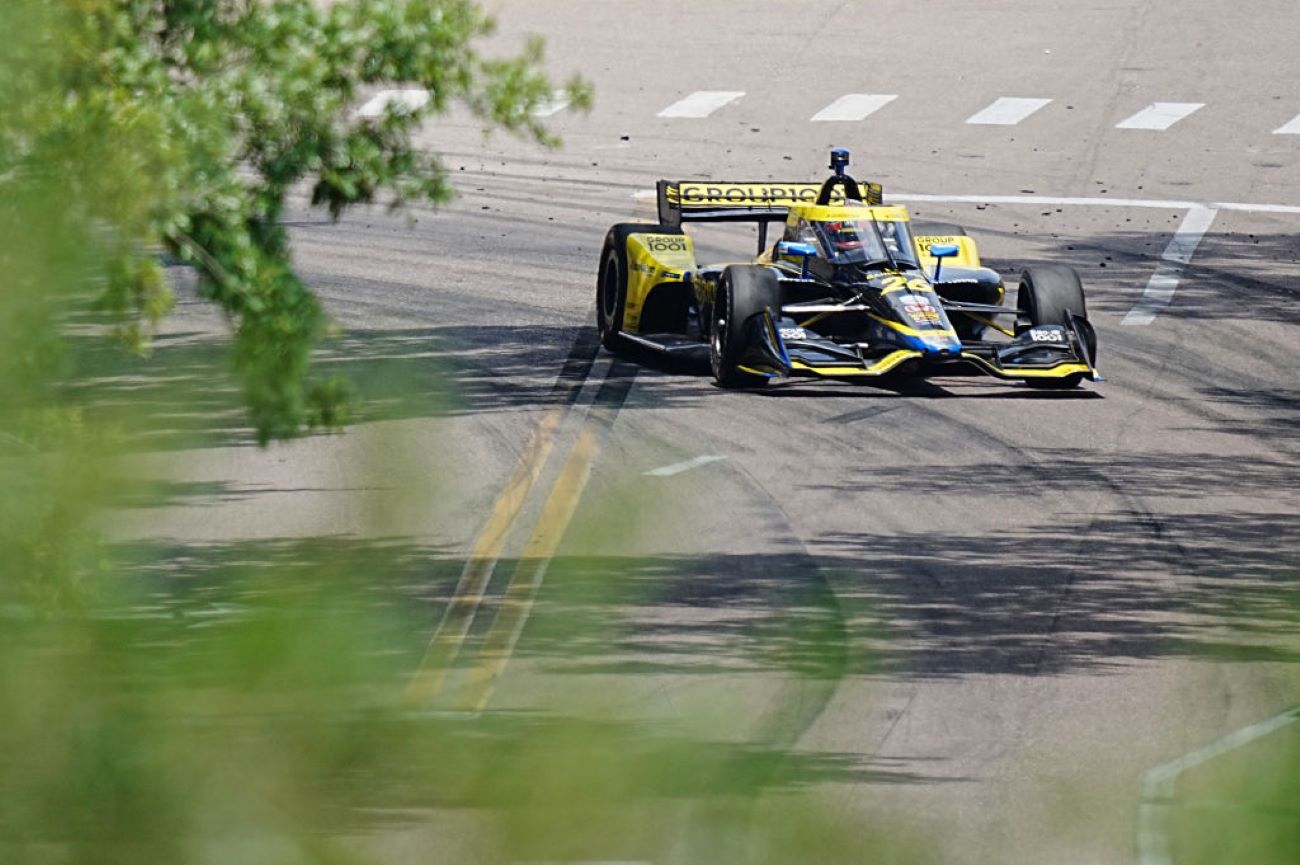 Former F1 driver Michael Andretti's operation is currently engaged in negotiations to add Alfa Romeo to its brand. The sides could complete a deal within weeks, autosport.com reported.

If the agreement to take over Alfa Romeo goes through, Herta, who currently drives for Andretti Autosport, should have O'Ward schedule a sit down with his boss.
Herta captured three IndyCar races this season and placed fifth in the driver standings. Herta and his team finished 2021 strong, claiming the final two events at Laguna Seca and Long Beach.
As far as making the jump to F1, O'Ward acted like an agent and delivered a pitch for Herta at the McLaren Technology Centre, reported by motorsport.com: "He's a very talented, very fast individual, and I think he'll have no problem."
No problem? It's a big move to go from IndyCar to F1.
"Maybe not from the first race," O'Ward said, "but the guy will get in sync with it. He's going to be fighting up there if he is given the right car."
O'Ward: 'There's no doubt in my mind' Colton Herta's ready for F1
Racing in a machine owned by Andretti would appear to be an ideal situation for a new driver on a new team in an elevated division. As a driver, Andretti, the 1978 F1 world champion, collected 52 wins and 118 podiums. He also earned four IndyCar titles.
"There's no doubt in my mind," O'Ward said. "Not that it's going to be a struggle, but everything has its path of learning.
"But given the right time, he'll be just fine."
Some F1 insiders suggest the deal is all but signed. Andretti toured the Sauber factory in Hin will, Switzerland, recently, multiple F1 outlets reported.
With a budget cap and cost-cutting regulations ready to go into effect for 2022, it appears to be a stable environment for Andretti to enter the F1 field. The cost to buy out Sauber Motorsport could approach $350 million, according to gpblog.com.

Whatever the final price tag or whenever the closing date may occur, O'Ward remains confident Herta will earn the promotion.
In 48 IndyCar starts, Herta compiled six victories and 27 top-10 finishes.
Danica Patrick would 'love to see' Colton Herta race for Andretti next season
At Long Beach, Herta led 43 of 85 laps to secure the personal win.
"This is the biggest race for me outside of Indy," the 21-year-old native of Santa Clarita, Calif., told www.andrettiautosport.com . "I was two weeks old when I first came to Long Beach. My father was driving in 2000. It was the only race I could go to because I was so young, and I couldn't fly yet."

If Herta does earn an F1 promotion, he will become the first American driver on the series since Alexander Rossi in 2015. With two F1 events planned for the United States in 2022, it could be a good time to start marketing an American driver.
Danica Patrick, the former IndyCar, and NASCAR driver, told Motorsport TV that the potential of Herta driving for Andretti on the F1 series would "be great," she said. "I'd love to see how it goes."
Perhaps Patrick can make a call for Herta, too.
RELATED: IndyCar Series Driver Marcus Ericsson Fires Shot at NASCAR Cup Series for 'Never-Ending' Race