If It Was up to Jon Jones' Father He Never Would Have Fought in the UFC
Jon Jones probably has one of the more successful families in the sports world. He's one of the greatest UFC champs ever, and he has two brothers who have both played in the NFL. However, rather than being a UFC fighter, his father actually wanted him to be a pastor.
What Jon Jones' father had to say about the UFC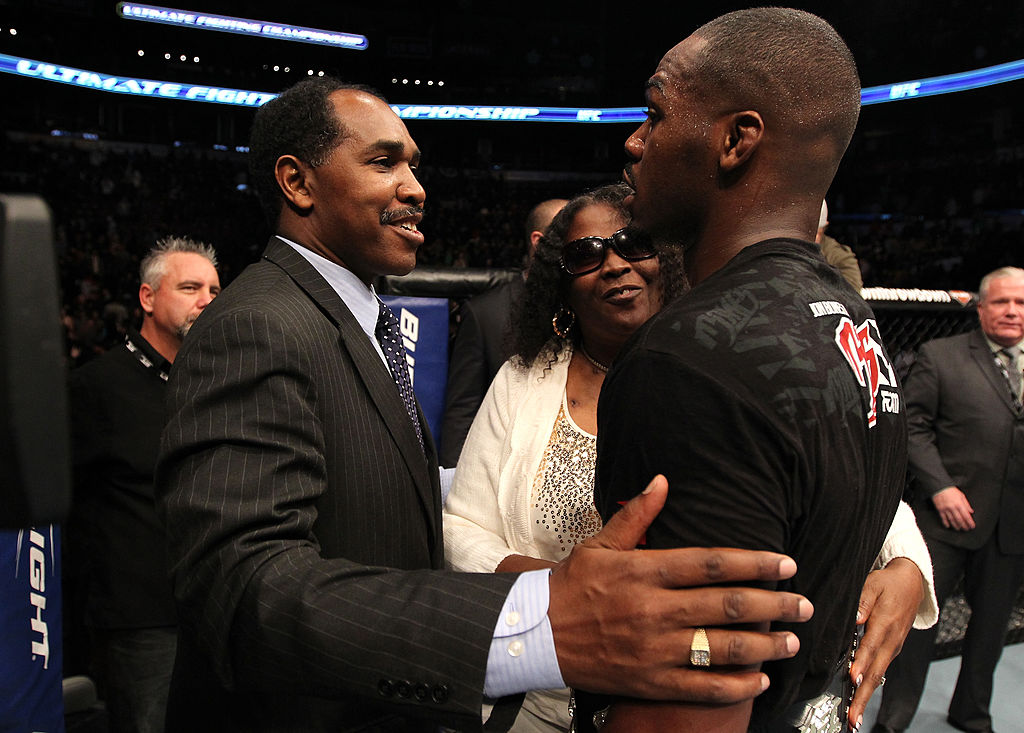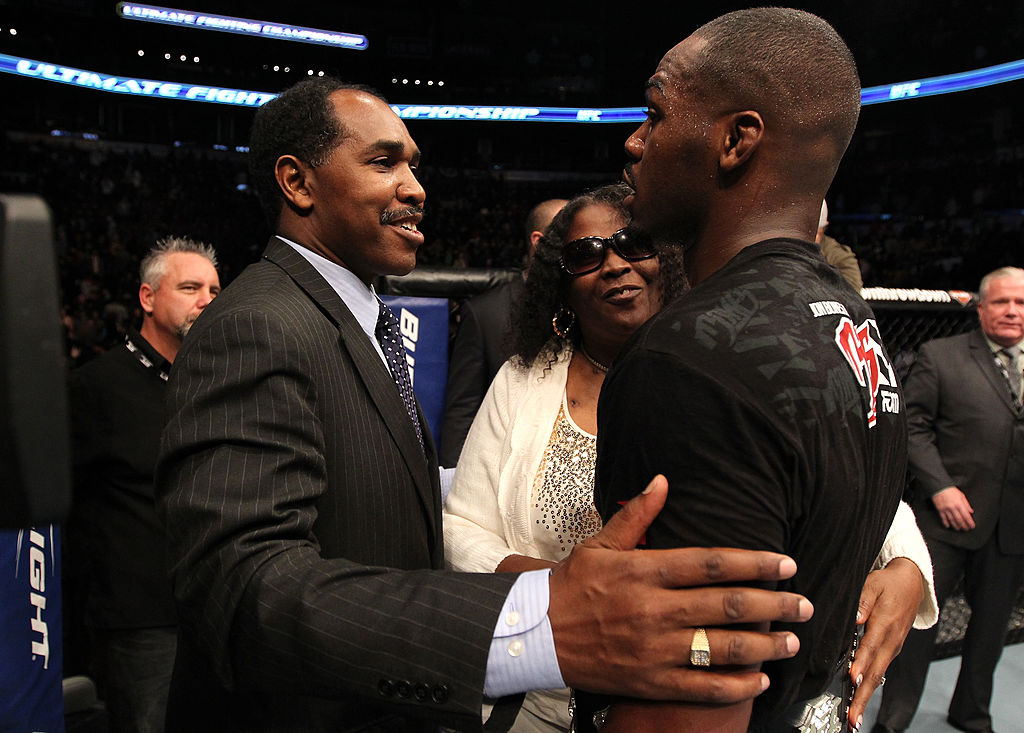 According to The Christian Post, Jones' father, Arthur Jones, is a pastor at the Mount Sinai Church of God in Christ in New York. Like many fathers, Arthur wanted his son to become a pastor just like him. This wasn't the worst idea as Jones was raised as a Christian. He even got a tattoo on his chest referencing a bible verse.
As Arthur told The Christian Post, "I tried to discourage him from being a fighter. I told him you don't want to do that. You can do other things. Be a pastor." However, Arthur couldn't change Jon's mind. Jon kept pursuing fighting. Eventually, Arthur even warmed up to his son's career choice, as he said the bible references a lot of fighting. So, in a way, his son's pursuit of MMA was righteous.
After Jon became the youngest UFC champ ever, his dad even went as far as to say that, in a way, Jon is preaching. That said, ever since winning the title, Jon's public image has become less and less Christ-like.
Jon Jones is a great fighter, but is very controversial
Jones was raised by a pastor and has a biblical tattoo on his chest. But the UFC champ isn't exactly Christ-like nowadays. While his father can rationalize fighting in MMA as something people in the bible kind of did, it's harder to rationalize the things that Jones has done outside of the octagon.
For example, he's been busted on at least three occasions for using performance-enhancing drugs. While the UFC has ultimately cleared him of wrongdoing, somehow, someway, those drugs got into his system, and they more than likely helped his performance. This is not even the worst thing that he's done outside of fighting. 
Jones, like many people, likes to party and have fun. That said, he doesn't always do it responsibly. Jones crashed his car into a pregnant woman's vehicle while under the influence. The victim and her baby were fine. But UFC stripped Jones of his title because the incident was so troubling. This was not his only legal issue, but it was probably his most famous one. 
Jon Jones tries to redeem himself
While incidents like those have severely damaged his image, Jones still keeps to his faith. In fact, he references God many times, even when he's talking to his former opponents. For example, after his close fight against Thiago Santos, Jones tweeted at his former opponent, "Remember God gives his toughest battles to his toughest soldiers."
In the past, he's made similar statements, but unlike some people, he does more than talk. Jones helps out his local community often as his way of giving back. More recently, during the George Floyd protests, the UFC champ has tried to better his community by stopping vandals, reports ESPN.
While these actions and the others don't make up for his sins, they do help redeem him. Jones, like most people, isn't perfect. While he's far from the pastor his dad wanted him to be, he's not unredeemable yet.