If Marshawn Lynch Never Plays in the NFL Again, He Went Out With an Epic Press Conference
Marshawn Lynch's brief return to the Seattle Seahawks wasn't without its memorable moments, even if the 33-year-old isn't in his prime form. The star running back came back to his former team as they prepared for a playoff run but saw their running corp diminished thanks to injury. The Super Bowl dreams might have fallen short, but that didn't stop the typically-quiet Lynch to use his NFL platform to speak on something far bigger than himself.

Marshawn Lynch's NFL career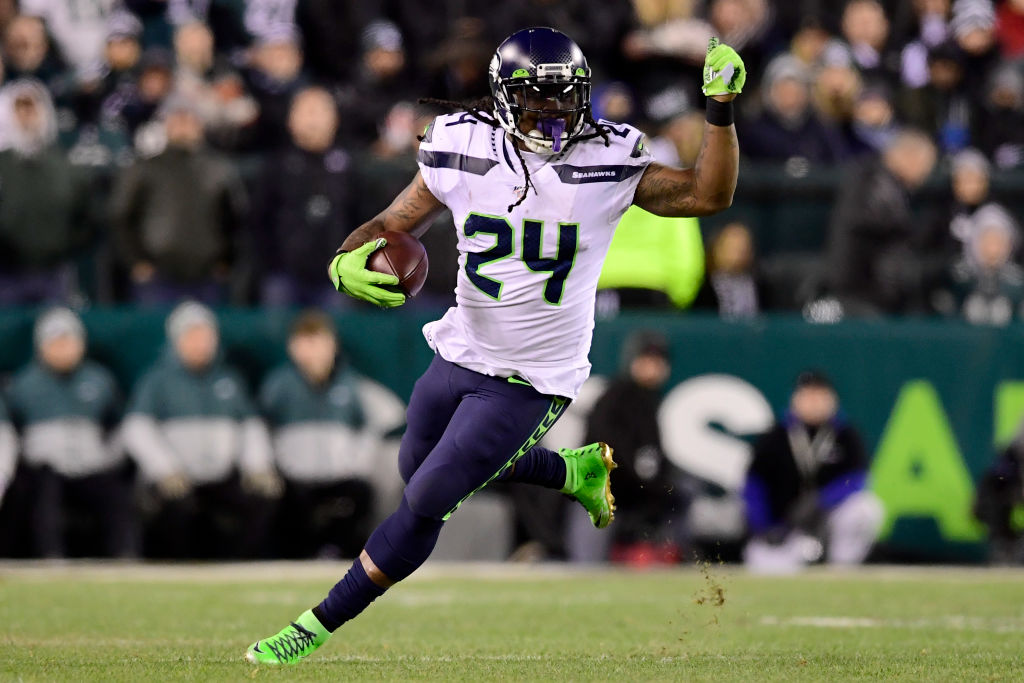 Lynch came into the league in 2007 for the Buffalo Bills. As the 12th overall pick in his draft, Lynch came to Buffalo with a certain set of expectations of stardom, and he immediately showed the team that he was worth the pick. He rushed for 1,115 yards and seven touchdowns as a rookie, and his ability to run through defensive lines and get the ball where it needed to be immediately made him a force to be reckoned with.

Lynch only got better during his sophomore season, but after an early suspension in his third year caused him to miss much of the season, and Fred Jackson took his spot as the starting running back, it started to look like the end for him. By the 2010 season, Marshawn Lynch was on his way to the Seattle Seahawks, where he spent the best years of his career.

He took that partial season in Seattle to get acclimated, and by 2011, he was a perennial Pro Bowler who was rushing for 1,200, 1,300, or even 1,500 yards in the season. His 2012 campaign saw him rush for 1,590 yards and 11 touchdowns, securing his place as an All-Pro player in the process.

By 2013, he was helping young quarterback Russell Wilson dismantle defenses as the infamous "Legion of Boom" defense punished offenses on the other side of the field. Lynch missed a majority of the 2015 season with injury and retired before coming back for two years as an Oakland Raider and his brief three-game return to Seattle this previous year. If he retires for good, he will do so with 10,000 rushing yards and 85 touchdowns and a great shot at the Hall of Fame.

Lynch's work off the field
Lynch might have built a reputation as one of the best running backs in the NFL, but he also had a reputation off the field. Some issues painted him in a less-than-flattering light, such as a weapons arrest and a hit and run early on in his career. But Lynch also had a reputation as one of the most generous players in the NFL.

Not only did Lynch use his millions to invest in himself, he also used it to pump back into the Oakland community that he grew up in and make sure that people who grew up in poverty did not grow up in an environment that stopped them from being able to become the best that they could be as professionals. From educational charities to community events, Lynch didn't just attach his name to charitable causes. He took the time to give back to his community.

Marshawn Lynch has some epic parting words
Marshawn Lynch has never been known for being outspoken to the media. His simple press conferences were often used against him, although they also made some fans support him even more. During what might have been the last presser of his career, however, Lynch did not supply one- or two-word answers. Instead, he went on at length with words of support for young players who might find themselves in the NFL.

In a world where athletes can often be terrible with money and find themselves in rough positions post-playing, Lynch encouraged them to be responsible.

"It's a vulnerable time for a lot of these young dudes, feel me?" Lynch said (per Market Watch), "They don't be taking care of their chicken right… I'll tell y'all right now while y'all in it, take care of your bread so when you're all done you can go ahead and take care of yourself."

Lynch has a reputation as a quiet but kind-hearted member of the NFL fraternity. As such, his reputation with the media or occasional hiccup makes him misunderstood. Lynch, who earned little more than $100,000 in his comeback, might not have done this for the money. At the end of the day, however, he has shown that he sincerely cares for others, and by using his platform to help the next generation, he helped secure this legacy even further.