If NFL Quarterback Awards Were Brutally Honest
In his four seasons in the National Football League, Carolina Panther's quarterback Cam Newton has won exactly one playoff game. Yet, despite his limited postseason success, that didn't stop him from throwing major shade at a guy who's been to the top of the mountain four times.
While in attendance at the QB's skills challenge — prior to 7-on-7 National Championship tournament at IMG Academy — SB Nation Recruiting was on hand to witness the 6-foot-6 gunslinger tossing around the pigskin. In one instance, Newton took the snap, dropped back to pass, but opted not to throw the ball. Why? Apparently, he didn't like the amount of air in the ball — it was too underinflated. He relayed this message by jokingly uttering, "What is that, Tom Brady?"
You can tell by Newton's delivery, that he was just trying to get a laugh from the peanut gallery. But we can't lie, it definitely got us thinking. Tom Brady is a four-time Super Bowl champion and one of the greatest players to ever throw a pigskin. He's competitive and talented and driven. He's the ultimate winner. And yet, right now, whenever you hear the New England Patriots quarterback's name thrown around, it's usually associated with the Deflategate scandal. That's pretty crazy. Usually when you hear a QB's name it's affiliated with some sort of praise or accolade. But what if that wasn't the case?
Think about how it would look if we decided to associate these franchise leaders with less than flattering descriptions. Things would start to get pretty interesting, then. So we figured, why not give it the old college try? It's all just in good fun. With that in mind, this is our take on what it would be like if NFL quarterback awards were brutally honest.
A "Cam Newton"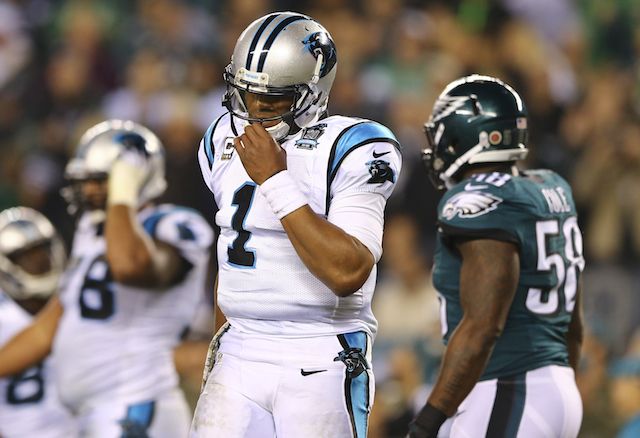 Receiving a laptop with your name crudely painted on it
What is it they say about people who live in glass houses?
Cam Newton has a lot going for him. He won the Heisman Trophy and a national championship while playing for the Auburn Tigers. He was the first overall pick in the 2011 NFL Draft. He recently signed a massive $100 million contract. He is big, strong, gifted, and a natural athlete. He has all the tools to be a top-tier franchise quarterback. But no matter what he does, Newton will never be able to escape the fact that — during his time at the University of Florida — he stole a laptop, painted over it in black, and then painted his name on it in big white letters. Therefore, a laptop that has a name painted on it in any way, is nothing more than a "Cam Newton."
A "Peyton Manning"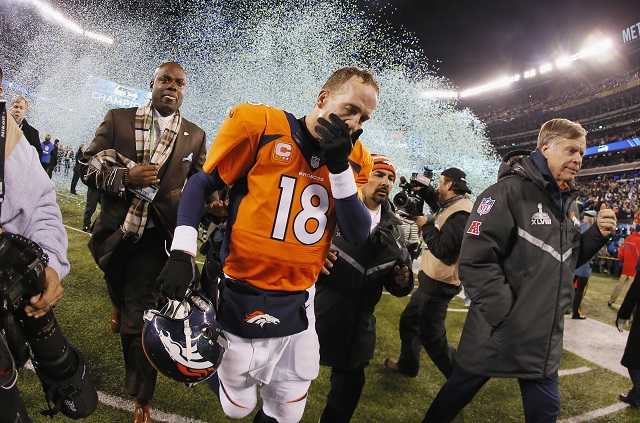 Denver Broncos quarterback Peyton Manning will go down as one of the greatest quarterbacks in the history of the NFL. He's a 14-time Pro Bowler, a 7-time First-Team All-Pro, a five-time MVP winner, and a Super Bowl champion. However, regardless of how many regular season games he wins, comebacks he leads, touchdowns he throws, or defenses he picks apart, the consensus will always be that he shrivels up in the cold. When the temperature drops and the weather becomes less than ideal, Eli's older brother can't cut it. If you find yourself completely beaten by the cold and crippled by frostbite, we're sorry to be the ones to tell you, but you've pulled a "Peyton Manning."
A "Jameis Winston"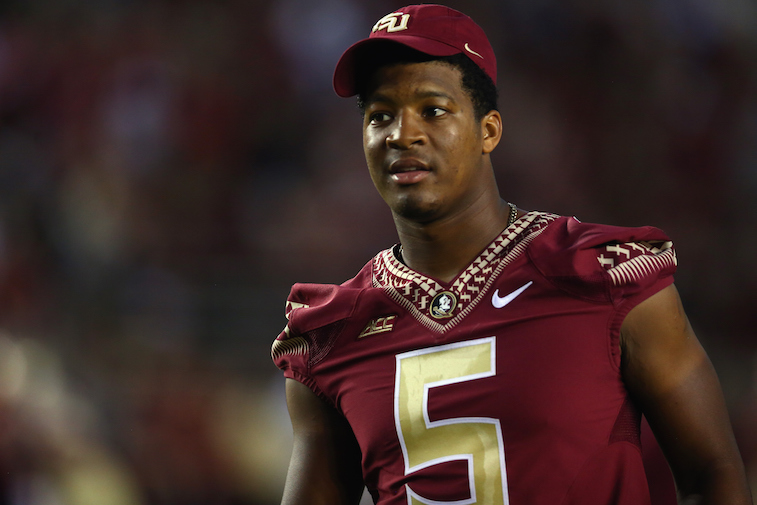 Coming down with food poisoning (extra points if it's from seafood)
The Tampa Bay Buccaneers selected quarterback Jameis Winston with the first overall pick in the 2015 NFL Draft. The Heisman Trophy winner — and national champion — is hoping his history of success on the football field will rub off on his new teammates and help this floundering franchise get out of the cellar. So far, he's earning rave reviews from players and coaches alike. For a guy who's found himself on the wrong side of headlines more often than not, this is a great way to start off his professional football career. Still, no matter how well he does on the field, folks will have a hard time forgetting Winston's infamous crab leg incident. And because of that lone fact, if a person ends up coming down with a terrible bout of food poisoning — especially from seafood — you can't help but associate that unfortunate sickness with the former Florida State standout.
An "RG3″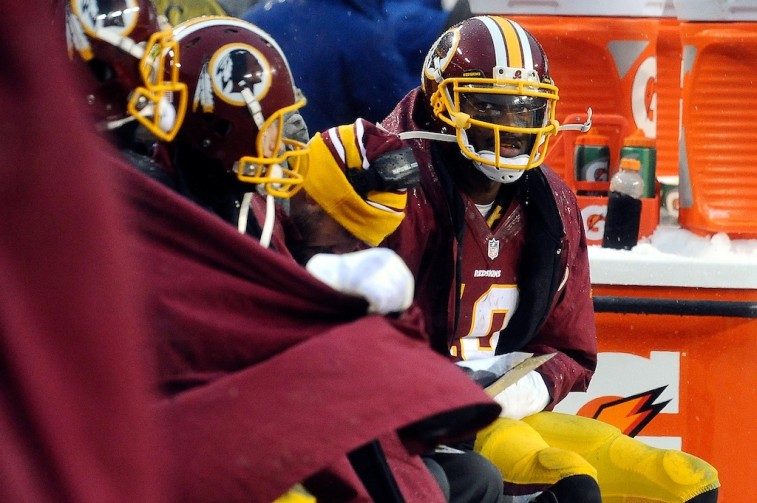 Getting benched or pulled from a game
When the Washington Redskins gave away the farm for the rights to move up and draft Baylor's Robert Griffin III, this organization thought it had finally found the franchise quarterback it so desperately needed. It certainly paid off for the first season. However, since then, it's been nothing but one disappointment after the other. It's getting to the point, where you have to wonder how this decision compares to the worst NFL trades ever. That's what happens when the supposed savior of the organization consistently finds himself yanked from the starting lineup. This upcoming 2015 NFL season could be a make or break year for the former Heisman winner. In the meantime, whenever someone gets benched or pulled from a game, feel free to call it an "RG3."
 All statistics are courtesy of Pro-Football-Reference.com and SB Nation.