If It Was up to UFC President Dana White, Tom Brady Would Be Playing With the Las Vegas Raiders in 2022
If UFC President Dana White had his way, Tom Brady wouldn't be retired right now. No, he'd be looking forward to playing in the 2022 season, and White would have made sure that the GOAT would have worn the silver and black of the Las Vegas Raiders.
White knows a thing or two about Vegas. It's the professional fighting capital of the word, and White is the king of professional fighting.
Unfortunately for the Raiders, for as great of a promotor as White is, he's apparently not the best recruiter.
Tom Brady retired from the NFL after 22 incredible seasons
Brady retiring this offseason seemed like a strong possibility from the moment the Tampa Bay Buccaneers were ousted from the playoffs by Matthew Stafford and the Los Angeles Rams. Neither he nor head coach Bruce Arians could commit to his future in the aftermath of the loss. A few days after the game, Brady admitted that he had a lot to flesh out, but made it seem that he was at peace not playing anymore. That's when we should have known.
"Playing football I get so much joy from. I love it. But not playing football, there's a lot of joy in that for me also now, too, with my kids getting older and seeing them develop and grow," Brady said on his podcast. "So all these things need to be considered and they will be."
Not more than a week later, Brady had made his decision.
"This is difficult for me to write, but here it goes: I am not going to make that competitive commitment anymore," he wrote in a lengthly social media post. "I have loved my NFL career, and now it is time to focus my time and energy on other things that require my attention. I've done a lot of reflecting the past week and have asked myself difficult questions. And I am so proud of what we have achieved. My teammates, coaches, fellow competitors, and fans deserve 100% of me, but right now, it's best I leave the field of play to the next generation of dedicated and committed athletes."
Dana White tried and failed to recruit Tom Brady to the Las Vegas Raiders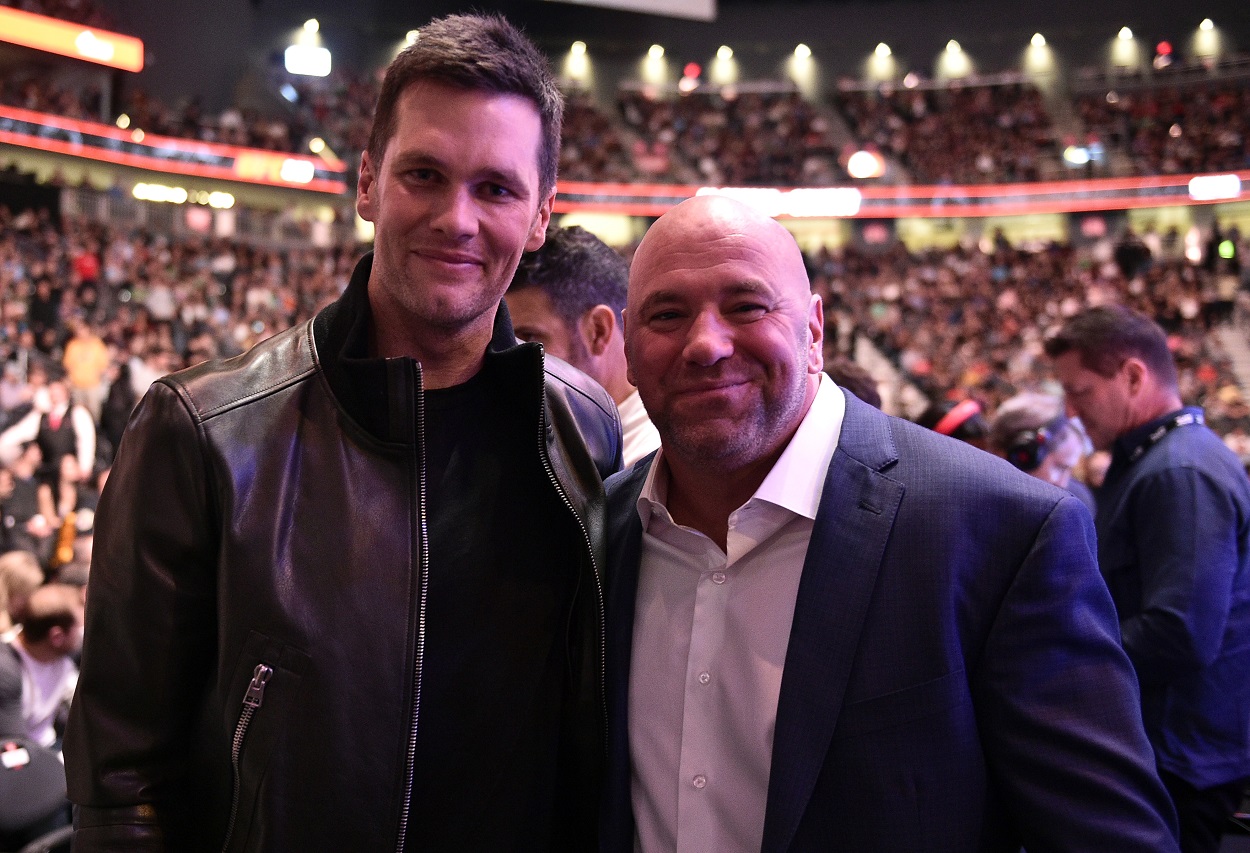 White has done everything he can to embrace the Raiders now that they call Las Vegas their home. After all, NFL football in Vegas is as big as a win for the UFC as it is for the league.
Fly in for the NFL game on Sunday but catch the big UFC match on Saturday. It's a win-win for both sports.
"If your a Raiders fan, why would you not want to come to Vegas and see the Raiders play. It's an absolute no-brainer. If you're an opposing team to the Raiders and you're gonna go to an away game, you're gonna wanna go to the away game in Vegas," White told the Raiders website back in 2020 (transcribed by raiderramble.com). "C'mon, you're a Raiders fan, it makes all the sense in the world. You get to come to Vegas every weekend and watch your team play. It's a no brainer, you know what I mean?"
Ever the promotor, White knows that the bigger the spectacle, the better. Of course he loves the fact that the most popular sport in the country has parked itself in his backyard. It's good for business.
Speaking of spectacles, imagine Brady playing in Vegas with the Raiders. He's the biggest star in the sport and his presence alone could turn the Raiders into contenders.
"I was firing texts to him and he sent very cryptic text messages," White told TMZ. "He had me thinking he wasn't going to retire. So, you know what I was doing? I was hammering him to come to Vegas and play for the Raiders."
White's dreams of Brady in silver and black ultimately didn't pan out, but good on him for trying.
Brady could have been reunited with new Raiders head coach Josh McDaniels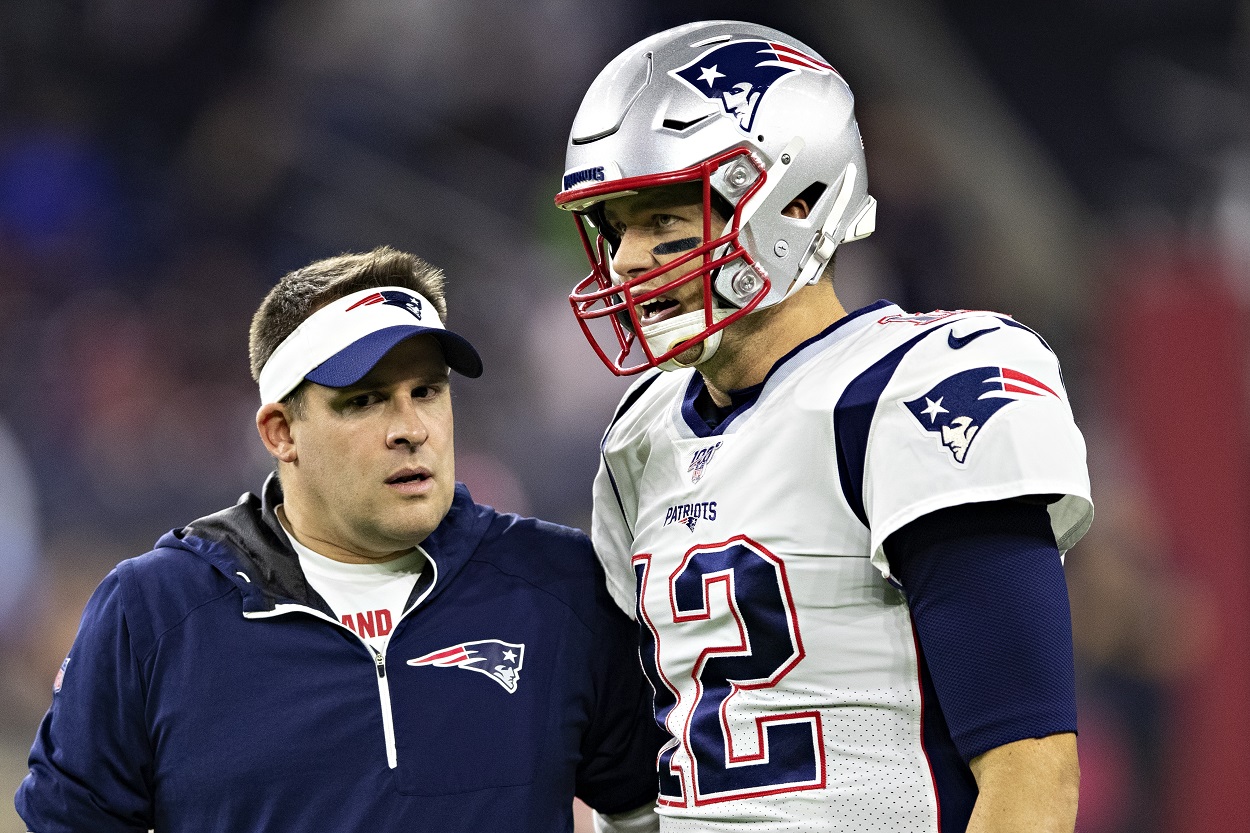 One would think that the thought of going to the Raiders would be intriguing for Brady if only for the opportunity to team back up with Josh McDaniels, who was his long-time offensive coordinator with the New England Patriots.
McDaniels won six Super Bowls with Brady and the Patriots. In three of those Super Bowls, he was the offensive coordinator.
The two know each other well and they'd very likely be on the same page from the very beginning. Of course, there are silly things like contracts to keep in mind. Technically, the Buccaneers still own the rights to Brady's contract as he was signed through the 2022 season. The Raiders also have Derek Carr signed through 2022, though it's worth noting that due to the structure of his contract, if the Raiders cut or trade him, he'll count nothing toward the salary cap in dead cap money and they'll effectively save $19.8 million.
Speaking of Carr, with Brady officially in the retirement home, it makes sense for McDaniels and the Raiders to roll with him for one more season to see if his new offensive-minded head coach can help him get to the next level.
He's undoubtedly within the top 15 quarterbacks in the league, but can he win a Super Bowl? Carr has only played in two playoff games since entering the league in 2014, and he's 0-2.
If he's going to take the next step, it will be up to McDaniels to see if he can get him there.
Stats courtesy of ESPN and Pro Football Reference. Contract information via Spotrac
RELATED: Why Mark Wahlberg Would Crush It as New England Patriots Coach Bill Belichick in a Tom Brady Biopic