If You Don't Like Johnny Football by Now, You Might Be Allergic to Fun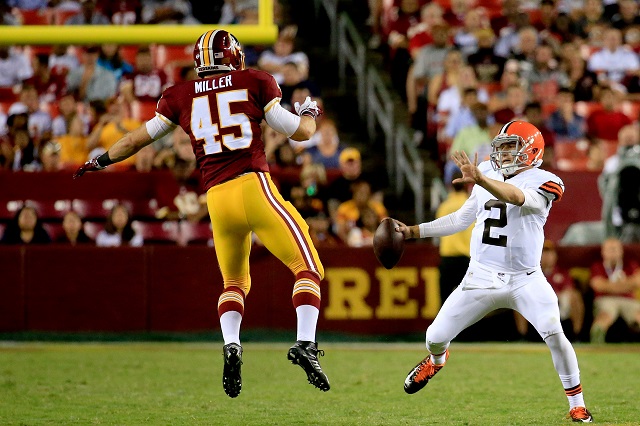 There's no more hiding it now that preseason is officially underway: Johnny Manziel is the most fun quarterback in the entire NFL, and it has very little to do with his play on the field. Whether or not he plays well is entirely beside the point, since his anarchic spirit is going to remain unbroken regardless of what happens in the game. The football universe's greatest fear was not that Manziel would burn out into a fiery pyre of college glory, unable to replicate the play that made him famous at Texas A&M. No, the worst possible scenario for Johnny Football would be to watch him turn into Peyton Manning.
Manning, for sure, is one of the greatest quarterbacks of all time. He is also, almost assuredly by design, portrayed as a pretty boring dude. He does goofy commercials and plays football and likes football and breathes football, and that's more or less what he and the NFL want you to know about him. Peyton Manning is dedicated to the gridiron. That's his thing. There are dozens of interchangeable quarterbacks and prospective quarterbacks, and that list doesn't include Johnny Manziel.
We want Manziel with his middle finger up at the opposing team's bench, whether or not he's thrown for five touchdowns or five pick-sixes. We want linemen on the opposing teams to throw 'The Money' back in his face after a sack, even if it's only preseason. Does it matter that Johnny Football threw for 65 yards and a touchdown, connecting on seven passes of the 16 he put up? No, not really, except that he outplayed the incumbent quarterback, Brian Hoyer, who is also a quarterback and a hometown guy for Cleveland who doesn't deserve to be put in the background by the shenanigans, but that's the price we have to pay.
Look at Donovan McNabb in that video up there. He's reasonable, he's reasoned, he's rational, and he's wrong, but good for McNabb for keeping things in perspective.
Peter Schrager, on the other hand, comes across as a total and utter wonk. He's flustered; he's upset; he could be 30 seconds from lapsing into tongues and foaming at the mouth. "That middle finger was the best thing he did on the field today!" Schrager exclaimed, missing the point entirely. Johnny Football exists, beyond his role as an athlete, as the kind of figure we need to keep the Peter Schragers on their toes, and that is why the middle finger was, indeed, the best thing he did on the field today.
Football is a game. Football is entertainment. Football is also taken far too seriously by pundits, particularly the Skip Bayless-styled talking heads who blow every moment into an event of biblical proportions. Johnny Manziel offers a walking counterpoint to their armchair analysis simply by being a 21-year-old athlete who acts his age. He could lead the Browns to the Super Bowl, or he could be out of the league faster than Tim Tebow, but the worst thing that could happen to Manziel is that he becomes boring.