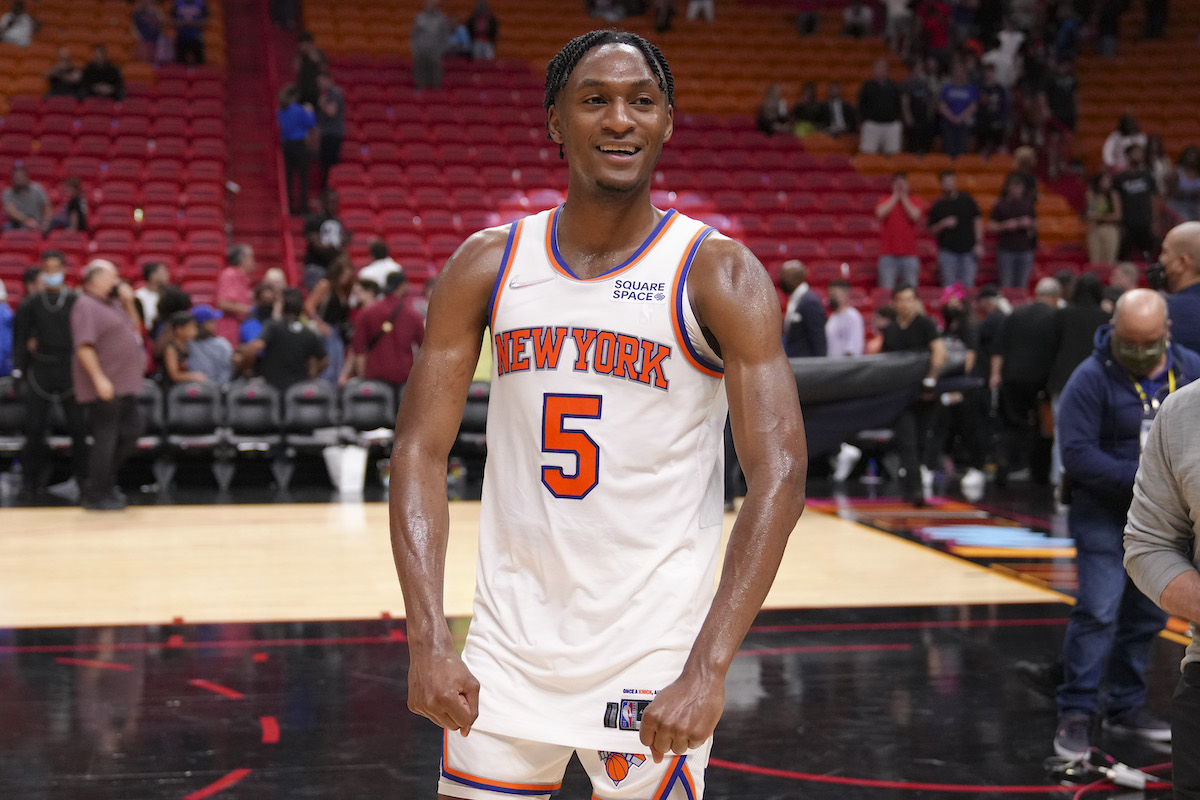 Immanuel Quickley Should Be a Starter if the New York Knicks Want to Salvage Their Disappointing Season
It would benefit the New York Knicks greatly to experiment with Immanuel Quickley as their starting point guard down the home stretch of the regular season.
It's unknown whether Immanuel Quickley is the New York Knicks' point guard of the future or even a long-term piece to the puzzle. With that in mind, it behooves the Knicks to experiment with Quickley as their starting point guard down the home stretch of the regular season.
The 2021-22 NBA season has been a disaster for the Knicks. Coming off a breakout season in which they claimed the fourth seed in the Eastern Conference, they currently own the 11th seed and are poised to miss out on the spring festivities. 
Of course, Julius Randle failing to build on his All-Star season has been a culprit for the team's struggles. At the same time, Quickley's 2021-22 campaign is just as, if not more, disconcerting.
Immanuel Quickley's progression has stalled for the New York Knicks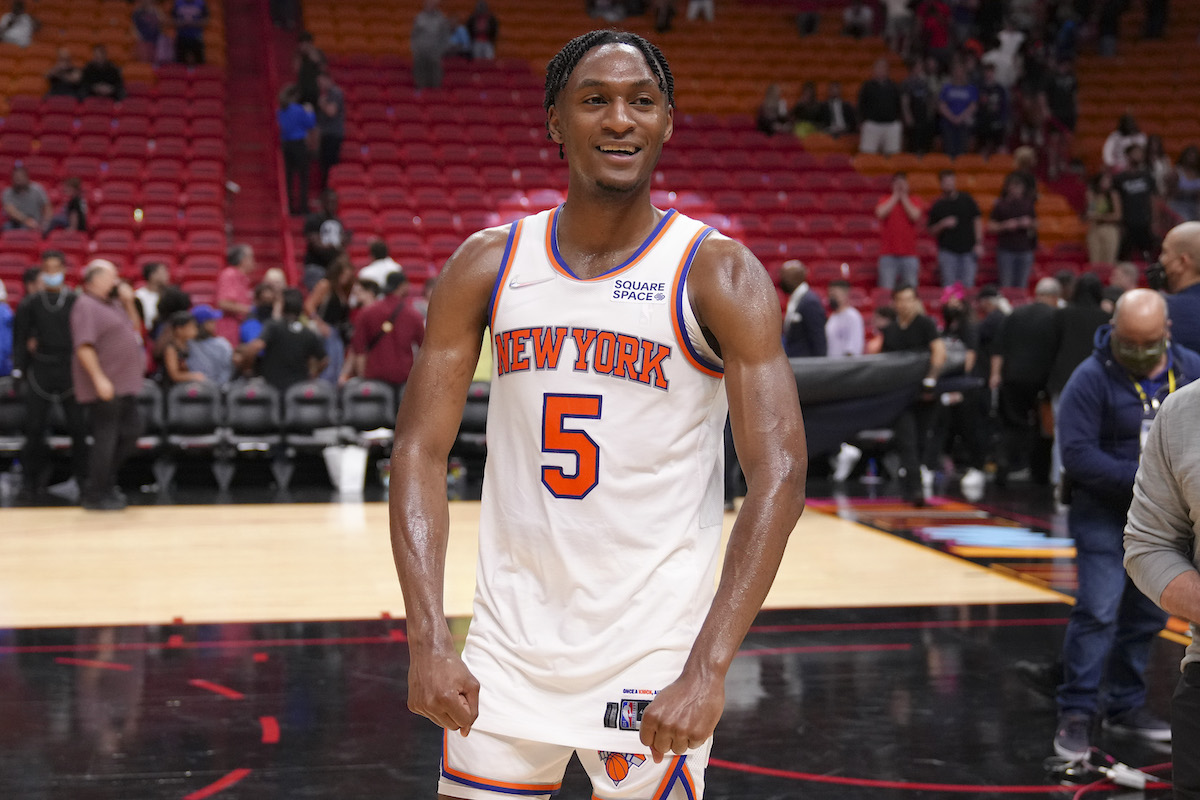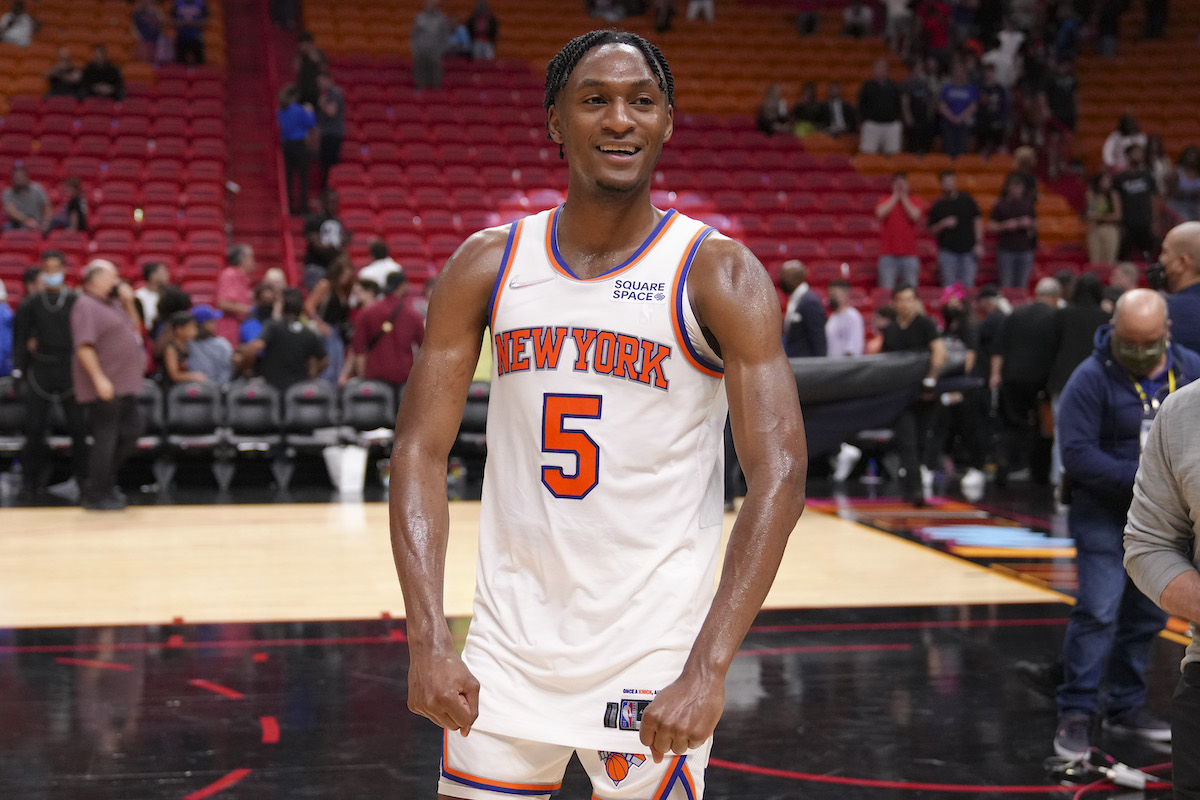 Quickley was a vital part of the Knicks' success last season. He was instant offense off the bench, scored with efficiency, and appeared to be a building block. Now, there hasn't been any regression, so to speak, in Quickley's game. The issue is his role remaining unchanged.
Quickley entered New York's March 23 matchup with the Charlotte Hornets averaging 10.4 points, 3.1 assists, and 2.9 rebounds while shooting 38.6/34.5/90.1 across 22.2 minutes per game. The 22-year-old is getting inside off the dribble, finding his teammates in their hotspots, playing sturdy defense, and drawing fouls.
Quickley's second season is an essential carbon copy of his rookie season. In other words, nothing has changed from a production or impact standpoint in his game. That's primarily because of a mere three-minute increase in playing time. 
The Knicks entered this season with Kemba Walker and Derrick Rose splitting minutes at point guard. Then head coach Tom Thibodeau made wing Alec Burks the point guard, moving Walker to the bench. Shortly after the lineup switch, Rose got hurt, and he hasn't appeared in a game since Dec. 16. Later down the road, Walker and the Knicks agreed that he would sit out the remainder of the season. 
One would imagine these circumstances lead to more minutes for Quickley. Instead, it has led to minimal, if any more playing time. Why? Thibodeau feels Burks and his current rotation give them the best chance to win games. While it may, giving players like Burks and Evan Fournier — respectable players but ones who have peaked — more run than a second-year player is imprudent at this stage of the season.
Is Quickley a flawless player? Of course not, but he has a compelling skill set with upside. His ability to draw fouls like a seasoned veteran and shoot with infinite range is reminiscent of Lou Williams. Quickley is more of a combo guard than a true 1- or 2-guard. Why not at least see what he's capable of doing as the primary ball-handler?
Starting Immanuel Quickley is prudent for the New York Knicks' future
The future of the Knicks roster isn't all doom and gloom. RJ Barrett has continually improved to the point that he's arguably their best player. Rookie Quentin Grimes has flashed a capable three-and-D skill set. Randle is capable of being an effective scorer. Mitchell Robinson, an upcoming free agent, is a plausible interior player on both ends of the floor. 
Simultaneously, this team isn't going anywhere until it gets a long-term point guard. New York's ongoing point guard struggles will likely lead to a heavy pursuit of high-scoring guards this coming NBA offseason. It could mean a free-agent pursuit of Jalen Brunson. Perhaps the Knicks investigate what it would take to trade for De'Aaron Fox or Dejounte Murray? If they go the trade route, Quickley would likely be included in a trade package. 
One way or another, the Knicks would benefit from starting Quickley. If he thrives running the show, maybe they roll with him in their starting backcourt next season and make a substantial trade at a different position? Meanwhile, Quickley making a superb showing for himself could make him more appealing in trade negotiations. 
If Quickley struggles, he would return to being a reserve next season or could be used as part of a blockbuster trade. 
The Knicks and NBA world need a better gauge on Quickley. There's only one way to do that: Start him the rest of the season. The Knicks literally have nothing to lose by promoting him.
Stats courtesy of Basketball Reference. Contract figures courtesy of Spotrac.