In 21-Year-Old RJ Barrett, the New York Knicks Have the Superstar They Went Looking for Last Summer
New York Knicks rising star RJ Barrett has played his best basketball in January while averaging 24.6 points over seven games.
In pursuit of some superstar, difference-making talent to add to their blossoming roster, the New York Knicks signed free-agent guard Evan Fournier and brought aging point guard Kemba Walker back to The Big Apple last summer.
As it turns out, the Knicks' next difference-making superstar might have been on their roster all along in the form of electrifying 21-year-old forward RJ Barrett.
Barrett, like the Knicks, has taken off of late and looks to be back on track after a shaky start. Led by the precocious young star, the Knicks have won eight of 11 since Christmas Day and five of seven in January to climb above .500. Barrett has five 30-point games this season — three of which have come in the last three weeks — and the Knicks are 5-0 in those instances.
Barrett is quickly becoming a clutch, go-to scorer for the surging New York Knicks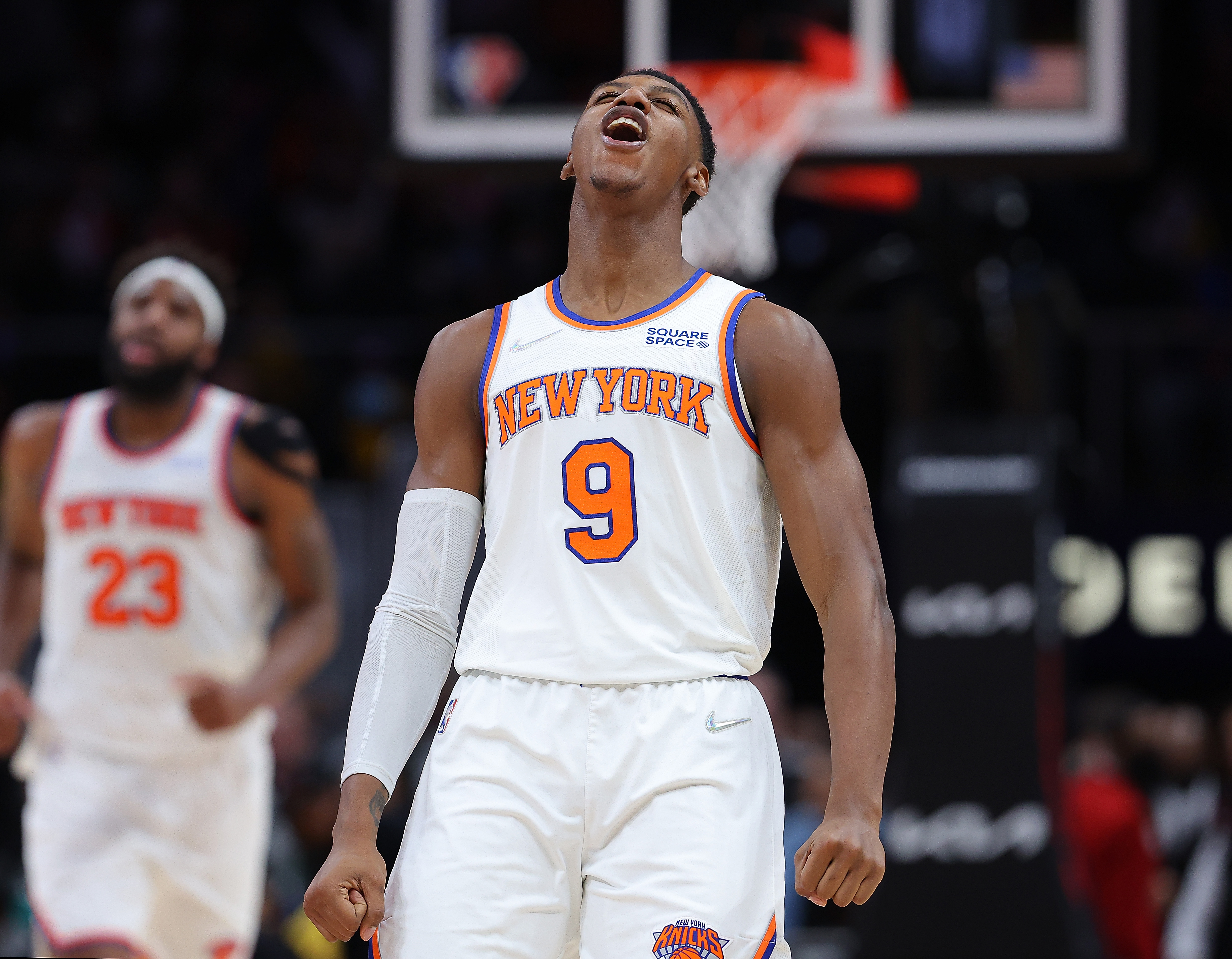 Just 21 years old, RJ Barrett is finally blossoming into the player that the Knicks thought he could become when they picked him No. 3 in 2019.
Barrett, an athletic left-hander, has averaged 24.6 points, 5.1 rebounds, and 3.3 assists while making 47% of his shots and 48.7% of his 3-point tries in seven January games. He battered Dallas for 32 points and four 3-pointers and walloped San Antonio for 31 points and three more 3-pointers. He even salvaged his worst game of the month with a banked 3-pointer to beat the buzzer in an overtime win over the rival Boston Celtics.
It was an excellent bounce-back performance for Barrett, who battled through illness and injury in a dismal December. Barrett's improved play also came after no-nonsense head coach Tom Thibodeau pointedly questioned his commitment and willingness to work on his game.
"Last year, he got going when he started coming in every night to shoot," Thibodeau said, according to the New York Post. "So there's no notion that you (work) sometimes; you got to do it all the time. So, get back in the gym, get back to grooving your shot. Shoot a lot of 3s, and you'll start making more."
As it turns out, Thibodeau was precisely right.
RJ Barrett's scoring has become a big-time barometer of New York's success
Barrett's stellar play of late has helped the Knicks get over .500 for the first time since Dec. 2. However, they still have lots of work to do as they sit at No. 10 in the tightly packed Eastern Conference standings.
How much of a barometer has the third-year pro been for the Knicks this season? In the 20 wins he's appeared in, he's averaged 18.7 points while making 45.4% of his shots and 42.3% from 3-point range. In the 16 losses he's played in, Barrett has averaged 14.6 points, making only 36.8% from the floor and only 27.1% of his threes.
Like the Knicks, Barrett has finally shed his December funk and found his rhythm and flow of late.
"It feels good for sure, but that's what we're working for," Barrett said in a postgame news conference on Saturday. "We had a tough month (of December), but it's starting to pick up now. It's fun to be a part of."
With Cam Reddish and RJ Barrett reunited, could Zion Williamson be a Knick next?
When the Knicks acquired guard Cam Reddish from Atlanta last week, it reunited Barrett with his former Duke University teammate. That move also sparked some rampant speculation that the other first-round pick from Duke in 2019 — superstar power forward Zion Williamson — could someday want to play alongside Barrett and Reddish in New York. Of course, there is no basis for such talk, and Williamson should have his complete focus now on getting healthy and back on the floor for the New Orleans Pelicans.
Back in the real world, Barrett has emerged as the clear second option in the Knicks' offense behind Julius Randle, the NBA's reigning Most Improved Player award winner. That's an award that Barrett very well could contend for this season.
Barrett is giving the Knicks more than an inconsistent Fournier has, and far more than a hobbled Walker has been healthy enough to play in. Had the Knicks only been more patient last summer, they might have realized that the superstar difference-maker they were seeking was already on their roster.
Statistics are courtesy of ESPN.com.