In Near-Death Experience, Chris Bosh Realized He Could Easily Become the Next Jerome Kersey
Just as Chris Bosh was about to receive the credit he deserved, a heart problem meant he played his final NBA game at the age of 32. He tried to ignore the severity of his ailments to stay on the court. But the potentially deadly consequences convinced Bosh that a comeback was impossible.
The choice pained the center, but ball is not, in fact, life. Even with a truncated career, Bosh deserves to receive honors as one of the best big men of his generation.
After years of criticism, Bosh was about to get the praise he deserved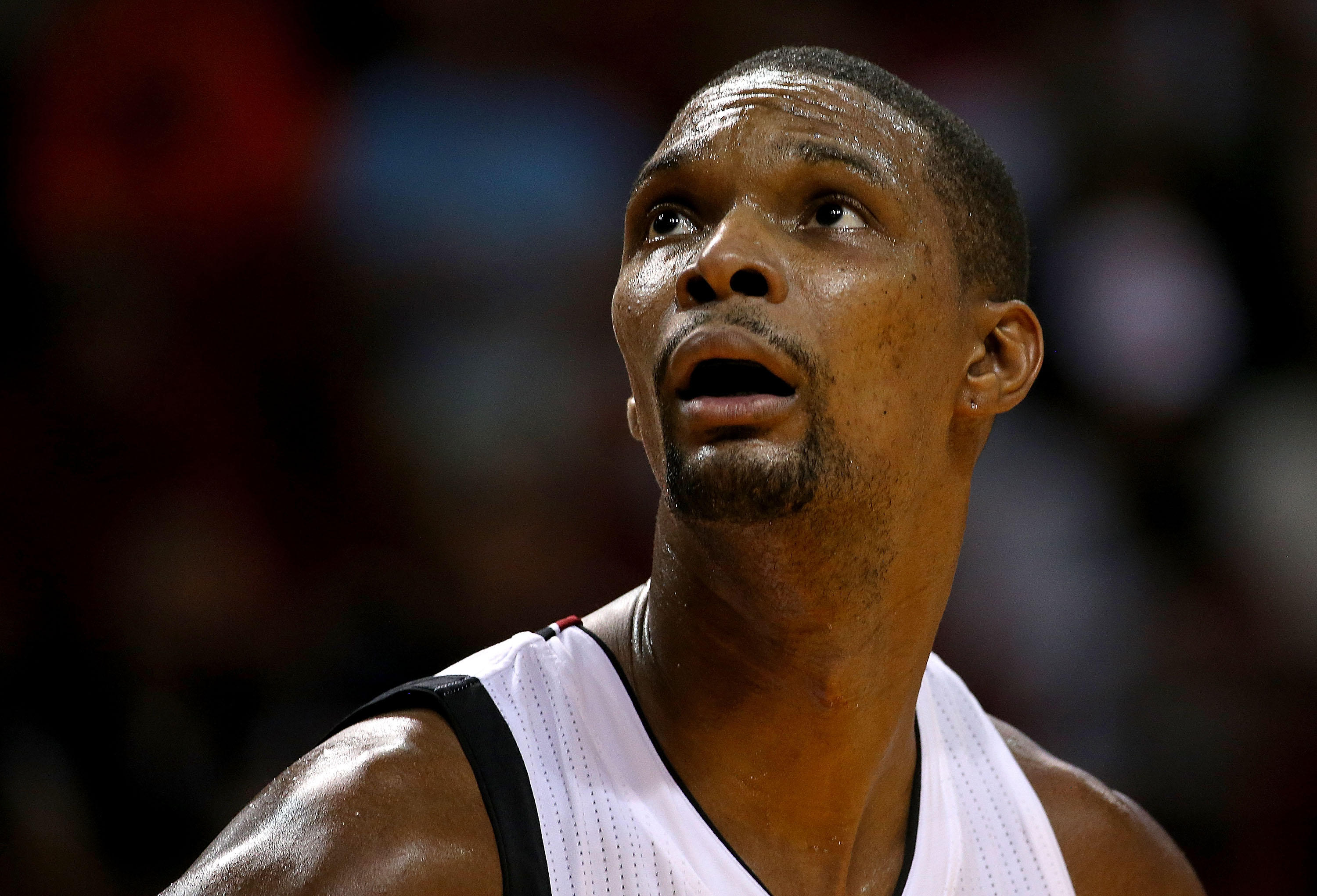 Chris Bosh caught a lot of flak during the heyday of the "Big Three Era" in Miami. Just as the NBA caught up with his game, he had to stay on the sidelines against his will. 
Considering LeBron James and Dwyane Wade's stardom, Bosh was always the one who got the least credit for Miami's success. He excelled as a member of the Raptors. In his seven years with Toronto, Bosh became a five-time All-Star, led the team to their first-ever division title, and left as the team's all-time leader in points, rebounds, blocks, and minutes played.
But Toronto had few, if any, nationally relevant moments during that time. Bosh's lack of playoff success meant most fans didn't know who he was until he was on the pep rally stage alongside James and Wade.
It took years for many people to see what he brought to the table. Critics viewed Bosh as soft; the skinny big man preferred jumpers to post-ups, and he had the gall to cry after losing the 2011 Finals. In hindsight, his ability to stretch the floor and guard multiple positions made him the prototypical small-ball center every team would seek just a few years later. 
Bosh returned to the lead role after LeBron returned to Cleveland in the summer of 2014. He started the season well, averaging 22 points and eight rebounds per game, before receiving the diagnosis that would change his life forever, reports Sports Illustrated.
Bosh fought his diagnosis, but it was too dangerous
Like most health problems, Bosh's issues started small. During a Heat road trip in January 2015, he began to experience a tremor in his left rib cage. A test diagnosed it as an intercostal muscle tear, which forced him to wear a heat pack every night. Miami was already playing without an injured Wade and Luol Deng. So Bosh continued to play through the discomfort.
But his symptoms worsened. Severe chest pains married his post-All-Star weekend vacation to Haiti. Then, an additional trip to the doctor confirmed that Bosh had multiple blood clots in his lungs, which likely originated from a left calf contusion. Upon hearing the news, his wife, Adrienne, went online to learn about the diagnosis.
The first thing she found was an article about former Trail Blazers forward Jerome Kersey, who died the day before of a blood clot that traveled from his left calf to his lung. Fellow former big men Darryl Dawkins and Moses Malone also passed away young within months of Kersey. (Taller people are more likely to develop problems with blood clots, according to the American Heart Association.)
The blood clots blocked an artery in his lung, creating a pulmonary embolism. That blockage also killed some lung tissue, causing a separate condition called pulmonary infarction. Bosh spent a week in the hospital, fearing first for his life and then his career. He had tubes in his chest for most of that time, sucking fluid out from the space around his lungs.
At times, a doctor had to insert a needle into Bosh's side to further drain extra fluid. The scars on his body are still there. As he made the slow trek to recovery — he could barely get out of bed for days after surgery — Bosh took the time to rethink his priorities. What did he define himself by? His eventual answer was emphatic: "I'm a ballplayer, goddammit."
Bosh returned to the court for the start of the 2015-16 season. But the joy of overcoming this obstacle did not last long. Doctors found another blood clot in his leg following the All-Star break. This led to a messy, year-long dispute with the Heat as Bosh kept seeking a doctor who would clear him to return to basketball. The franchise insisted they would not allow him to play.
A piece of Bosh's self-identity was being a basketball player. The Heat didn't want him to die in their uniform. The two parties reached an agreement in May 2017. Miami released Bosh and paid him the remaining $52 million on his contract. But his contract was also removed from the salary cap. Bosh officially retired in February 2019, and the Heat retired his jersey to rapturous applause a month later.
What has Bosh been up to since retiring?
Bosh was always a man with many interests. He's kept himself busy since leaving the court. He told Sports Illustrated the two things that fulfill him the most: "I'm able to focus on being a father, being a man in society, being a husband. Those things take a great amount of attention, and that's what's necessary to keep the legacy going.
Bosh explained that he prioritizes his three sons and two daughters, seeking to teach them how to be good human beings. "There are so many other things outside the game, there are other worlds out there. And it's a challenge for me to redefine myself."
The former NBA star enjoys dozens of unusual hobbies, like playing guitar, learning Spanish, coding, craft beer, traveling, and hiking. He said he enjoys making music the most. Bosh told Sports Illustrated, "Putting records together, working with artists, that has brought me a lot of joy. And I'm glad that I'm in a place where I can really, really put myself into that and learn the craft."
Bosh doesn't talk about blood clots at all during the interview. But this may be a case of no news being good news. Here's hoping it stays that way.