Indiana Pacers Reboot After Admitting Their Nate Bjorkgren Mistake
The Indiana Pacers joined a rare club with their decision to fire head coach Nate Bjorkgren after just one season. The Pacers settled on Bjorkgren after firing Nate McMillan in August 2020. Now Indiana president of basketball operations Kevin Pritchard will go back to the drawing board after a season during which the Pacers missed the playoffs for the first time in six years.
Indiana did make the play-in tournament and crushed the Charlotte Hornets before being blown out by the Washington Wizards and missing out on the No. 8 seed in the Eastern Conference. Technically, that makes Bjorkgren the first rookie head coach in NBA history fired after winning a postseason game. He's just the second let go after taking a team to the postseason (sort of) in his first year.
What are the ramifications for the Pacers? There are a couple of considerations.
The financial impact of Nate Bjorkgren firing not fully known
The Indiana Pacers are one of the few teams in the NBA that successfully avoids leaking coaching salaries. All we know is that Nate Bjorkgren had one guaranteed year remaining on the three-year contract he signed in October 2020, according to the Indianapolis Star.
Unless Pritchard is active on the trade market, the Pacers don't have much room to change personnel this offseason. According to Spotrac, the Pacers are for all practical purposes more than $6 million over the cap for 2021-22. And now they'll be paying two coaches, including one not to coach for them.
The good news for Indiana is that the salary cap doesn't include coaching salaries, so there's no impact there. But there are, however, implications beyond just dollars and cents the Pacers will have to navigate.
Optics of firing a coach after one year not good for the Indiana Pacers
A team firing two coaches in 10 months does not project stability. That's where the Indiana Pacers find themselves after the firing of Nate Bjorkgren. The front office reportedly looked at roughly 15 candidates before settling on Bjorkgren. But there were multiple reports that Bjorkgren alienated players and his assistant coaches by micro-managing and not being open to input.
The latter factor appeared to boil over during a late-season game when young center Goga Bitadze got into a shouting match with assistant coach Greg Foster during a timeout. The Pacers suspended Foster for one game, fined Bitazde, and projected an image of utter dysfunction around the NBA.
The Pacers pulled the plug on McMillan after being eliminated in the first round of the playoffs four straight years, including three via sweep. Indiana has lost its last nine playoff games, with its most recent victory in Game 6 of their first-round series against the Cleveland Cavaliers in 2018. They lost Game 7 before being bounced in four games by the Boston Celtics and Miami Heat, respectively, the next two seasons.
Pritchard has effectively painted himself into a corner. After firing both McMillan and Bjorkgren, he has to hit a home run with his next hire. Otherwise, the Pacers start to resemble Sacramento Kings East. No franchise wants to go there.
How rare is it for coaches to be fired after just one season?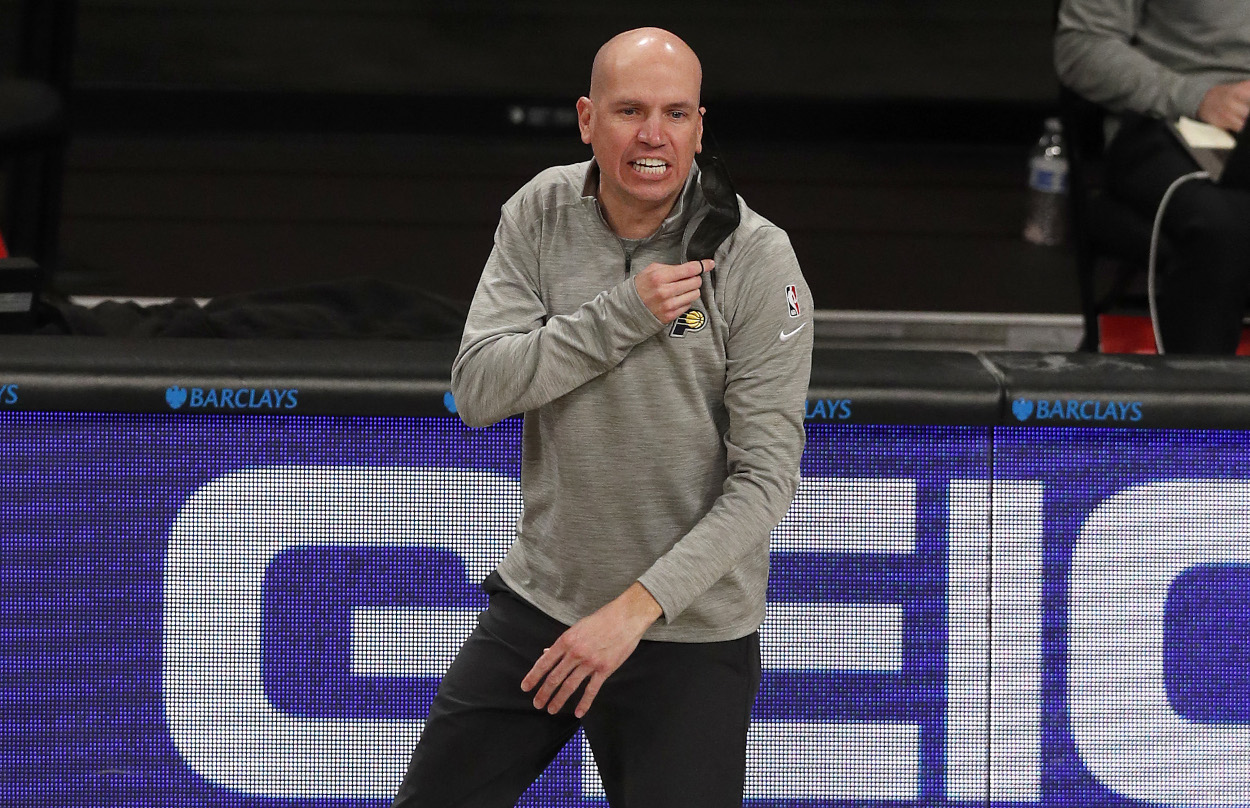 It's certainly not unheard of for a team to become disenchanted with a new coach rather quickly. Nate Bjorkgren is just the latest example of that. In 2009, the Detroit Pistons let Michael Curry go after a first-round sweep.
However, most often, the one-and-done head coach in the NBA is a product of wins and losses. The most recent instance was Igor Kokoskov, who the Phoenix Suns fired after a 19–63 debut season in 2018–19.
There have been some coaches who didn't even get through their first season before getting pink-slipped. The Philadelphia 76ers fired Randy Ayers after 52 games in 2003–04. It took the San Antonio Spurs only 20 games to move on from Jerry Tarkanian in 1992.
Tark was an extraordinarily successful collegiate coach. However, he never adapted to making less money than his players (although considering Tarkanian's history, maybe he already knew that feeling).
There are other instances where the coach decides he needs to move on. John Beilein with the Cavaliers in 2020 is the most recent example. Beilein, like Tarkanian decades earlier, did not handle the transition from college to the NBA well.
Then there was Jason Kidd, who tried a palace coup in Brooklyn before finding an escape hatch in Milwaukee. It wasn't without its hiccups. That whole "Larry Drew was still the coach of the Bucks" thing proved sticky.
Nate Bjorkgren will land on his feet, either on TV somewhere or back in an assistant role. The Indiana Pacers may have to manage some damage control.
Historical data courtesy of Basketball Reference.