Indiana Pacers Won't Regret Bringing Rick Carlisle Back
The Indiana Pacers hope going back to the past can help fix their immediate future. Former Pacers coach Rick Carlisle said he has agreed to a deal to become current Pacers coach Rick Carlisle. Carlisle resigned as head coach of the Dallas Mavericks on June 17 after a 13-year run that included an NBA title in 2011.
Carlisle is Indiana's third coach in three seasons and returns after a four-year stint from 2003–07 marked by diminishing returns. However, there were extenuating circumstances. At the very least, Carlisle should stabilize a job that has been a revolving door of late.
Where did things go sideways for the Indiana Pacers?
In 2020–21, the Indiana Pacers missed the playoffs for the first time since 2015 under first-year head coach Nate Bjorkgren. The Pacers hired Bjorkgren after he spent two years on Nick Nurse's staff with the Toronto Raptors.
Bjorkgren was a first-time head coach who had difficulty dealing with players and his coaching staff. Then, in early May, the situation came to a head when assistant coach Greg Foster argued with center Goga Bitadze on the sideline. At that point, stories about Bjorkgren's dealings with his team began to leak more frequently. The Pacers fired him in early June.
Bjorkgren replaced Nate McMillan, who presided over four consecutive postseason appearances. The Pacers moved on from McMillan after a first-round sweep in 2020. It was the second sweep in a row for Indiana and stretched their postseason losing streak to nine games, dating to Game 7 of the first round against the Cleveland Cavaliers in 2018.
McMillan, in fact, never got the Pacers past the first round. Indiana was 3–12 in the playoffs with McMillan at the helm, including 0–10 on the road. McMillan, coincidentally, is currently leading the Atlanta Hawks in the Eastern Conference Finals as an interim coach.
Rick Carlisle fits the profile the Indiana Pacers wanted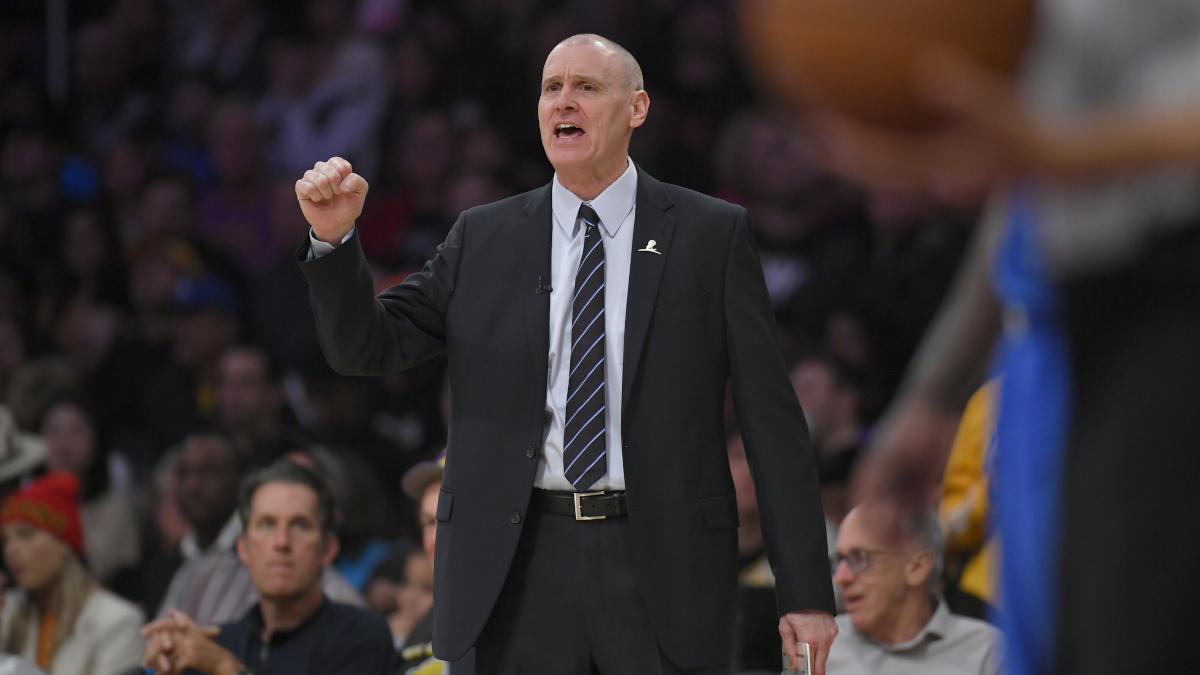 Indiana Pacers president of basketball operations Kevin Pritchard (once they were boring old general managers; how far can we be from a viceroy of all things hoop?) took responsibility for the rapid change. ESPN reported the Pacers were looking for head-coaching experience with this hire. Carlisle has loads of that, 19 seasons worth, to be exact.
The Pacers were 181–147 the first time around under Carlisle, but that record comes with an asterisk. In his first season in Indiana, the Pacers won a franchise-record 61 games before the eventual champion Detroit Pistons knocked them off in the conference finals.
The following season, the Malice at the Palace happened, and Ron Artest served a 73-game suspension in the wake of the incident. Jermaine O'Neal, another All-Star, missed 38 games.
That wasn't where it ended, either. Stephen Jackson was out for 31. Point guard Jamaal Tinsley sat out 42 games. Reggie Miller, at age 39, was asked to play 32 minutes a game, and he broke down physically as well.
The Pacers broke apart from there. Artest came back in 2005–06 but was distracted by recording albums and other off-court activities. He played only 16 games before Indiana sent him to the Sacramento Kings at the trade deadline. O'Neal battled injuries, as did Tinsley, and Miller had retired. The Pacers learned the hard way how fast a championship window could slam shut.
Rick Carlisle is an NBA lifer
Rick Carlisle has been in the NBA as either a player, assistant coach, or head coach since 1984, save for one season. A 1984 third-round draft pick by the Boston Celtics, Carlisle was a reserve on Boston's 1986 championship team and also played for the New York Knicks and New Jersey Nets in a five-year career.
After the Nets cut him loose in December 1989, he immediately joined the coaching staff. He toiled for five years under two coaches in New Jersey before three-year stints for the Portland Trail Blazers and the Pacers.
Carlisle was 100–64 in two seasons coaching the Pistons from 2001–03. After leaving Indiana, he spent a year working in television before replacing Avery Johnson in Dallas. Carlisle is 836–689 in 19 seasons and is 15th on the all-time coaching wins list for his career.
Rick Carlisle is a veteran coach who should be a much better fit in a veteran-laden locker room. The Indiana Pacers have some building blocks in Domantas Sabonis, Malcolm Brogdon, Myles Turner, Caris LeVert, and T.J. Warren. A steady hand in the first chair on the bench will go a long way toward getting the organization back on track.
Statistics courtesy of Basketball Reference.
RELATED: Reggie Miller Says He 'Couldn't Stand' Isiah Thomas: 'He Would Be Smiling All in Your Face'