The Indianapolis Colts Could Get a Brutal Reminder of Their Massive Offseason Mistake in What May Be Yet Another Loss for Carson Wentz and Company
Carson Wentz and the Indianapolis Colts have had a rough start to the 2021 season. Despite initially having high expectations and hoping to reach the playoffs for the third time in four years, Indy is winless through three games and has looked nothing like the team that made the postseason in 2020.
As the Colts head into Week 4, though, they will not only look to get back on track against the Miami Dolphins, but they may also get a strong reminder of their biggest offseason mistake: not finding a backup for Wentz.
The Colts should have found a backup for Carson Wentz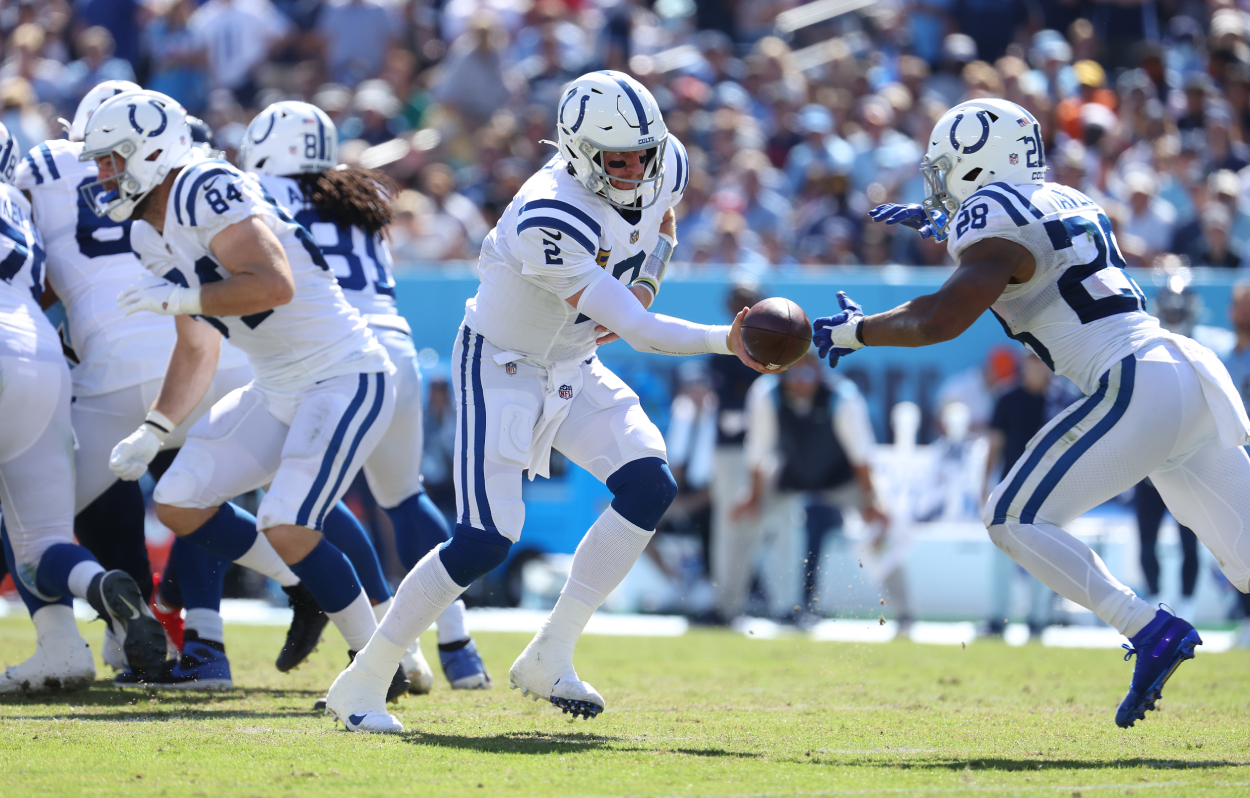 The Colts traded for a talented but injury-prone quarterback this past offseason in Carson Wentz.
The former Philadelphia Eagles QB had a great start to his career before suffering a season-ending injury in 2017. After missing the playoffs that year and seeing Nick Foles lead his Philly team to a Super Bowl win, Wentz then missed the postseason due to injury again in 2018. He also left the only playoff game he has ever played in due to a concussion during the 2019 campaign.
But despite the disappointing track record, Indy acquired Wentz from the Eagles earlier in 2021, and the team didn't even get itself a contingency plan. Instead, it saw former starter and 2020 backup Jacoby Brissett sign with the Miami Dolphins. Second-year QB Jacob Eason then entered the year as the Colts' QB2.
Those decisions have since come back to bite them.
During the team's Week 2 loss to the Los Angeles Rams, Wentz sprained both his ankles, so Eason replaced him against LA in what was the first game of his NFL career. The young QB, however, only completed 2-of-5 passes for 25 yards and threw a costly interception, which led to the team promoting Brett Hundley from the practice squad, and he has since earned the backup spot.
Hundley hasn't received significant playing time since starting on the Green Bay Packers for an injured Aaron Rodgers in 2017. He threw for 1,836 yards, nine touchdowns, and 12 interceptions in nine starts and 11 games.
Wentz ended up playing for the Colts in Week 3, but he looked nowhere near 100%, and that played a role in Indy falling to 0-3. Had there been a competent backup behind him, though, maybe he could have rested, and the game would have had a different outcome.
Indy faces former quarterback Jacoby Brissett in Week 4
With Dolphins quarterback Tua Tagovailoa injured for Week 4, former Colts QB Jacoby Brissett is starting against his old team this upcoming week.
Brissett proved he wasn't a starting-caliber quarterback during his four years in Indy, but he was a more-than-serviceable backup. In 2017, while starting for an injured Andrew Luck, Brissett threw for 3,098 yards, 13 touchdowns, and seven interceptions in 16 games and 15 starts. The team finished that year with a 4-12 record.
After Luck's shocking retirement in 2019, Brissett then got the Colts off to a 5-2 start and threw for 1,590 yards, 14 touchdowns, and three interceptions in his first seven games. But following a knee injury in Week 9 of that season, he only threw for 1,293 yards, four touchdowns, and three interceptions in the final seven, and the Colts finished 7-9.
Brissett's inability to throw downfield held the Colts back at times, but he showed that (when called upon) he could win games for Indy. After completing over 65% of his passes and racking up 215 yards in place of Tagovailoa on the Dolphins in Week 3, he has since proved himself in that capacity yet again.
Jacoby Brissett can give the Indianapolis Colts a brutal reminder of their big mistake
Brissett played well enough to keep the Dolphins in the game during their most recent contest against the Las Vegas Raiders (they lost 31-28 in overtime). Had he stayed on the Colts, though, he could have easily helped them beat the Titans in Week 3. Instead, an injured Wentz played against Tennessee, and Indy's winless start to the season continued.
Now, with Brissett starting in place of Tagovailoa in Week 4, he has a chance to show his former team why it should have made signing a decent backup for Wentz a priority. With Indy also struggling in multiple areas so far this year, maybe he can even get a victory, too.
All in all, the NC State product gives whatever team he's on a chance to win, which is something — other than Wentz — the Colts don't have.
Wentz has proven time and time again that, despite his toughness, he has trouble staying on the field. When his season ended early in 2017, the Eagles had a great backup plan and it resulted in Nick Foles winning them a Super Bowl. Indianapolis, on the other hand, chose to risk it this year by going with multiple unproven players behind him.
That's just asking for trouble.
Letting Brissett walk was easily Indy's biggest mistake of the offseason, and — with Wentz still coming off his latest injuries — it could now result in an 0-4 start and the team's season already finding its way down the nearest toilet.
Stats courtesy of Pro Football Reference
RELATED: Surprising Indianapolis Colts News Could Force Carson Wentz to Reveal Whether He's Actually a Bad Teammate or Not