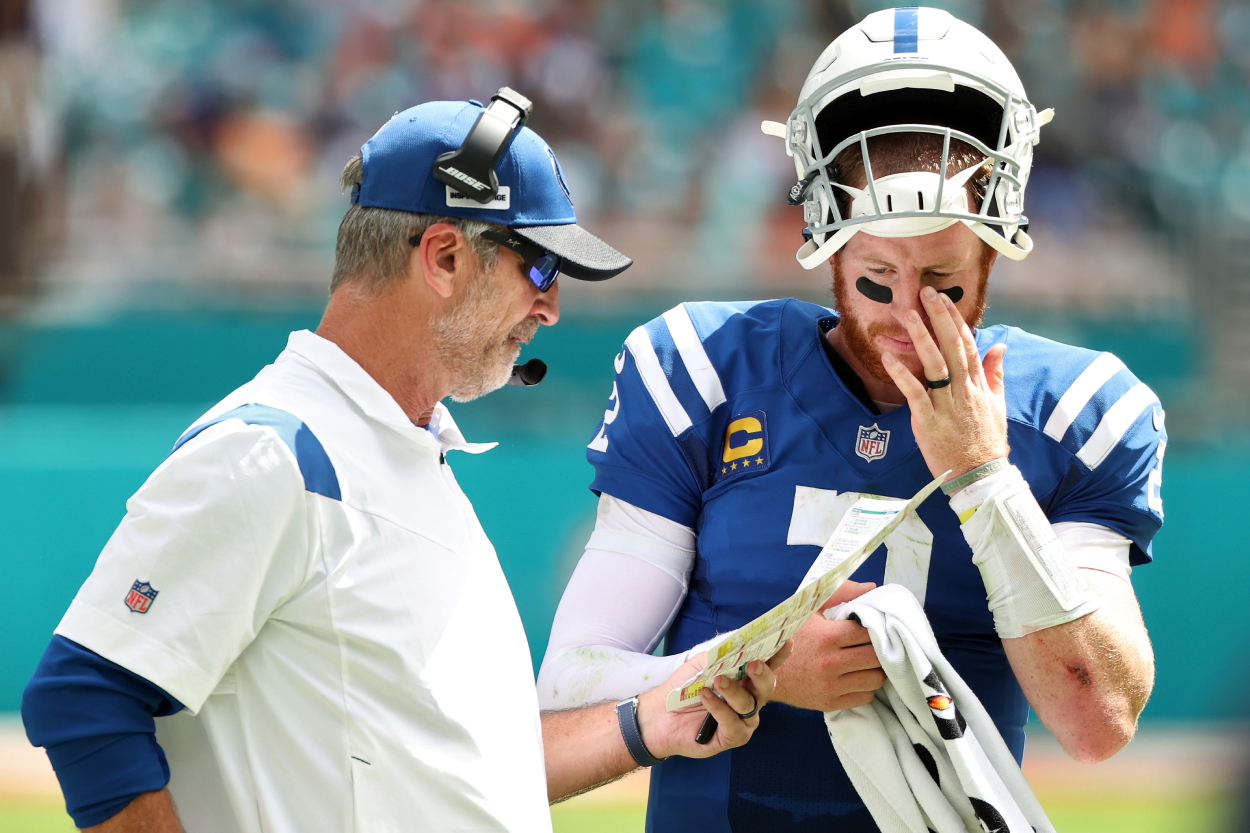 Indianapolis Colts: Frank Reich Passionately Defends Carson Wentz Despite QB's Disastrous Indy Stint
Carson Wentz epically failed on the Indianapolis Colts. However, head coach Frank Reich is still passionately defending his former quarterback despite Wentz's recent trade to the Commanders.
"Frank Reich can fix Carson Wentz" and "Reich is the Wentz whisperer" were two statements Indianapolis Colts fans heard when their team traded for the struggling Philadelphia Eagles quarterback last offseason.
Neither proved to be true.
After a year full of ups and downs, Wentz choked when it mattered most during Indy's 2021 campaign, squandering away its almost guaranteed playoff spot. So, in response to his underwhelming play, the Colts traded Wentz to the Washington Commanders earlier this month and have since acquired Matt Ryan from the Atlanta Falcons.
But Reich, Indy's head coach, is still defending his former quarterback.
Carson Wentz failed as the Indianapolis Colts' quarterback
The Colts looked like a team no one wanted to face in the playoffs through the first 16 weeks of the season. After starting 0-3, they won nine of their next 12 games to jump out to a 9-6 record with two weeks left.
They needed just one win.
But in a contest against the Las Vegas Raiders, Wentz completed just 59.26% of his passes for 148 yards and one touchdown. The Colts lost 23-20.
In their final game against the worst team in football, the Jacksonville Jaguars, Wentz completed only 58.62% of his passes for 185 yards, a touchdown, and one interception. He also lost a fumble. Indy fell to Jacksonville in embarrassing fashion, 26-11, and missed the postseason.
Overall, Wentz had an OK year. He didn't throw as many interceptions as he did in 2020 with the Eagles, but the North Dakota State product still made questionable decisions and looked the other way whenever the check-down options were open. He threw for 3,563 yards, 27 touchdowns, and seven interceptions, and he ranked 27th in completion percentage (62.4%).
While those stats are OK, they won't get things done in a pass-happy league. So, the Colts traded Wentz to the Washington Commanders earlier this month before acquiring 2016 NFL MVP Matt Ryan from the Falcons.
Frank Reich passionately defended Carson Wentz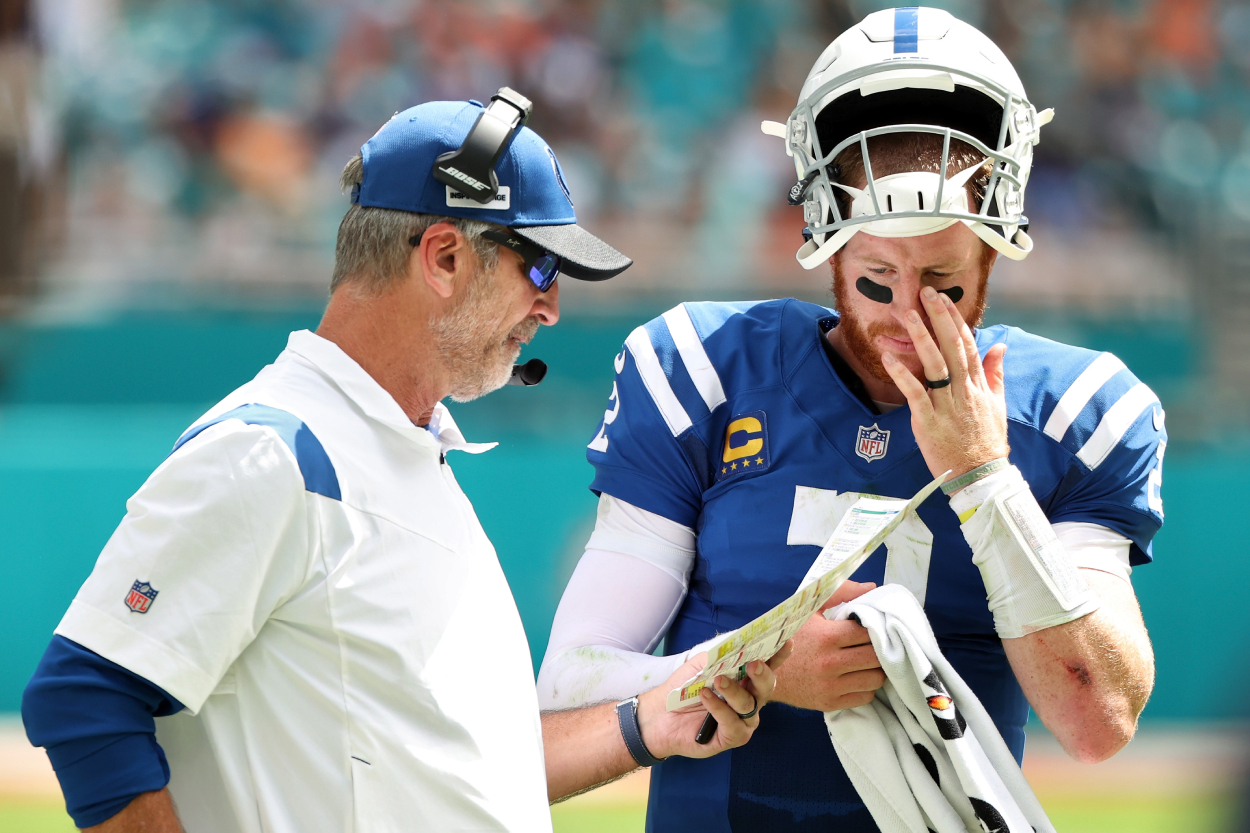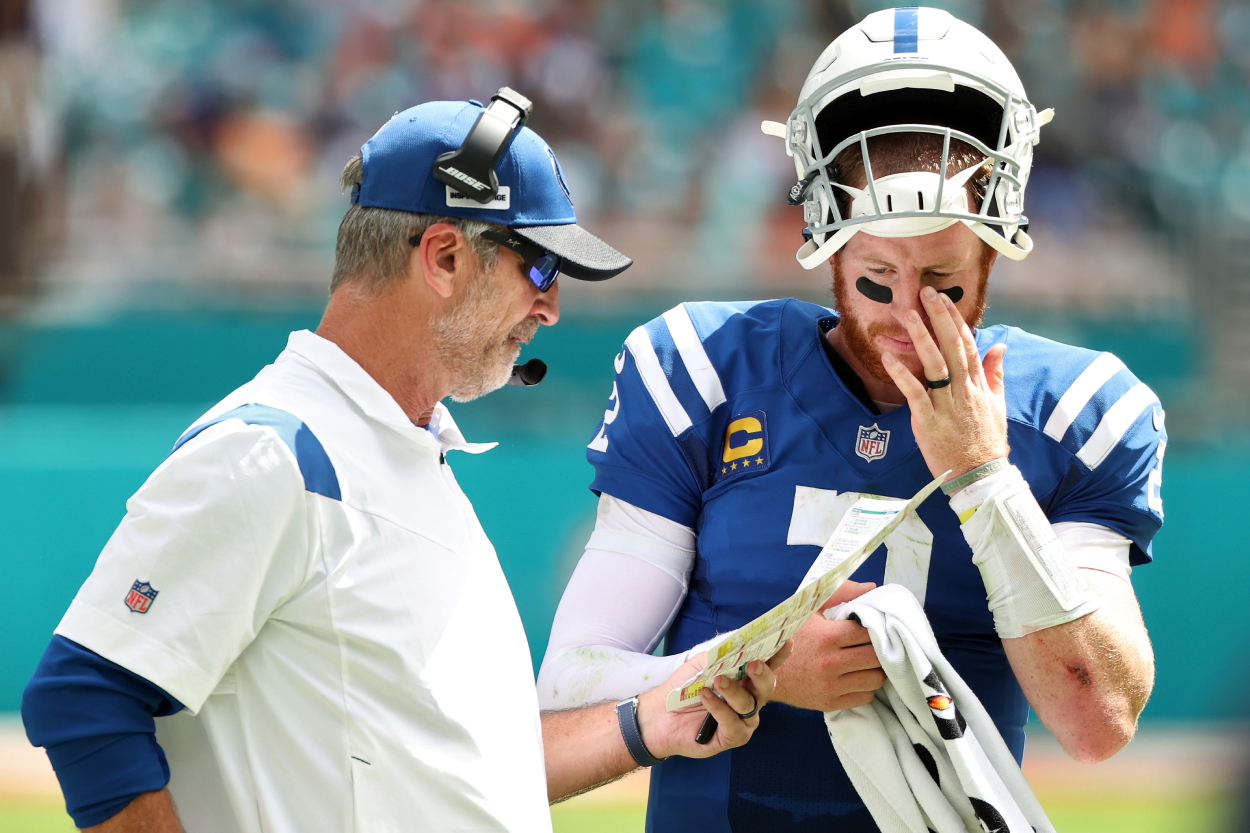 Frank Reich formed a close relationship with Carson Wentz in Philadelphia. He was Wentz's offensive coordinator during his lone Pro Bowl season in 2017, and their success together played a major role in the Colts bringing the QB to Indy.
So, how does Reich feel about the way the season ended?
"Carson played a lot of good football," Reich said to NFL Network's Tom Pelissero on March 27, per NFL.com. "We did a lot of good things as a team, he did a lot of good things as a quarterback. Three quarters of the year we were one of the teams to beat, one of the teams everybody was talking about. And then we had a pretty big time collapse in the last two weeks of the season and we all take responsibility for that, starting with me as a head coach. What would be unfair is to make Carson the scapegoat."
While Reich's comments are admirable, Wentz has played in six NFL seasons. If he were going to become a great quarterback, he would have proved himself by now. And although he wasn't the only reason the Colts missed the playoffs, he wasn't good enough to carry the team when it needed him most.
But Reich still has confidence in the 2016 No. 2 overall pick.
"I love Carson. He's a brother to me. I'll always love him, always pull for him," the coach said. "I know he's going to succeed. I believe a lot in him. It was just one of those things. You thought it was going to be a storybook finish where we kind of get reunited and he can kind of relaunch his career in a new place and that didn't work out. That's life sometimes. It's hard. It's hard, personally. As a coach, you get close to all the players and obviously at the quarterback position and because of my history with him. There's nobody who will support him more and believes he's going to succeed. I think Washington is a great fit for him and I wish him all the best."
It's time for the Matt Ryan era with the Colts
No matter how Frank Reich feels about Carson Wentz, it's time to move on. The experiment proved to be a disaster, and it resulted in the Colts missing the playoffs following a trip to the postseason with a 39-year-old Philip Rivers in 2020.
Now, it's time for the Matt Ryan era, a drastic improvement over Wentz.
"I think everyone saw from the outside that this is a good fit," Reich said of Ryan to Pelissero, per NFL.com. "Like, people can universally agree you got a guy who's still playing at a high level with a team and roster that is built to make some noise. We needed each other."
They needed each other, indeed.
Last season, the Colts didn't have a quarterback capable of leading a playoff-caliber team. Now, they have a former MVP and someone who has played in a Super Bowl.
Ryan, on the other hand, still has the skills of a top QB but didn't have the pieces needed to be successful in Atlanta. He is now joining a team with a stacked roster.
Frank Reich's loyalty to Wentz should have him on the hot seat heading into the 2022 campaign. But he can turn everything around by having a successful season with Matt Ryan.
Stats courtesy of Pro Football Reference