The Indianapolis Colts Have a Major Problem Worth Worrying About That Has Absolutely Nothing to Do With Carson Wentz's Ankles
The 2021 NFL season is not going the Indianapolis Colts' way thus far.
Entering the year with sky-high expectations following an 11-win season under the guidance of since-retired QB Philip Rivers, the Colts were gearing up for a Super Bowl run. They pushed all their chips in and traded for former Pro Bowler Carson Wentz, reuniting him with Frank Reich (Reich was Wentz's offensive coordinator in Philadelphia).
It was a perfect marriage on paper. However, once the injuries starting piling up for Wentz, a sense of frustration began emerging in Indianapolis. Wentz staying healthy is obviously essential for the Colts to have a successful season, but there's actually a far greater issue worth worrying about in Indy.
The Colts' offensive line is playing horribly
One of the biggest reasons people were optimistic about Wentz regaining his previous elite form with the Colts is the offensive line. The Philadelphia Eagles' line was a complete mess of injuries and aging veterans in 2020, leaving Wentz exposed to constant hits and sacks. Wentz actually led the NFL in sacks taken last year (50), despite only starting 12 games for the Eagles.
Even if you have the fastest, most mobile quarterback in the universe, it's essentially impossible to orchestrate a productive offense without a serviceable offensive line. Wentz spent most of 2020 running for his life, which directly impacted his ability to play QB at a high level.
In Indianapolis, the Colts emphatically prioritize the offensive line. They invest a large amount of money and draft capital into the position year over year. Quenton Nelson, Braden Smith, and Ryan Kelly are all elite O-Linemen at their respective positions. It really is a dream scenario for a starting quarterback.
However, the only problem is that the Colts' line has looked miserable through two weeks of football.
Wentz is already feeling the effects of poor line play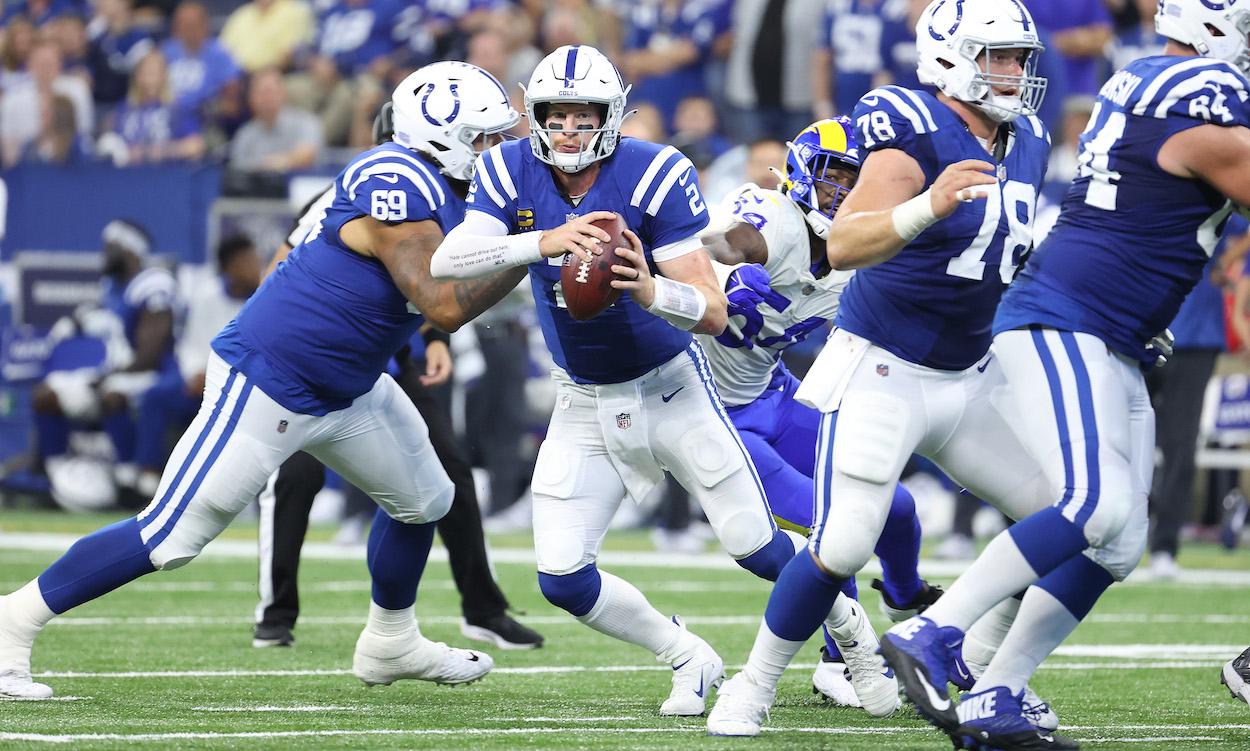 Wentz is emerging as the main scapegoat in Indianapolis following back-to-back losses (he was unable to finish Week 2), but the truth of the matter is that he's played admirably well despite the poor line play in front of him.
Wentz has thrown for 498 yards, three touchdowns, and only one interception. His completion percentage sits north of 65%, and his passer rating is currently higher than it was in 2019 (when he led the Eagles to the NFC East crown). The quarterback is always an easy target for criticism, but Wentz has genuinely played fine through two weeks.
On the flip side, the offensive line is performing like a bunch of high schoolers who somehow snuck onto an NFL field during game day. They've already allowed six sacks and 20-plus QB hits, and that's not even mentioning the sheer number of pressures Wentz is dealing with.
The Colts need to get healthy to fix this issue
On paper, the Colts have one of the best offensive lines in the league. So, why is it such an issue at the moment?
For starters, going up against the Seattle Seahawks and Los Angeles Rams to begin the year is brutal. Both teams (especially LA) employ strong pass-rushes. Second, the Colts need to get healthy up front, and they need to do it fast.
Nelson is still recovering from an offseason injury, right tackle Smith missed Week 2, and new starting LT Eric Fisher is still not 100% following last year's season-ending Achilles rupture. Once these guys get back into playing shape, the Colts' line should begin to perform better.
In the meantime, they're going to have to find a way to patch things up to a serviceable level. Wentz had both his ankles sprained against the Rams due to a crushing Aaron Donald hit — the Colts' line can't let things like that happen moving forward.
There are still 15 games left to go this season — plenty of time for the Colts to flip the narrative on their struggling O-Line. However, it's something that needs to be fixed sooner than later. Wentz only has so many healthy body parts left on him.
All stats courtesy of Pro Football Reference.
RELATED: Carson Wentz Sent a Powerful Message to Indianapolis Colts Fans, Which Proves He's the Perfect QB to Finally Replace Andrew Luck