The Indianapolis Colts Have a New Secret Weapon on Offense That's Impressing NFL Legend Steve Smith
Heading into the 2021 NFL Draft, several highly-rated wide receiver prospects were set to be selected toward the top of the draft. Ja'Marr Chase, Jaylen Waddle, DeVonta Smith, and Rashod Bateman all have WR1-type potential, and the Indianapolis Colts were keeping a close eye on most of them heading into the draft.
With T.Y. Hilton beginning to get up in age and a new quarterback in Carson Wentz (who likes to air the ball out) in town, the Colts needed to add to their WR depth chart.
While Indy could not land one of the top-rated guys with their first-round selection (they drafted DE Kwity Paye instead), they may have still solved their WR problem over draft weekend.
The Indianapolis Colts found a late-round gem in Michael Strachan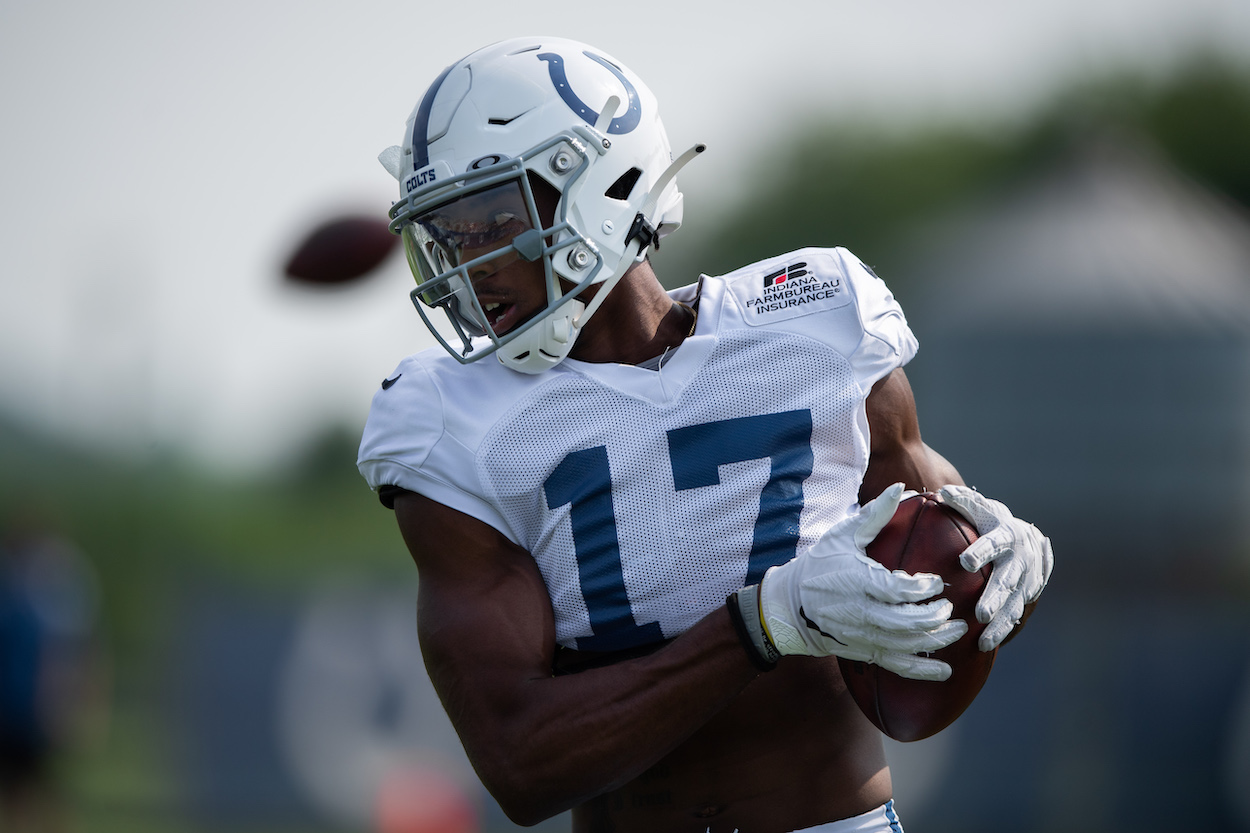 Michael Strachan, the Colts' seventh-round pick during the 2021 NFL Draft, hails from the Bahamas. He moved to Lynchburg, Virginia, and played high school football there, eventually landing at the University of Charleston for college.
Strachan won various awards and accolades during his four-year college career at Charleston (ucgoldeneagles.com), allowing him to seek out the NFL upon graduating in 2020. He opted out of his final year of eligibility which was canceled due to coronavirus (COVID-19), declaring for the NFL Draft soon thereafter.
Strachan also participated in track and field for Charleston athletics, winning conference championships in 200 meters, 400 meters, and the 4×100 meter relay. This elite speed that he possesses has already shown itself on the NFL practice field.
Strachan is turning heads during training camp, preseason
Entering camp as a seventh-round pick, Strachan is fighting an uphill battle to stick around into the regular season. Late-round draft picks are often relegated to practice squad duties during their rookie season, with a good number being outright released as well. It's not uncommon for players in Strachan's situation to not make it through the full preseason.
However, the Colts' newest wide receiver has wasted little time making sure his impact is felt at practice and during preseason games. Colts beat reporters have raved about his athleticism and jump-ball ability during camp, and Strachan displayed it on a national stage during the team's first preseason game of the summer.
Leaping over a Panthers defender on a ball delivered by quarterback Jacob Eason, Strachan made a stunning contested catch.
Talk about making your presence felt during your debut.
NFL legend Steve Smith has taken notice of the Indianapolis Colts' rookie WR
NFL legend Steve Smith also took notice of Strachan's performance during halftime of the Colts-Panther preseason game. Citing his ability to route-run like a "little guy" while still using his dominating 6-5 height, Smith seemed impressed with the seventh-round pick's ability.
Highlight catches and an endorsement from one of the greatest wideouts in football history? Might as well start building the Strachan statue outside Lucas Oil.
In all seriousness, there are still two preseason games left for the Colts, but Strachan is making a very aggressive push to steal a roster spot. At the minimum, he'll be placed on the practice squad, which is still promising news for a seventh-round pick.