Indianapolis Colts: Pat McAfee Questions His Former Team's Bizarre Free Agency Habits
The Indianapolis Colts have boatloads of cash.
So, why aren't they spending it?
The Colts currently have some massive holes on their roster, but they don't seem too eager to fill them. While several NFL teams have thrown millions at various free agents within the past 24-plus hours, Indy has stood pat and kept its holes as is. General manager Chris Ballard and company appear to be watching the market instead of becoming the market.
No, this isn't a deviation from their past free-agency habits. Ballard has been conservative ever since joining the team. But with owner Jim Irsay saying his franchise would be "all chips in" after squandering a playoff spot in Week 18, some assumed they would make some big-time moves.
And now one of their old players, former punter and current sports media superstar Pat McAfee, is questioning their strategy.
The Colts will likely be conservative despite having significant cap space
The Colts already had a decent amount of cap space at the start of the offseason. But after trading quarterback Carson Wentz to the Washington Commanders last week, they currently have the most of any NFL team.
Indy entered free agency with $69.8 million in cap space before re-signing tight end Mo Alie-Cox to a three-year, $18 million deal. That contract lowered the number to $62.46 million (per Over The Cap), but that's still the most in the NFL.
However, it appears the Colts don't plan on being too aggressive.
Zak Keefer of The Athletic reported that the team's approach won't change compared to past years when they have been conservative.
"Doesn't mean they won't take a big swing at some point, but I get the sense they're gonna be patient and feel out the market before they do," he tweeted.
Former Indianapolis punter Pat McAfee, though, didn't necessarily appreciate that news.
Pat McAfee questioned the Colts' free-agency habits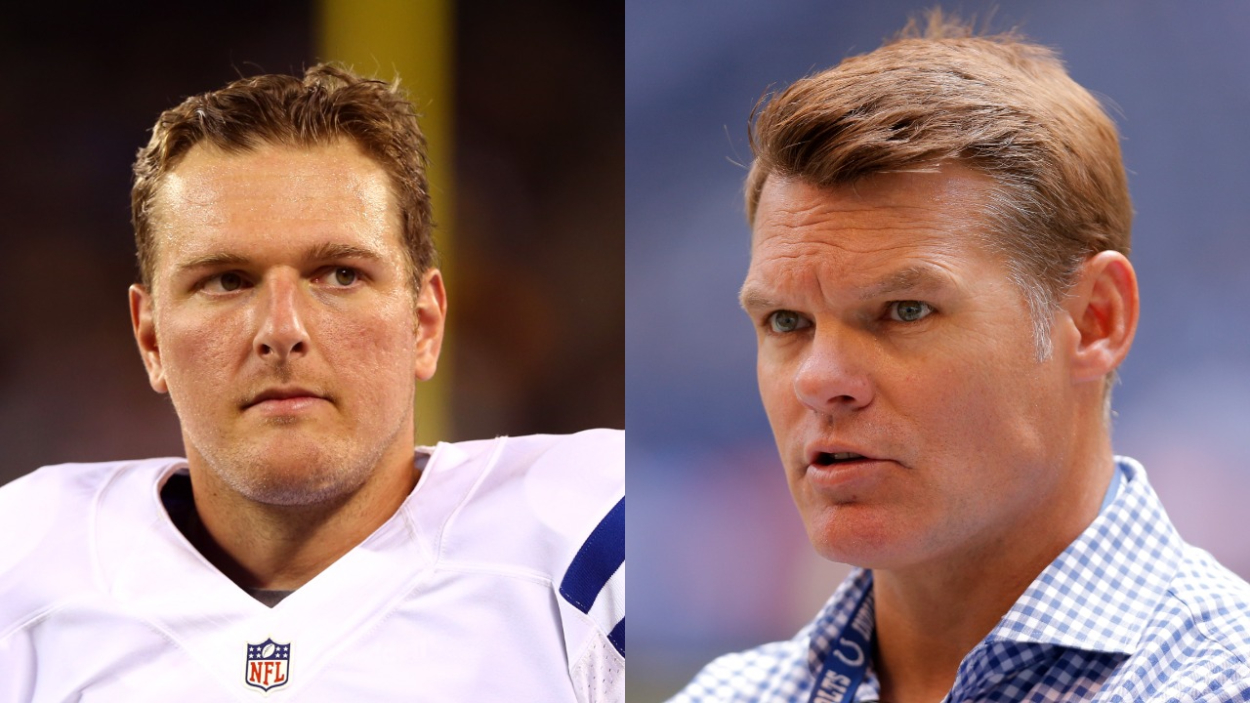 Pat McAfee has become one of the biggest sports media stars in the NFL, and since he played on the Colts throughout his entire career, his show regularly discusses the team.
So, on March 14, the first day of the NFL's legal tampering period, he questioned Indy's conservative approach.
"It's not Jim Irsay saying, 'I'm not spending the money,'" he said on an episode of The Pat McAfee Show. "… Chris Ballard has been very consistent, 'Hey, I'ma build the culture; I'ma build from within. Guys need to know that if they play well here, they're gonna get paid here.' And he has done that. He has paid everybody within house. Now, somehow he still has $70 million available. And I don't know if he doesn't want to set the precedent of, 'Hey, we're gonna pay these big-name guys who have never done anything here.' … It doesn't make any sense."
McAfee brought up how Bill Belichick and the New England Patriots have also notoriously been conservative. But they went out and spent cash last offseason, and it resulted in a playoff appearance.
In fact, the NFL's highest free-agency spenders throughout each of the last six seasons all improved their following year win totals by at least three games (h/t ESPN's Field Yates).
So, what are the Colts waiting on?
"That team's (the Colts) a f***ing team," McAfee said. "In all the places you need, they got — except for playmaking positions and quarterback. It's like you have all the 1990 and 1980 positions locked in. Now, we just need a little 2022 sprinkled in there. And then, we're off and running here in Indy, and is that not what we're about anyways? What are we thinking?"
It's time for the Colts to spend some cash
Chris Ballard's strategy has worked to a degree. He has been able to keep homegrown superstars like Darius Leonard. However, he should not want to waste their primes, so it's time to spend money on players who can help them now.
Indy needs a quarterback, left tackle, wide receiver, tight end, and pass rusher.
Russell Wilson and Aaron Rodgers were the top options at QB, but they are off the board. However, Indy could still trade for someone like Derek Carr or Jimmy Garoppolo, or sign Marcus Mariota. There are also still plenty of options they can look at to play tackle, including three-time Pro Bowler Terron Armstead, but they missed out on some talented tight ends like C.J. Uzomah and Zach Ertz.
Wide receivers Christian Kirk and D.J. Chark have also signed with teams, and edge rusher Emmanuel Ogbah chose to stay with the Miami Dolphins.
All in all, the Colts have holes they need to fill fast, but it all starts at QB. Players will be more willing to come to Indy once the team has that position figured out.
So, Indianapolis needs to find its next signal-caller as quickly as possible and then prepare the Brinks trucks for some of the NFL's top free agents. It's time to, as Irsay said, put all their chips in; now's not the time to be conservative.
RELATED: Colts Star Kenny Moore II Takes to Twitter to Seemingly Recruit Tyler Lockett to Indy