What the Indianapolis Colts' Plan of Attack Must Be for the 2022 NFL Offseason
Despite looking like legitimate Super Bowl contenders after their wins over the New England Patriots and Arizona Cardinals, the Indianapolis Colts' 2021 season ultimately goes down as an epic collapse.
They had two separate chances to clinch a playoff spot in Week 17 and Week 18, and they blew both opportunities. Their final loss to the Jacksonville Jaguars, in particular, was extremely embarrassing. The Jaguars outplayed them at every level of the game, adding insult to injury as they knocked the Colts out of the postseason.
With their offseason officially underway following a 9-8 campaign, the Colts have some serious work to do.
Biggest offseason questions
Less than a month ago, the Colts were on top of the world. They had a running back in the MVP conversation, an elite offensive line, and a quarterback making just enough throws to win them games. On the surface, the Colts' offense was the least of their worries.
However, as we all saw during their losses to Las Vegas and Jacksonville, the Colts' lack of a truly elite passing attack came back to bite them. Between Carson Wentz missing throws and an overall lack of dominant talent at the WR position, they simply didn't have enough juice in the air to win games when they mattered the most.
If the Colts are going to bounce back in 2022 and get back into the postseason, they need to solve their passing attack problems. Wentz needs to be more decisive and a little less aggressive, and general manager Chris Ballard needs to acquire two legitimate weapons at WR.
The days of relying on an aging T.Y. Hilton to play savior late in the year are no more. The Colts need additional reliable pieces alongside Michael Pittman Jr.
You can even add the offensive line into the equation. The Colts' left tackle situation is unclear moving forward (more on that later).
Top free-agency decisions
Key free agents: T.Y. Hilton (WR), Eric Fisher (OT), Zach Pascal (WR), Marlon Mack (RB), Mo Alie-Cox (TE)
The Colts don't have many impending free agents to worry about. However, the few they do are in crucial positions. They're set to lose two starting wide receivers, their starting left tackle, and their primary backup tight end (running back Marlon Mack isn't terribly important).
Starting first with the two receivers, Hilton and Zach Pascal, there's an argument to be made that Indy should move off both players. The Colts' passing attack wasn't good enough this year, and the WR room deserves some blame for that. Hilton, in particular, is starting to get up there in age. The Colts need to invest his playing time into someone better and younger.
Moving to left tackle, Eric Fisher is a tricky one. He wasn't terrible this past season, but he also wasn't all that good. LT is a really challenging position to fill in the NFL, so the Colts may explore bringing him back as a safety valve of sorts. Ultimately speaking, finding a way to replace him with someone better (and younger) would be ideal.
Last but not least, Mo Alie-Cox is a solid tight end who's likely deserved a second contract. However, the Colts may have their eyes set on a different pass-catching TE in free agency (Zach Ertz, anyone?).
2022 NFL Draft needs and potential targets
Top picks: Second round (own), third round (own)
Draft needs: WR, EDGE, OT, CB, TE, QB?
The super unfortunate part about the Colts missing the postseason this year is they owe the Philadelphia Eagles a first-round pick from the Carson Wentz trade. The Colts currently possess a measly two picks in the first three rounds of the draft — limited ammo to work with.
Wide receiver and offensive/defensive line are undoubtedly the Colts' biggest offseason needs. Investing their limited draft capital into any of these three positions feels like a no-brainer.
The Colts could also use some help at cornerback and tight end (as previously mentioned). It seems unlikely that Ballard will burn a second or third-rounder on one of these positions, but it's certainly possible.
Last but not least, we do have to mention the state of the quarterback position. It's doubtful the Colts look to move off Wentz after just one season, but stranger things have happened in the NFL. If one of the top quarterback prospects starts slipping during the draft, the Colts could be a sleeper team looking to move up and grab one.
1 player on each side of the ball who must step up in 2022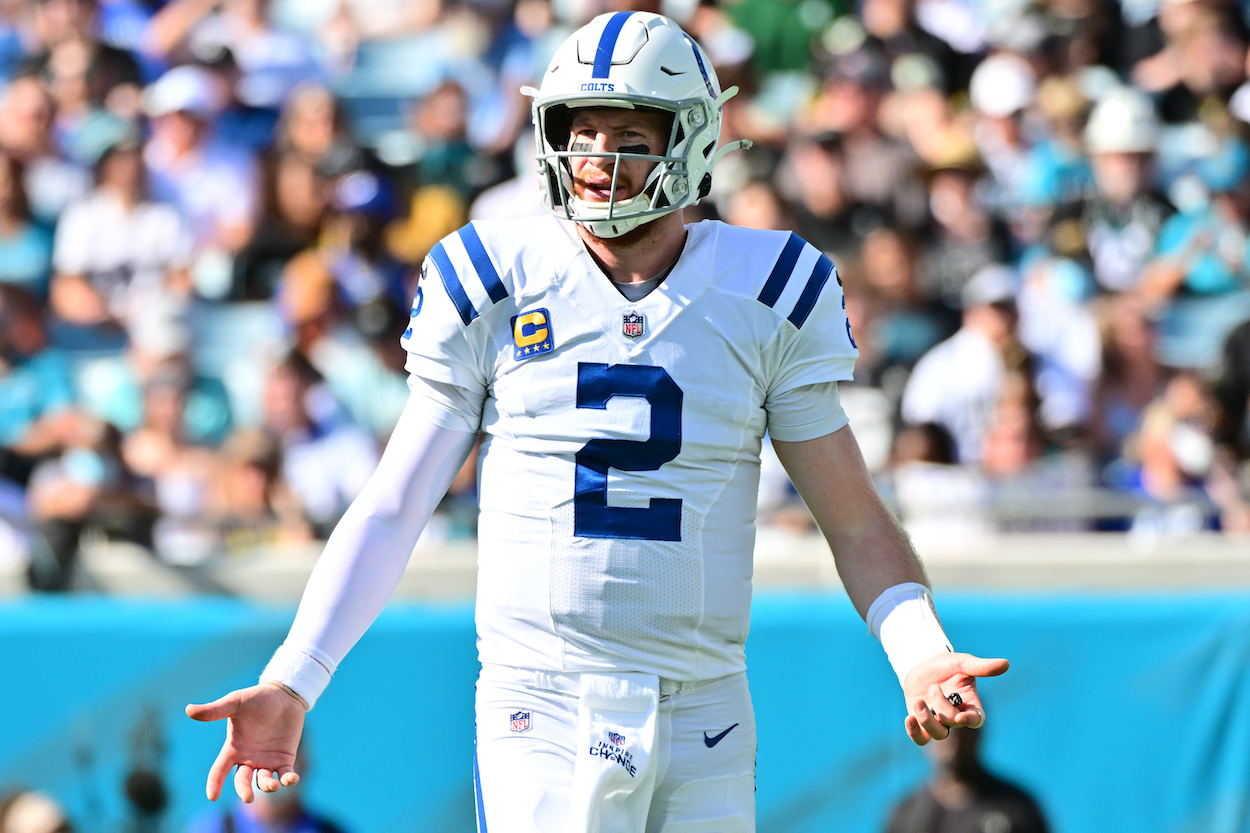 On offense, the answer is pretty simple when discussing who needs to step up for Indy in 2022. Wentz needs to be better — plain and simple.
Wentz finished with a respectable season stat-line (3,500-plus yards, 27 touchdowns, 7 interceptions). However, he left far too many big plays on the field and came up small down the stretch. He needs to be better moving forward.
On defense, the Colts need DE Kwity Paye to take a noticeable step forward in his second year. Paye finished with a measly 4.0 sacks during his rookie season — not good enough for a first-round pick. He needs to start performing like an elite edge rusher moving forward.
All stats courtesy of Pro Football Reference.