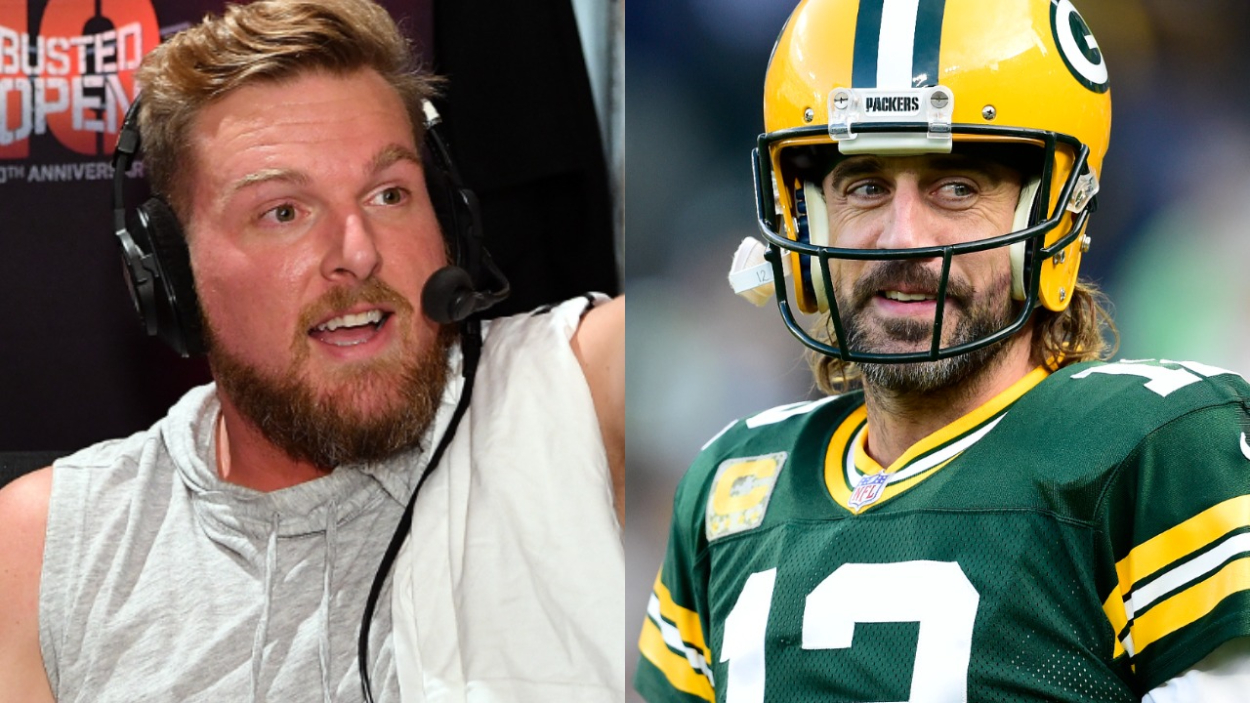 The Indianapolis Colts Should Use Pat McAfee's Friendship With Aaron Rodgers to Help Fix Their Doomed QB Situation Once and For All
The Indianapolis Colts haven't had an answer at quarterback since Andrew Luck, so they should use former punter Pat McAfee to bring his friend, Aaron Rodgers, to Indy.
The Indianapolis Colts, like many other NFL franchises, were likely stressed out watching the playoffs this weekend. Having to see guys like Joe Burrow, Patrick Mahomes, and Josh Allen dominate for their respective teams while their quarterback situation continues to be shaky has to be devastating.
But the Colts could fix that problem (at least for the next few years) by giving one of their former players a call.
As you probably know, Pat McAfee, the team's punter from 2009 through 2016, is now a massive sports media personality. He also still lives in Indianapolis and roots for the team. So, he could be Indy's answer to its biggest problem.
No, McAfee can't play quarterback, but the Colts should use his friendship with Aaron Rodgers as a recruiting tool to bring the reigning NFL MVP to Indy.
Aaron Rodgers' future with the Packers is unclear … again
It seems like we were just in this position. We spent all last offseason wondering whether Aaron Rodgers would retire, ask for a trade, or return to the Packers. Now, we're here again.
Rumors about the QB flew around from every direction last year, and Rodgers didn't speak about his plans too much. But the 2005 first-round pick returned to Green Bay and, after seemingly working out his issues with the front office, continued to dominate this season. He threw for 4,115 yards, 37 touchdowns, and only four interceptions, and he led Green Bay to the No. 1 seed in the NFC with a 13-4 record.
But with the San Francisco 49ers upsetting the Packers in the NFC Divisional Round this past weekend, Rodgers, who gave a cryptic message after the loss, will have a tough decision to make sooner rather than later.
He said after the game that he doesn't "want to be part of a rebuild" if he chooses not to retire. His top receiver Davante Adams, though, is a free agent this offseason, and the Packers are already exceeding their projected 2022 salary cap by $44.8 million, according to ESPN. So, there's a chance Adams won't return in 2022, which means Green Bay won't have nearly as competitive of a team.
So, if Rodgers ends up wanting to play but has no other choice other than to ask for a trade, the Colts could be a perfect fit.
The Indianapolis Colts need to figure out their doomed quarterback situation
Since Andrew Luck's shocking retirement in 2019, the Indianapolis Colts have been a talented team without a solution at quarterback.
They had a nice year in 2020 with Philip Rivers, going 11-5 and making the playoffs. But they had a disappointing end to their 2021 campaign with Carson Wentz, who had a bounce-back season from last year but proved he doesn't have what it takes to lead a team when it needs him.
Aaron Rodgers could be the solution for the Colts.
Indy is expected to have a decent amount of cap space in 2022 and could save $13.3 million by releasing Wentz, per CBS Sports. And owner Jim Irsay has made his dissatisfaction with the team known since its regular-season collapse, which could push general manager Chris Ballard to be more aggressive this offseason. Ballard has been pretty noncommittal to Wentz since the team's Week 18 loss to the Jacksonville Jaguars.
It could take a lot to get Rodgers, but he would have a strong team around him if he were to go there. The Colts have one of the most talented defenses in the NFL that's elite at forcing turnovers, a solid offensive line, arguably the best running back in football in Jonathan Taylor, and an up-and-coming wide receiver in Michael Pittman Jr. They are essentially just a QB away from Super Bowl contention, and Rodgers' Hall of Fame-worthy skills could be the answer for the next few years.
And if the Colts want to make a serious run at the 10-time Pro Bowler, they should just give Pat McAfee a call.
Pat McAfee can be the Colts' strongest weapon in bringing Aaron Rodgers to Indy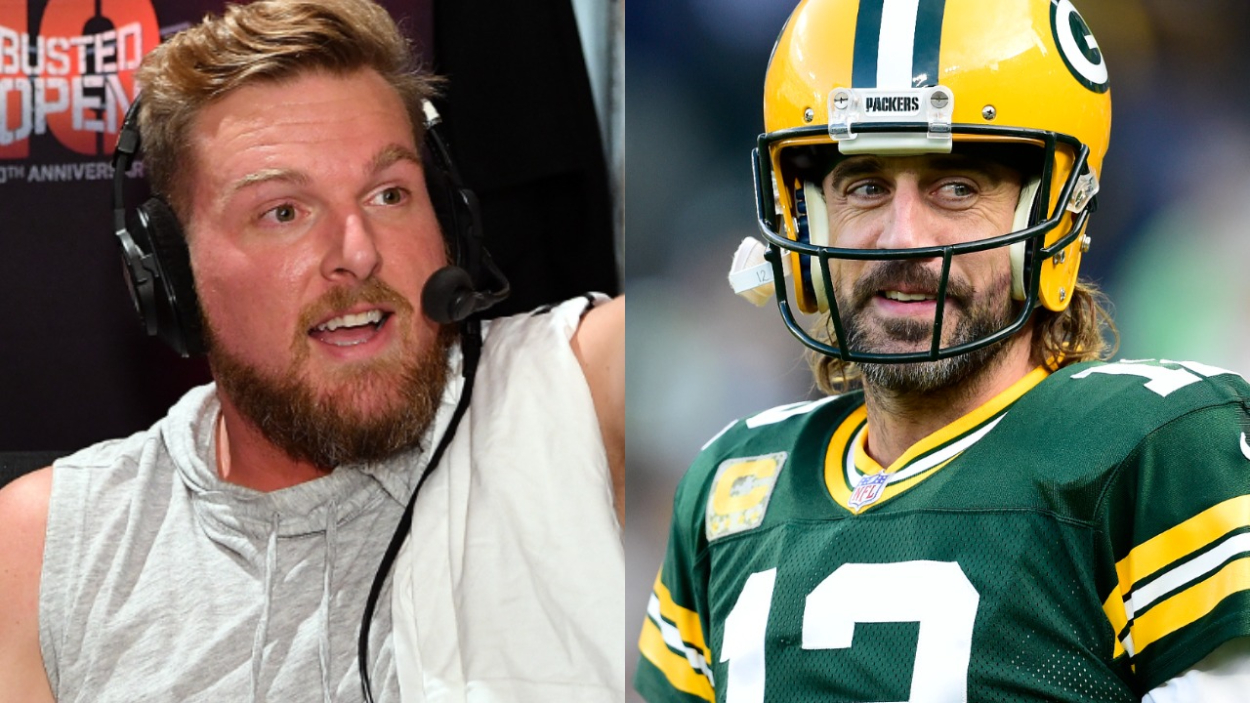 Obviously, Rodgers is going to do what he wants. It's unlikely that he will let anyone decide for him. He also won't be a free agent, so the Packers will have to trade him and approve of the package they receive in return.
But given his legendary status, if the three-time MVP decides to ask for a trade, Green Bay could very well just deal him to whatever team he wants to play on in 2022.
That's where Pat McAfee could come in.
McAfee and Rodgers have formed a solid friendship over the past couple of years, so much so that A-Rod regularly appears on his show. He also seems to trust McAfee, as he has been more forthright on it than at any point in his career (sometimes to a fault).
While McAfee no longer plays for the Colts, he still seems to have a connection with the organization. That loyalty to the horseshoe, combined with his relationship with Rodgers, could be the perfect combination for him to recruit the QB to Indy. He would be an extra weapon for the front office to use when trying to bring one of the greatest quarterbacks of this generation to the team.
All in all, there are several unknowns, and Rodgers isn't going to base his decision solely on his friendship with McAfee. But their relationship could be something to keep an eye on as the Packers make their way into the offseason and the Indianapolis Colts potentially look for their next QB.
Stats courtesy of Pro Football Reference