Indiana's Football Coach Has a Hilarious Habit of Injuring Himself After a Win
The Indiana Hoosiers are considered a "blue blood" of college basketball, with one of the best all-time pedigrees. However, that's not the case on the gridiron. They're in the Big Ten, one of the Power 5 football conferences, but the Hoosiers are usually near the bottom of the standings.
That's not the case this year. Indiana is in second place in the Big Ten East with a chance to earn a spot in the conference championship. This is exciting for the school, but it could be bad if head coach Tom Allen doesn't stop injuring himself when they win.
Indiana's surprising season
Through their first six games of the season, the Hoosiers are 5-1 and find themselves ranked 12th in the first release of the College Football Playoff rankings.
Considering they had their first winning season since 2007 last year, that's not a position that the Hoosiers find themselves in often. They have already beaten some big-time programs this season, including Penn State and Michigan — their first win over the Wolverines since 1987 — and their only significant challenge remaining in their final two games is Wisconsin. 
The Hoosiers are buying into coach Tom Allen's philosophy
The Indy Star wrote about an interview Allen did on Pat McAfee's radio show in which they discussed the team's successful season. McAfee asked the coach "how to be a great team," and Allen referred to it as a "process." He talked about creating change every day, from the way the program is run to the way the team practices and watch film.
Allen's philosophy is that the team has to train every day, and the players have, importantly, "bought into that," according to him. And it is proving to be a successful strategy with the improvements the team has been making on the field in recent years.
Indiana coach Allen injures himself during celebrations
RELATED: How Many Undefeated Teams Have Won the NCAA Men's Basketball Championship?
Perhaps the only downside to the team's newfound success is Allen himself. He tends to get a little too excited during victory celebrations, and he has a habit of injuring himself during them. He shared an anecdote with McAfee about something that happened near the end of the Hoosiers' big win against the Wolverines earlier this season.
Allen jumped into a defensive back's arms, tackling him to the ground, and ended up with a small cut on his cheek. Tackling players in celebratory fashion isn't new for Allen, who has been doing it dating back to his days as a high school coach.
In fact, one of his former high school players texted Allen after the Michigan game and wrote it was "good to see coach that you haven't lost it." The Daily Caller linked to video of Allen listing off more serious injuries he has suffered in celebration, including a black eye and lost teeth that required a root canal and a recovery process of about eight months.
Coach's passion inspires his players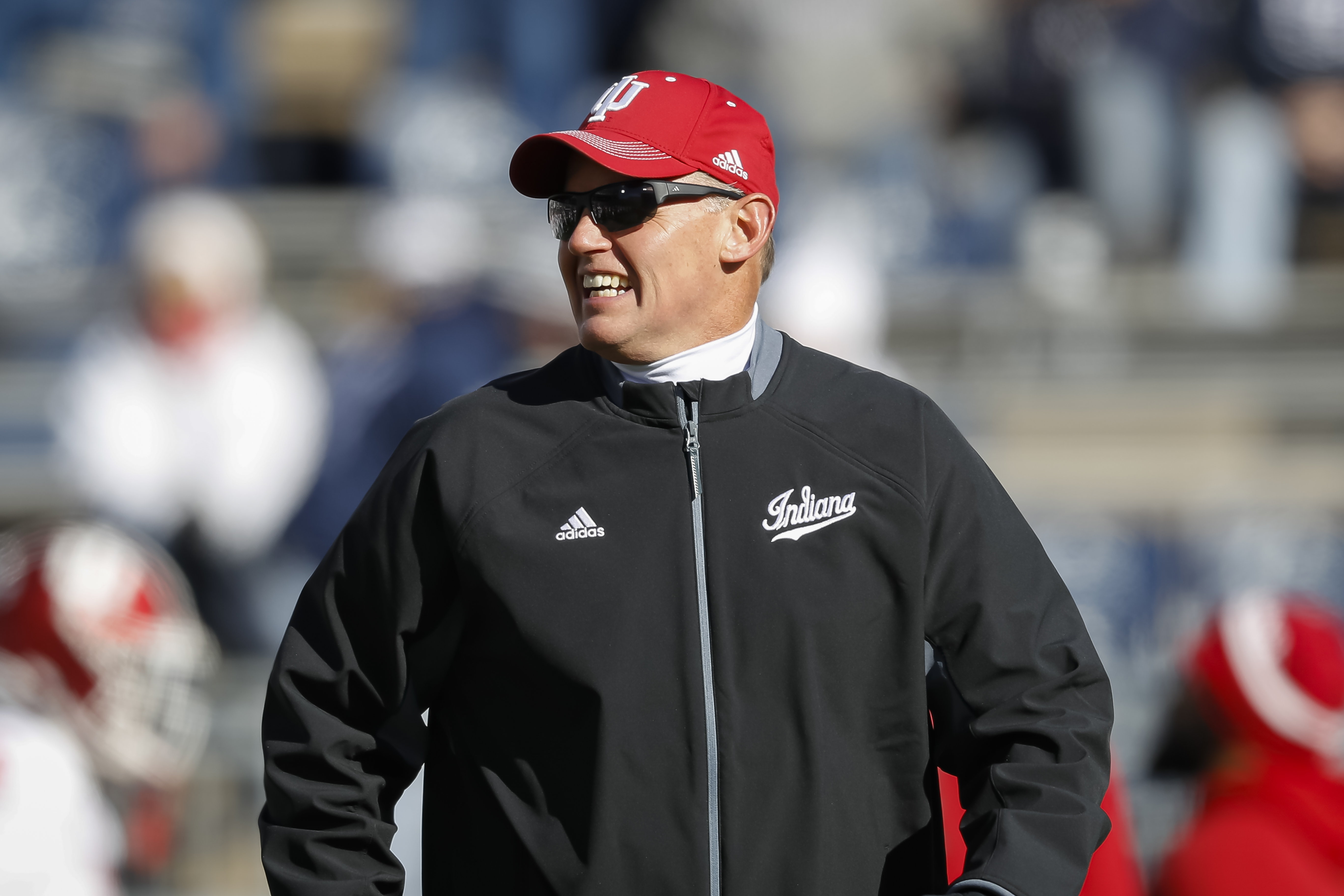 One reason why the Indiana players may be buying into Allen's coaching style as much as they are is because of his passion. When their leader gets as excited as he does — even putting his own body and safety at risk — it inspires them to want to play their best and win for him because they don't want to disappoint him.
The Daily Caller wrote that Allen is "exactly the kind of man I want out there running my football program. He's dialing up monster wins and hurting himself because he celebrates too hard. If that's not a football guy, then I don't know who is." Allen's players seem to feel the same way, and they're proving it on the field and in the standings.