Inside Michael Schumacher's Private Life as a Retired Formula 1 Racecar Driver
Formula 1 racing may not cause the same level of pandemonium as other sports. Still, it's quietly one of the most global sports in the world. Retired racer Michael Schumacher exemplifies this. Although a younger audience may not know his name, he's among the most famous F1 racers. Despite this, little is known about his private life, including his personal health in recent years.
Michael Schumacher's racing career
Born in Germany, Schumacher first made waves in 1991. Driving for Mercedes, he went from unknown racer on the smaller circuits to one of the best racers on the big stage in a short amount of time. As he rose to prominence in the Formula 1 world, the sport benefited from its new golden-child. Schumacher had a knack for driving at speeds previously unthought-of while maintaining control of his career.
He rose up the charts as one of the most popular drivers in the world, and after coming in third at the championship with his new team Benetton, a star was born. Schumacher became the first German Champion when he was just 25 years old. His domination over the other racers made him a magnet for attention in a sport that does not always get it.
In 1995, everything changed. Schumacher signed with Ferrari, and with it came the best racing of his career. He won across the European circuit and made millions along the way. He continued this path of brilliance until 2006 when he retired from the sport. This didn't last long, and by 2010 he was back on the racing circuit, albeit his abilities had taken a turn for the worst.
Schumacher retired for good in 2012 and has lived a life of relative obscurity ever since.
Schumacher's life off the track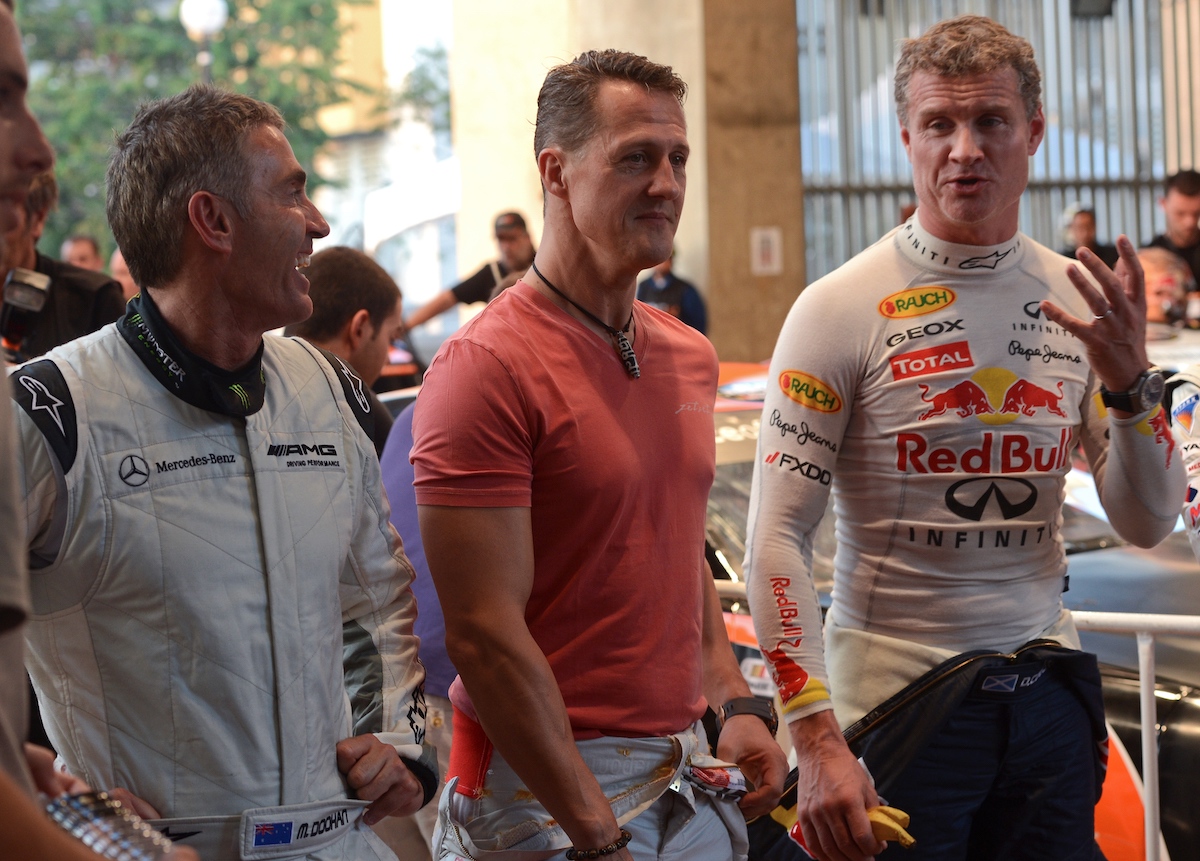 RELATED: Lewis Hamilton Competed Via Unicycle, Karate, and Karting Before F1 Racing
As well-known as Schumacher was for his racing on the tracks, off the track, reports Motor Sports, he developed a reputation for his generosity and humanitarian work. In 2003, he was appointed as an ambassador of San Marino to commemorate his work and encourage him to continue.
The seven-time champion married horse racer Corinna Betsch in 1995, reports The Sun. The pair has two children named Gina-Maria and Mick. Gina-Maria is a horse racer like her mom, while Mick races cars like his father.
The family shares property in Switzerland, which boasts a garage filled with more cars than even the biggest gearhead could dream of, according to Top Gear. He is reportedly worth over a half-a-billion dollars in retirement, but little else is known about him.
In 2013, Schumacher's life changed when he hit his head while skiing, resulting in severe brain damage. His condition is mostly unknown past occasional updates from his family. Their notorious secrecy has caused some fans to question whether they are owed updates on the beloved driver's condition. Still, the Schumacher family keeps this info secret.
Sworn to secrecy
RELATED: Lewis Hamilton Is Trying to Improve This Aspect of His Racing
The 91-time Grand Prix winner continues to receive care for the accident to this day, reports the Independent. Everyone from fans to his former manager has spoken about their desire to hear how Schumacher is doing. Still, he and his family maintain an air of secrecy. Brawn spoke about this with the Independent in 2019.
"Michael has always been a very private person, and that's been a guiding principle in his career, his life and his family always agreed with that choice. It's completely understandable that Corinna has wanted to maintain the same approach, even after the tragic event, and it's a decision we must all respect. I'm sure the millions of people who are still Michael fans will understand it, too."
Fans always want to know what their favorite celebrities are up to, but just like the fans have the right to anonymity, so do the stars they care about. It would be helpful for them to get some updates, but they are not entitled to hear from Schumacher's family. Hopefully, he is doing alright, but if he isn't, that's all the greater reason not to make his condition public to the world.