Ireland's Only NBA Player Remembers His 'Welcome to the League' Moment: 'How Am I Guarding Michael Jordan?'
As an NBA player, Pat Burke was indeed one-of-a-kind. "Unique" is one of those words that gets thrown around far too often in sports analysis, enough so that the meaning has become lost. Nothing can be "very unique," as to be unique is to stand alone. If you think it's silly to call a woman "very pregnant," then you understand. It's either/or, yes or no, a binary condition. But what makes a guy with career averages of 3.7 points and 2.1 rebounds over three NBA seasons unique? More to the point, how does such a player get mentioned with arguably the greatest player ever in Michael Jordan?
Burke went to high school in Florida and played four seasons at Auburn University. Undrafted, he bounced around Europe for most of his 12 professional seasons. But for three years, Burke was an NBA player, the first and still only of his type. And once, he went head-to-head, however briefly, with the legendary Jordan.
Pat Burke is the only native of Ireland to play in the NBA
Pat Burke was born in Tullamore, located in County Offaly, in the center of Ireland. Spelled Tulach Mhór in Irish, the name translates to "great mound." So one could say Burke was a great big man from a great mound. When he was 4, his family moved to Cleveland. He picked up hockey before his family went south for better weather.
Burke grew to 6-foot-7 by 16, and the basketball coach at Cape Coral High School recruited him. By the time he left Auburn, he was 6-foot-11 and 250 pounds of rugged Irish banger. He came to the NBA in 2002 with the Orlando Magic, and it was when he crossed paths with Michael Jordan, who was in his final (and this time he meant it) season with the Washington Wizards.
He told Kieran Cunningham of the Irish website Buzz that he was a very interested viewer of The Last Dance when it premiered on Netflix in 2020. And why not? Burke was the only Irishman ever to take on MJ face-to-face in an NBA arena. It was January 2003, and it was like nothing the big man ever imagined he would experience.
Burke faced off with Michael Jordan in an unexpected way
The Magic were visiting the Wizards at what was then known as the MCI Center in Washington. Orlando got as close as three points early in the fourth quarter before the Wizards pulled away behind 18 combined fourth-quarter points from Larry Hughes and Kwame Brown.
With two minutes left, Burke got his moment. Coach Doc Rivers emptied the bench during a timeout. The Magic were down 106–91. Jordan was still on the floor for Washington. The big Irishman couldn't have dreamed what came next:
"I was sitting on the bench watching the clock. I'd told the coach that I'd never played Michael; he'd told me I'd get a chance. But the clock was ticking. … Then I got the nod. I never warmed up as fast. Got on to the court and looked to see who I was down to cover — Michael Jordan!
"He just looked at me and went, 'Just don't hurt me, big fella.' I was bumping up against him, trying to guard him, and all this stuff was going through my head: 'How am I guarding Michael Jordan?'"
Burke got the best of the matchup, in a way. He blocked a shot by Hughes and grabbed the rebound. After Orlando scored on the other end, a stoppage in play allowed Wizards coach Doug Collins to get Jordan off the floor. After 58 seconds of playing time, the Jordan-Burke showdown was over.
Pat Burke put together an accomplished career across 5 countries and 2 continents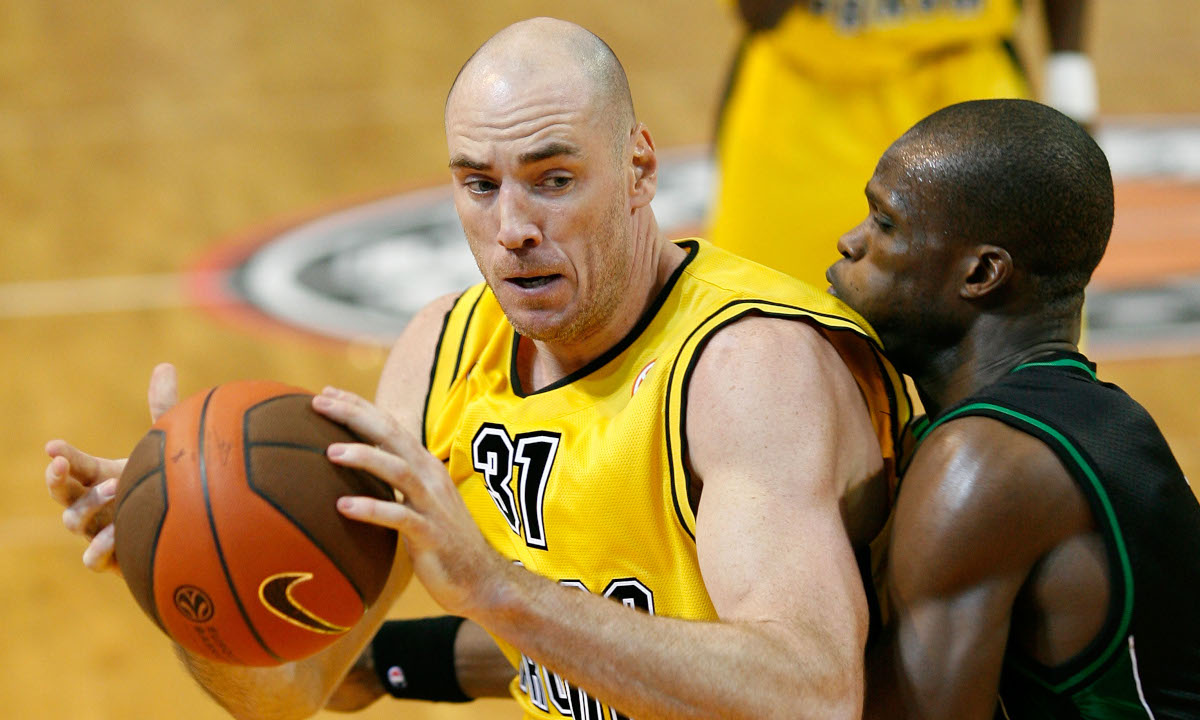 After one season with the Magic, Pat Burke returned to Europe. He played two seasons in Spain before a two-year stint with the Phoenix Suns from 2005–07.
Besides Spain, Burke also played in Greece, Russia, and Poland. The highlight of his pro career was a EuroLeague title with Panathinaikos in 2000. But he remembers his NBA days most fondly. He shared a rookie season with Hall of Famer Yao Ming, after all. But he also won three domestic titles in Greece and one each in Spain and Poland.
But it is his NBA time that Burke remembers most fondly.
"I remember being in Atlanta and driving past their arena," Burke said. "They had a big banner heralding the international names of the NBA. And up there was Ming and Burke! That was an honor in itself."
And, hey, for almost a minute, Pat Burke played Michael Jordan to a draw as his primary defender. It might not be unique, but it's rare.
Statistics courtesy of Basketball Reference and RealGM.
RELATED: Michael Jordan Stunned Shaquille O'Neal by Retiring in 1993 After Winning His 3rd Straight Title: 'I Just Want to Say I Miss Playing With Him'