Aaron Rodgers' Wife: Is the Green Bay Packers Quarterback Dating, Married, or Single?
Green Bay Packers quarterback Aaron Rodgers is in an awkward moment of his career. The team drafted a young QB to play behind Rodgers, a move with myriad implications. Suddenly, one of the most sure things in the NFL became the subject of rumors. Is his NFL career coming to its final stages? Will Rodgers take his still-potent talents elsewhere, as Tom Brady did? Tough, awkward times are ahead for the aging QB. When it comes to his personal life his relationship with ex-NASCAR superstar Danica Patrick is also a point of interest for fans. One question they may have is: Does Aaron Rodgers have a wife or girlfriend today?
Aaron Rodgers and Danica Patrick dated from 2018 to 2020 — how did they meet?
For The Win tracked Rodgers' and Patrick's courtship from the first meeting, starting with the 2012 ESPYs. The two had a friendly chat, and decided to stay in touch from then on. Their conversations stayed strictly platonic until 2018. Around that time, tabloid rumors swirled but the pair confirmed nothing.
Their red carpet debut, as covered by USA Today, was when Patrick hosted the 2018 ESPYs. As the first woman to win a NASCAR Cup event, the now-retired driver was a great pick to host an event honoring special talents from around the sports world. She was the first woman to host the show, and took the prestigious opportunity to show off her new romance to the world. They appeared in a small skit together, and conducted interviews during the lead up to the show.
Does Aaron Rodgers have a wife? He and Danica broke up in 2020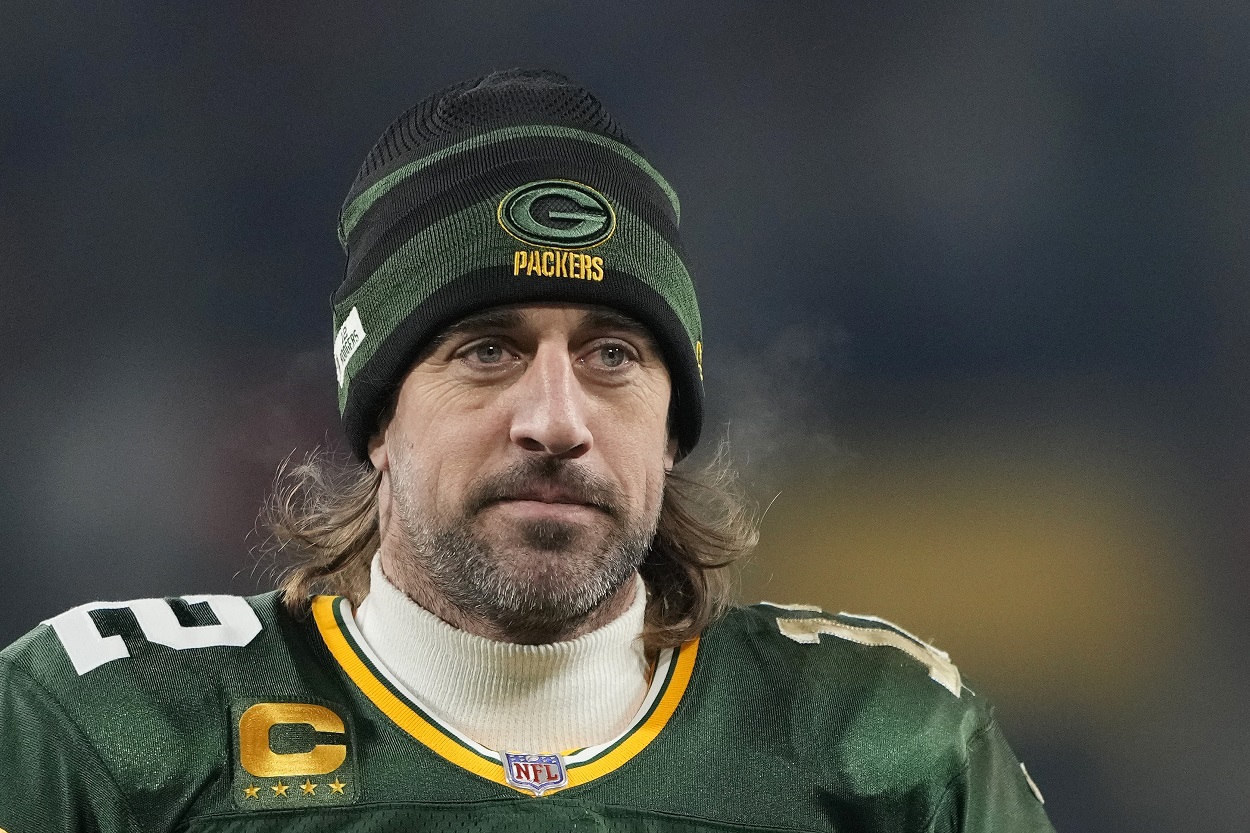 Rodgers has never been married, but he has been in several long-term relationships. He dated actress Olivia Munn for three years before amicably splitting in 2017. Munn, meanwhile, was married once before, and is currently dating John Mulaney, with whom she shares a son.
As for whether Aaron Rodgers and Danica Patrick are still together, that would be a resounding no. That's because the couple split in July 2020 — and they're both in relationships with other people. (Currently, Patrick is dating Carter Comstock.)
Who is Aaron Rodgers engaged to?
Fast-forward to February 2021, and it was publicly confirmed that Aaron Rodgers and actor Shailene Woodley are not only a couple, but they're engaged to be married.
In a June 2021 interview with Shape, Woodley shared that she and Rodgers first connected in the early stages of the COVID-19 pandemic.
"Starting a relationship where you immediately move in with someone — because it's a pandemic and you can't just get on a plane and go back and forth on weekends — taught us a lot about each other very quickly," she explained. "We jumped in headfirst and got some of the sticky bits out of the way early."
When Rodgers and Woodley's work schedules drew them apart in 2021 — Rodgers in Wisconsin playing in the NFL and Woodley in Los Angeles acting — the Packers' QB wasn't worried about having a long-distance relationship.
"It's a busy work time for her, so [my decision] probably came at a good time for both of us to be able to focus on our work," he told Haute Living that September, of deciding to return to Green Bay for another season.  "I think it's going to be a good thing. I mean, her work was shut down for an entire year, and she's booked a number of projects. She enjoys working and her own routine, which I obviously enjoy, too."
So far, the couple has not publicly shared when their wedding date will be.