Is Anthony Rendon the Best Teammate Mike Trout Has Ever Had?
Gerrit Cole may have been the biggest offseason signing of 2020, but coming in second is Anthony Rendon going to the Los Angeles Angels. Rendon gives the Angels one of the best third basemen in the league. After years of his team's struggling, Mike Trout now has a true superstar to hit alongside him. The big question on every Angels' fan mind is this: is Anthony Rendon the best teammate Mike Trout has ever had?
Anthony Rendon career overview
The Washington Nationals drafted Rendon with the sixth overall pick of the first round in the 2011 MLB Amateur Draft. He made his big league debut in 2013. Here's what he's been able to accomplish so far in his major league career:
27.3 Wins Above Replacement (WAR) level
136 home runs
.290 batting average
571 runs scored
546 RBIs
.369 on-base percentage
.490 slugging percentage
Rendon has hit above 20 home runs in five seasons. Last year was something of a breakout season for him. The 29-year-old slugger led the league in doubles (44) and RBIs (126) while hitting 34 home runs in his contract year. He finished third in the MVP voting and was named to the NL All-Star team as well. Rendon was probably the best hitter on a Nationals team that defeated the Houston Astros in the World Series.
Rendon's offensive firepower isn't overshadowed by many — except Trout, his new teammate.
Mike Trout's career overview (and lack of team success)
It's hard to argue with anyone who says Trout is the best player in baseball. He's been phenomenal since he debuted in July of 2011 for the Angels. Here are the absurd numbers he's compiled so far in the majors:
72.5 WAR
285 home runs
.305 batting average
903 runs scored
752 RBI
200 stolen bases
.419 on-base percentage
.581 slugging percentage
1.000 OPS
Trout has also won the AL MVP Award three times, the Rookie of the Year Award, and has played in eight All-Star games. The only problem, though? His teams have been less than impressive. Trout's teams have only qualified once for the postseason – 2014, in which they lost to the eventual AL champion Kansas City Royals. In that postseason, Trout batted a paltry .083 with only a single home run.
No one could blame Trout for the team's lack of success – if anything, they're struggling in spite of Trout's efforts. But it may provide a solid commentary on the quality of his teammates.
Is Anthony Rendon the best teammate Mike Trout has ever had?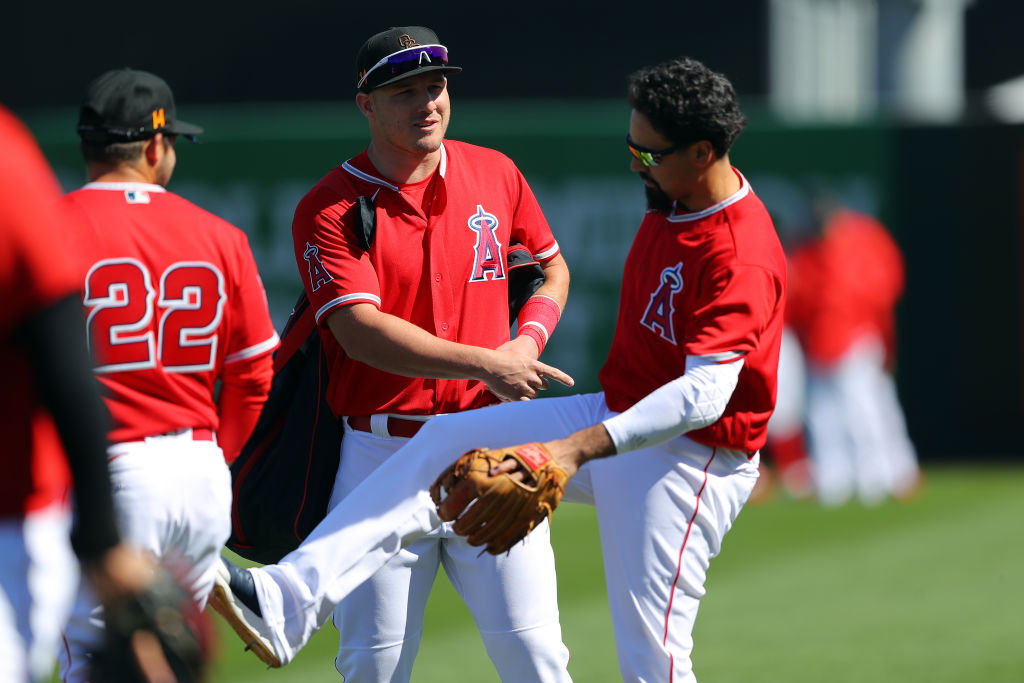 FiveThirtyEight prepared an analysis of some of Trout's best teammates during his career to see how Rendon stacked up. That included some fine players, such as Andrelton Simmons, Albert Pujols, Torii Hunter, Howie Kendrick, Garrett Richards, and more. They used the player's WAR level in a single season as the measuring stick. WAR measures how much better a player would be than an average replacement-level player (think a AAA call-up) at their specific position. According to FiveThirtyEight's analysis, Rendon's highest single-season WAR of 6.7 was higher than any other Angels' players during Trout's career.
The Angels have tried to put a big name with Trout before. They signed Josh Hamilton to a huge free-agent deal before he fizzled out. Pujols has been solid if unspectacular for the Angels, only a shadow of the player he was in St. Louis. Shohei Otani certainly has potential, but the jury is still out on just how good he's going to be.
Enter Rendon. He's in the prime of his career. At only 29 years old, his best years may still be ahead of him. It's a seven-year deal, so the Angels can expect at least five high-quality seasons out of him before he begins to decline significantly. He's also proven his ability to hit in the postseason — it's impossible to imagine the Nationals taking the title last year without Rendon's steady bat in the middle of the order.
Trout has had some good and great teammates in the past, but Rendon is better than all of them. Whether the two can lead the team to postseason glory, however, remains to be seen.