Is Antonio Brown the Oldest Wide Receiver in the NFL?
Antonio Brown is a man without a team. While he can still presumably play, he's also at an age when most wide receivers' performance tends to dip. It's a young man's position. At 31, Brown isn't really young in NFL terms. But is Antonio Brown the oldest wide receiver in the NFL?
Let's take a closer look at answering that question while also determining at what age receivers play their best and some other great older receivers.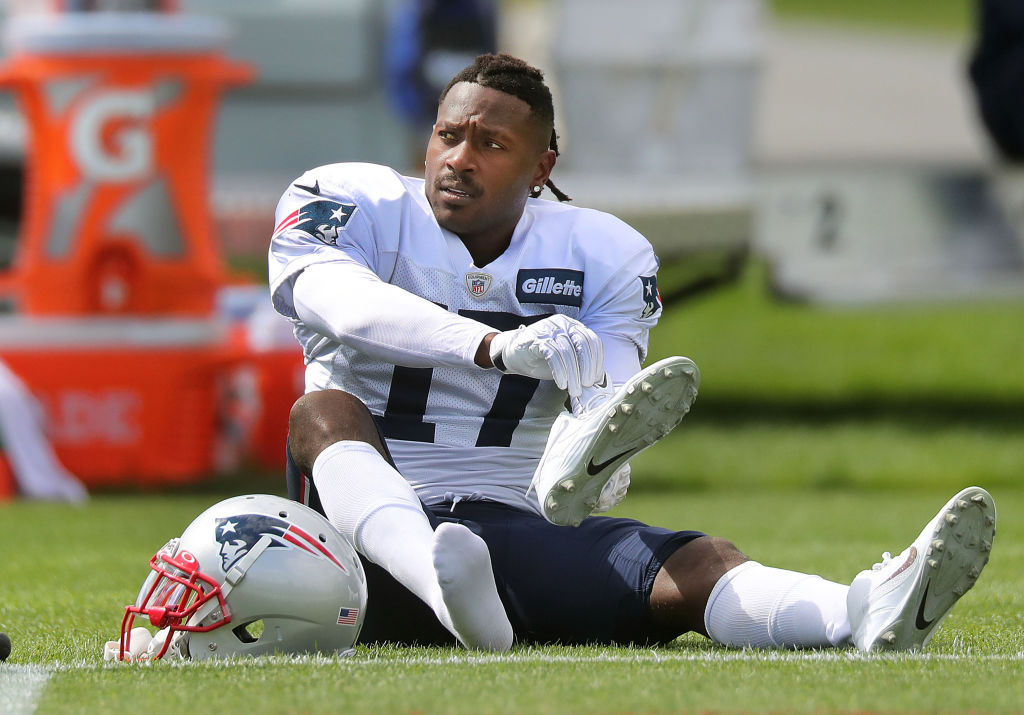 What is the age of a "peak" wide receiver?
Apex, a fantasy football site, did research on the age at which most wide receivers tend to have their peak performance. Here's what they found:
"…no player over 35 has accomplished a peak season. The former peak from ages 23 to 30, jumps to include an incredible 80.8 percent of the seasons. 59.34 percent fall within the 25 to 29 age range."
To the surprise of no one, receivers in their mid-20's are in the sweet spot: old enough to have some NFL experience but not so old that they've lost their athleticism. Obviously, receivers don't tend to peak over the age of 30. But that doesn't mean receivers over 30 can't play effectively.
Five examples of post-30 receivers in the NFL
Brown isn't the oldest receiver in the NFL, but he's older than most. At 31, he's outside what would be considered his prime. Let's take a closer look at Brown and four other examples of NFL wide receivers playing past 30.
Julio Jones, 30 years old – Atlanta Falcons
Julio Jones turned 30 this year and is still very productive. He's one of the best wide receivers in all of football. You'd be hard-pressed to find better deep threats on many other rosters.
T.Y. Hilton, 30 years old – Indianapolis Colts
T.Y. Hilton also turned 30 this year. He's no Jones, but he has been a dependable option for Andrew Luck in the past in Indianapolis. He's still effective, north of the three-decade mark. 
Antonio Brown, 31 years old – Free agent
Brown saw limited action this season due to his off-field antics and lingering issues related to sexual assault. When he was in the lineup for the New England Patriots in one game, he was productive.
It's hard to say Brown will be as good as he once was — he was extremely good in his late 20's. But even a slightly diminished Brown would probably be better than most receivers right now. 
Emmanuel Sanders, 32 years old – San Francisco 49ers
He may be older than most players at his position, but Emmanuel Sanders is still contributing to a championship contender. Sanders has 17 catches in five games with the San Francisco 49ers. Despite his advanced age (for a wideout), he may be playing deep into January if the Niners' run so far this season is any indication.
Larry Fitzgerald, 36 years old – Arizona Cardinals
Larry Fitzgerald is one of the oldest position players in the NFL, nearing the back end of a certain Hall of Fame career. He's also still one of the most sure-handed receivers out there. He's been a great influence for the Cardinals' young quarterback Kyler Murray in his first season. 
Historical examples of older wide receivers in the NFL
While Brown and his brethren are still playing well past the age of 30, there are some other great examples throughout NFL history of receivers putting up great numbers in their 30s. The Ringer wrote a piece on some of the best.
Jerry Rice is known for being the greatest wide receiver of all time for his 1980s run with the 49ers. But he played well after leaving San Francisco. Rice had 83 catches for the Oakland Raiders in 2001 at the age of 39. He tacked on another 1,000-yard season at age 40 for good measure.
Joey Galloway came to the Tampa Bay Buccaneers in 2004 at the age of 33. He had his best NFL season with 83 catches and 10 touchdowns with 1,287 receiving yards. 
Terrell Owens had his fair share of controversy in Philadelphia. When he came to the Eagles in 2004, no one can deny how effective he was. He was far and away the best weapon on a team that went to the Super Bowl. 
Antonio Brown may not be the oldest wide receiver in the NFL, just close to it. That doesn't mean he can't still play well, if history is any indicator. All he needs now is a team to give him a chance.