Is Baker Mayfield Good or Is He the Next Tim Tebow?
Baker Mayfield entered the NFL as the biggest name in his draft. His college career was storied and people expected major things from him in the NFL. After a disastrous season with the Browns, however, many wonder if Mayfield was all hype.
Naturally, this conversation draws comparisons to another college superstar who failed to make it in the NFL long-term: Tim Tebow
Baker Mayfield's story
Mayfield made his name at Oklahoma, but his brief stint at Texas Tech might've been what shaped the rest of his college career. The quarterback played in eight games at Texas Tech, throwing for 218 completions and 2,315 yards in the process. These were good for 12 touchdowns and nine interceptions on the year.
The year was largely unspectacular, and Mayfield transferred to Oklahoma the following year. He improved every year in college. His 36 touchdowns and 7 interceptions as a sophomore showed that he made the right move with his transfer.
By his senior year, he threw 43 touchdowns and only six interceptions. It was a dominant season that saw Mayfield get his Heisman award. In all, he had 1,026 completions for 14,607 yards and 131 touchdowns against only 30 interceptions during his college career.
This made him the consensus No. 1 pick in the NFL draft. Mayfield embraced his new stardom with endorsement deals and colorful interviews. Although Mayfield had a decent rookie season, he failed to have a breakout year like many expected. The Browns finished with a 6-7 record during his starts, but his 310 completions and 3,725 yards showed promise.
This year, however, everything has regressed. His completion rate is down nearly four points, his yardage has taken a dip, and his 11 touchdowns pale to his 12 interceptions. With a star receiving corp of Jarvis Landry and Odell Beckham Jr., Mayfield has looked like a mess all season. It reminds some people of Tebow's story.
Is Mayfield the next Tim Tebow?
Like Mayfield, Tebow's dominant play in college got him a Heisman trophy, and his Florida teams were among the most popular in the country. While some questioned whether Tebow would make it in the NFL, others saw promise.
The quarterback wasn't known to have an amazing arm, and while he was good at rushing the ball, he couldn't do so enough to be effective. Tebow's story is a strange one, however.
He didn't get the immediate start that Mayfield got, and his lone season as a full-time starter, which he got due to an injury midseason, was actually quite good. Tebow's numbers weren't going to pop out, but he willed his teams to victory and even got a playoff win that season. He'd never start a game again.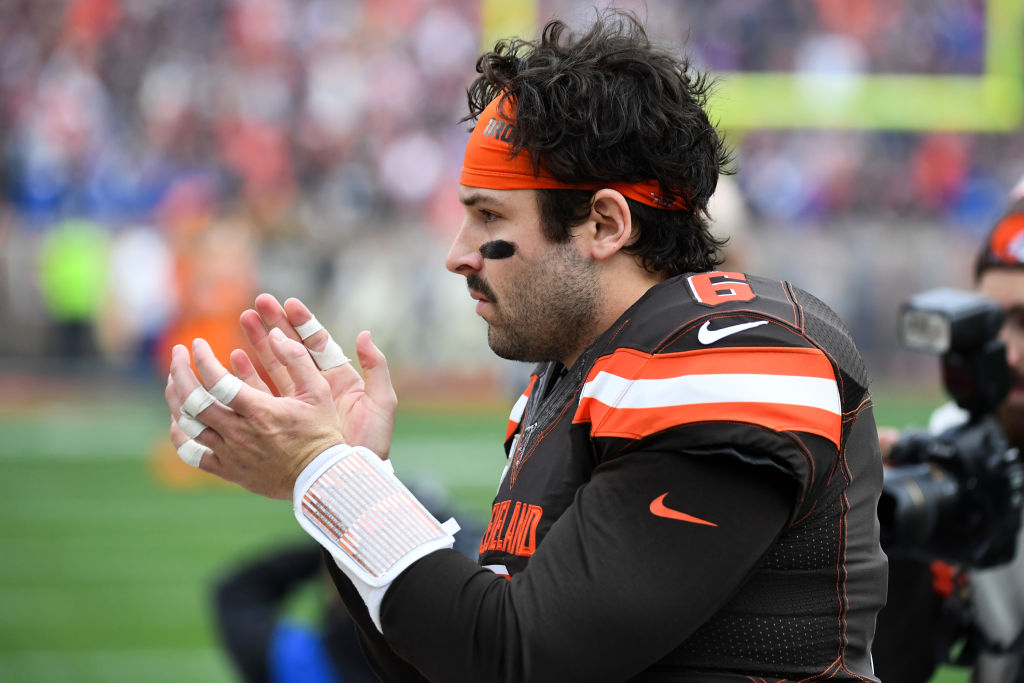 Mayfield is still early on in his career, and while he has a leg up on Tebow when it comes to NFL opportunities, he's also failed to show Tebow's promise. The Browns have confidence in their young QB, but they also want to win soon.
Many believed the Browns could be contenders this season, and Mayfield's play is a big part of the disappointment. But this doesn't mean that he is a lost cause.
Can Baker Mayfield fix it?
Tebow has weighed in on Mayfield, and he's always believed in the young quarterback's skill. "I think that the way that [Mayfield] can play, the way that he can lead, the 'It Factor' that he has, I haven't seen that from a lot of other players," Tebow said, according to WBNG.com. Did Tebow himself have this "It Factor"? We're not sure.
The former quarterback went on to say, "It's not just about throwing and running and calling a play. It's about rallying a team and having grown man look at you and respect you and want to play harder for you."
It's still early in Mayfield's career. Even Brett Favre stumbled in his first years. To be able to grow beyond his reputation, however, Mayfield will need to show he can work out the kinks in his passing. His college career is set in stone. Now, Mayfield has to figure out his best place in the NFL.