Is Ben Roethlisberger Really an Elite Quarterback?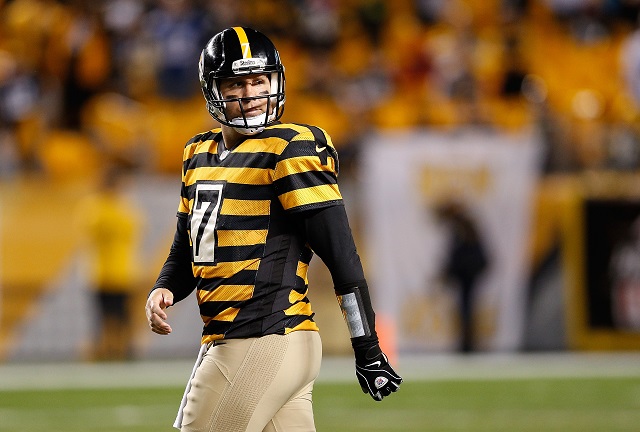 Bedecked in the unmistakable bumblebee regalia that the Pittsburgh Steelers trot out from time to time when the throwback mood strikes them, Ben Roethlisberger, longtime Steelers quarterback and 10-year NFL veteran, staked his claim as one of the best quarterbacks in the league right now, despite the fact that he's usually considered a tier or two below players like Peyton Manning, Tom Brady, or Drew Brees.
After becoming the first player in NFL history to throw for 500 yards in two separate games (you can see the full list of players with 500-plus yard games here — it's very short), Roethlisberger also became a member of an even more exclusive list when he notched his 100th win in just 150 starts, something only Terry Bradshaw, Brady, and Manning can lay claim to. Plus, he's also the youngest quarterback to be on a Super Bowl-winning team, after the Steelers went all the way in 2007.
So why the bona fides recap? Because we're about to posit a claim that typically doesn't get much traction in NFL circles. Is it possible that Big Ben has the best arm in the league? The biggest knock against this, of course, is that there's an inherent crassness to the notion. Not only is it easily knocked by the quarterback's low ranking on the "most yards in a season" list, but that doesn't address the "yards after catching" quandary, in that it's nearly impossible to discern whether the receiver should get the lion's share of the credit for a 76-yard pass on paper, even if it's fairly easy to see at the time.
On the other hand, consistency doesn't necessarily have much to do with a quarterback's raw talent, either. To give an uncontroversial example, the Saints are much more pass-happy than the Steelers, so it makes sense that Brees routinely has higher passing marks than Big Ben. Matt Stafford, who might be able to put in a claim for the cannon-est of cannon arms, puts up huge numbers in Detroit — even if no one really cares outside of fantasy football — because that's the Lions' entire offense.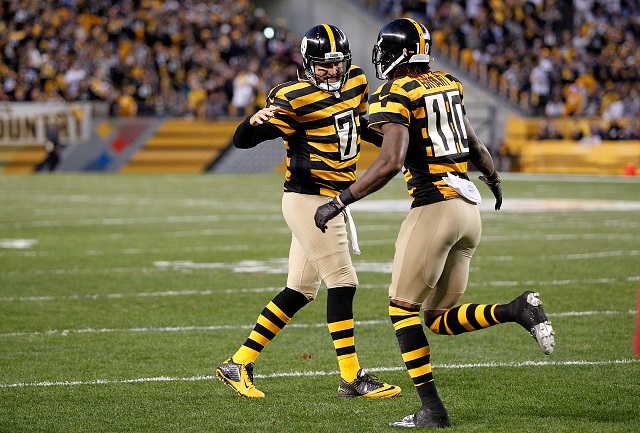 Let's compare Roethlisberger to his closest modern contemporaries, then: Brady and Manning. Over their respective careers with their current teams — which kneecaps Manning, admittedly, but his regular-season days with the Colts are beyond reproach — how have their receivers fared?
For Manning, his team's share of the receptions have come from the usual suspects, with now-departed Eric Decker and Demaryius Thomas leading the charge with more than 15 yards per reception. No mean feat, considering they're the team's leaders in catches from Manning. Brady, in contrast, doesn't have any of his great targets left beyond Julian Edelman, but back when he actually had players to throw to, the Pats only managed to hit that benchmark with one receiver, Randy Moss. The rest of the time, it was dinking and dunking to Wes Welker, although Gronk came close.
Against that backdrop, Big Ben's better off than both, with Mike Wallace and Antonio Brown putting in some serious work on the receiving end of the ball. At 32, Roethlisberger's still got a few years of high-level play ahead of him, and with Brown putting on a show as one of the best wideouts in the league — Wallace has had, shall we say, a bad time since leaving the black and yellow — he could reasonably put together some tremendous seasons in the future. Whether the Steelers will ever commit to throwing the football enough to see if he can threaten one of the big passing records remains to be seen.