Is Bronny James the Most Influential High School Athlete Ever?
At just age 16, Bronny James has already gained a big following in both the NBA and on social media. He's the son of basketball great LeBron James, currently with the LA Lakers and destined for the Hall of Fame. Here's a look at what makes Bronny so influential, both on the court and off.
A shoe exec calls Bronny James the 'most influential high school athlete of all time'
247Sports reported last year that a shoe executive called Bronny the "most influential high school athlete of all-time." A scrimmage for Bronny's team last year at Sierra Canyon School in Chatsworth, California, drew a full house, including celebrities, basketball fans, and shoe industry reps. The Sierra Canyon basketball team previously also included Zaire Wade, Dwyane Wade's son.
Being the son of an NBA legend is a lot of pressure; it brings a lot of notice in person and online. But it does give Bronny access to great coaching. The attention also means there has to be security at Bronny's AAU games to help control the crowd.
While he's still very young, he has the potential to be one of the best in a few years. Stadium Talk lists him as 6-foot-2 and 170 pounds with his position as point guard/shooting guard. He's also listed as no. 24 on ESPN's 2023 recruiting rankings. On 247Sports's first national top basketball recruits for the class of 2023, Bronny was listed as the no. 30 player in the country and a four-star recruit.
James on social media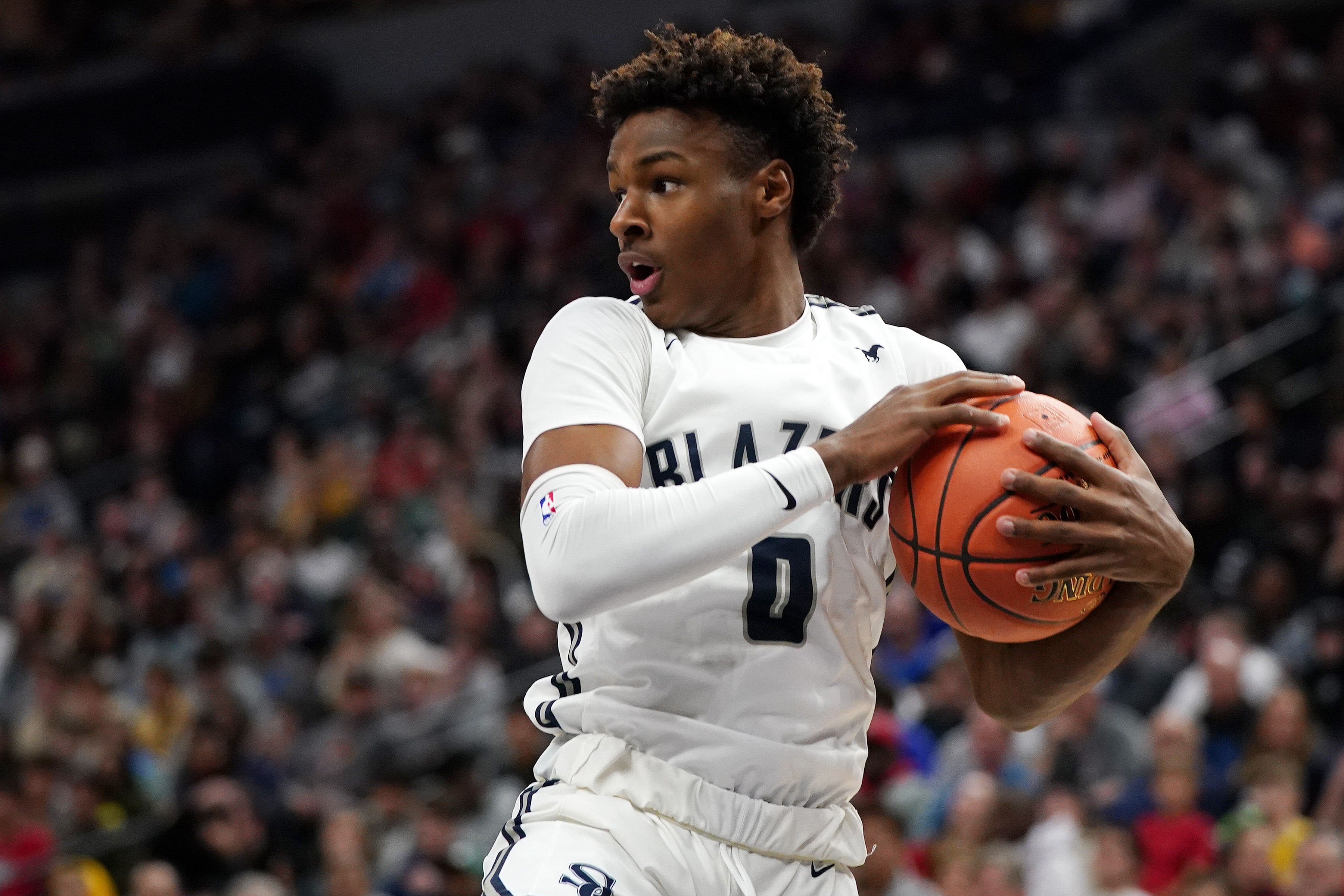 Bronny has established his personal brand even without playing much basketball yet. He currently has more than 5.7 million Instagram followers. More than a million people began following him on the first day he signed up for Instagram. Although Bronny still has fewer than his father, who has 74.1 million Instagram followers.
Bronny isn't the only high school basketball player who's built a successful brand on Instagram. But he is currently one of the most popular. Of course, even this teen has social media missteps. He recently posted a video, since removed, where he was allegedly smoking marijuana.
Bronny's popularity can translate into endorsements for him. An agent who represents athletes with Instagram followers told 247Sports.com that he'd ask for over $250,000 for a one-time post from a social media influencer of Bronny's caliber.
Bronny James and FaZe Clan
In a move that could expand his brand beyond basketball, Bronny joined FaZe Clan, the esports organization, this fall. With the organization's esports teams and large social media presence on multiple platforms, the relationship should be mutually beneficial. While Bronny won't be paid, he'll represent the organization, which in return will promote his online content.
Other professional athletes and artists have also gotten involved as ambassadors or investors in esports companies, according to ESPN. FaZe Clan includes NBA players Ben Simmons, Josh Hart, and Meyers Leonard along with NFL player JuJu Smith-Schuster and musicians Offset and Lil Yachty, reports the Washington Post.
The relationship began to pay off right away. Bronny gained more than 77,000 followers on Instagram within days. Since he isn't paid, the relationship won't affect Bronny's college eligibility. However, he's a big gamer and would be permitted to accept prize money he might win from esports. This wouldn't harm his college basketball eligibility.
Bronny is positioning himself to follow in his father's footsteps in multiple ways. He's developing the basketball skills possibly for a future NBA role, but he's also building his name and his personal brand. His huge and growing social media presence and relationship with FaZe Clan are just the beginning.