Is Carson Wentz Quietly the Worst QB in the NFL Right Now?
NFL fans and analysts used to regard Carson Wentz as a top quarterback prospect. Now? Those days are long gone. The Philadelphia Eagles are struggling, and so is Wentz. What turned a promising signal-caller into a player Eagles fans seriously question? Let's look at Wentz's development and his current status right now to decide whether he's truly the worst QB in the NFL right now. 
Carson Wentz's NFL career to this point 
Wentz came to the Eagles with high expectations. He was the second overall pick in the 2016 NFL draft, as Pro Football Reference reports. His first season saw the team improve but struggle at 7-9. In Wentz's sophomore year, he truly broke out. He led the Eagles to 11-2 record in games he started, putting them in a prime position to be the top contender in the NFC.
Unfortunately, he suffered a season-ending injury late in the year. The Eagles rallied around Wentz's backup Nick Foles and won the Super Bowl that season. Since then, Wentz hasn't been able to capture the magic of his 2017 season. It's been a combination of injuries and inconsistent play that have kept him from making to leap to elite status. 
How Wentz is playing this season
RELATED: Carson Wentz Loves Hunting So Much It Got Him a TV Deal
In nine starts in 2020, Wentz has led the Eagles to a 3-5-1 record. He's completed 58.2% of his passes — substandard in today's NFL with 12 touchdowns and 12 interceptions. There's no way around it: The Eagles are a bad team, and Wentz's play does them no favors. One former Eagles great, Brian Westbrook, told the Philadelphia Inquirer that it's up to Wentz to be accountable for his poor play: 
"For some players, that's hard to do. But at some point, the [head] coach or the quarterbacks coach, somebody has to be able to get through to him … I kind of associate that to what's going on now and wonder if maybe he doesn't want to listen to coaches, either. And that can be a problem."
There's no doubt Wentz is feeling the heat. But is the criticism deserved? Just how bad is he playing right now?
Is Carson Wentz quietly the worst QB in the NFL right now?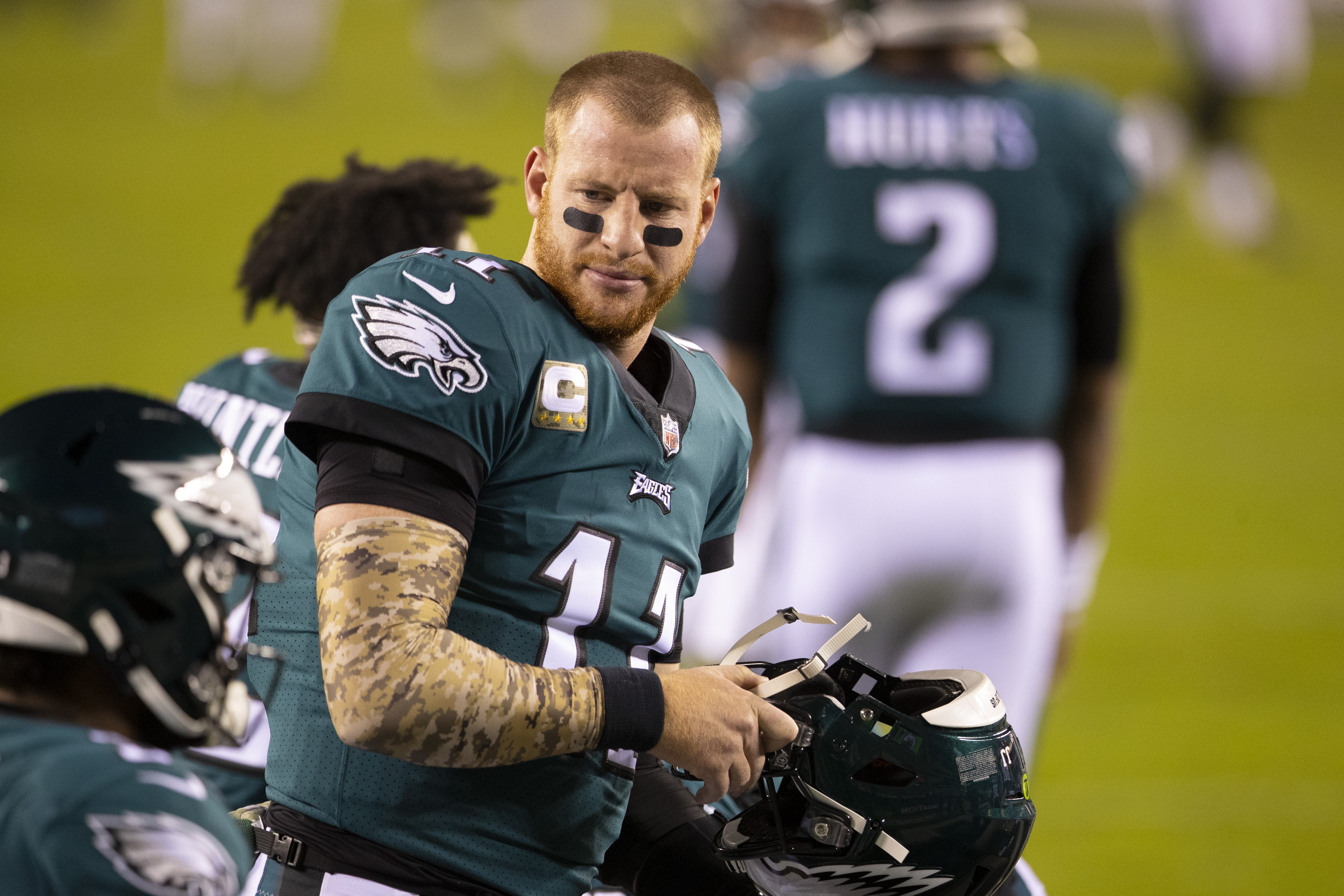 When it comes to talent and ability, Wentz probably isn't the worst QB in the NFL. But when you factor in expectations and compare it to his past performance, Wentz may be underperforming just about every QB at the moment. Several fans called Wentz out on a Reddit thread dedicated to discussing his play.
One user said he may in fact be the worst passer in the league right now. Many of the contributors agreed that he's not being held accountable enough. They cited his poor statistics and dropped picks. The Redditers also pointed out that he doesn't seem likely to be benched despite Jalen Hurts existing.
It's hard to argue with those claims. One component of this that's unfair to Wentz is that his offensive line is extremely banged up this season. That said, all eyes tend to fall on the QB when things go well or poorly. They get the credit and blame. How long will it take Philly to decide enough's enough and give rookie Jalen Hurts serious consideration as the new starter? If the Eagles keep losing, don't be surprised if they make a change.