Is Coach K Now the Greatest Coach in College Basketball History?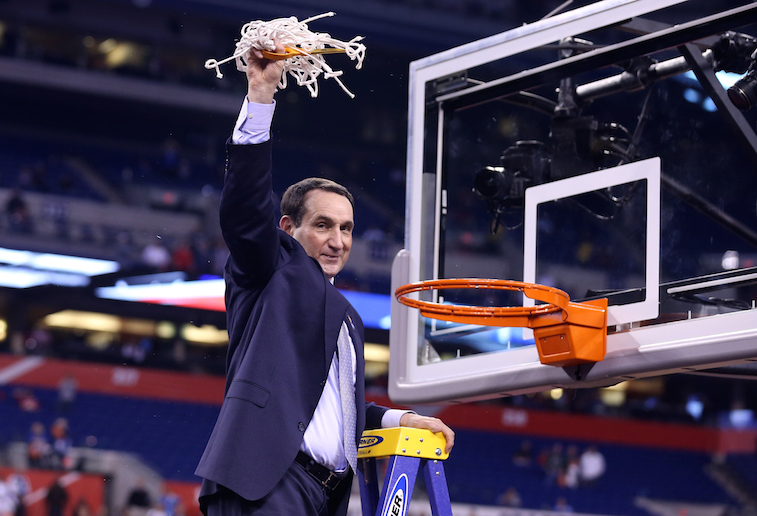 Behind clutch performances by freshmen guards Tyus Jones and Grayson Allen, the Duke Blue Devils won the 2015 NCAA Tournament national championship game over the Wisconsin Badgers by a score of 68-63. The win gave Duke head coach Mike Krzyzewski five national titles for his career, and moved him ahead of Adolph Rupp into sole possession of second place on the list of coaches with the most Division-I national titles in college basketball history. Coach K still trails the legendary John Wooden in total national titles, but the fact that Krzyzewski has won during several different eras may actually be more impressive than Wooden's record-breaking run at UCLA in the 1960s and 1970s.
Not to take anything away from Wooden's success with the Bruins; 10 national titles in 11 years is unheard of and will never again be accomplished, but during their heyday, recruiting was so shockingly easy for Wooden and his staff that it is almost unfair to compare to the college basketball coaches of today. Simply put, if Wooden wanted a player, he got him almost 100% of the time. Coach K, on the other hand, has survived and thrived in several eras of college basketball. In the 1990s and early 2000s, when Michigan's Fab Five changed the way the college game was played, Krzyzewski stuck to his system and won three national titles. When college basketball shifted to the current era of the one-and-done stars, Coach K embraced the change and has now won two national championships during that era as well. While Wooden does have twice as many national titles, Krzyzewski has been able to win in two completely different eras of college basketball.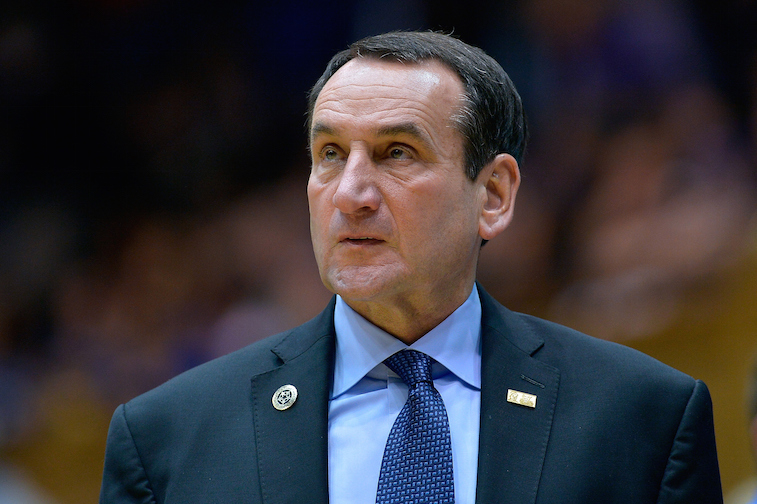 Earlier this season, Coach K became the first coach in Division-I men's college basketball history to win 1,000 career games. His current total of 1,018 gives him a comfortable lead over the next closest coach, Bob Knight, who finished his career with 899 wins. Of course, Jim Boeheim 966 career wins was somewhat close to Krzyzewski's career win total until he was forced to vacate 108 of those wins following an NCAA investigation into his program at Syracuse. Even with the vacated wins, there was very little chance Boeheim would catch Krzyzewski before their careers come to an end. With no end to his career in sight, Coach K could very well put the all-time career wins record so far out of reach that it may never be broken.
Duke's appearance in the 2015 Final Four was the 12th of Krzyzewski's storied career and marked another major milestone for the 68-year-old coach. It moved him into a tie with Wooden for the most career Final Four appearances by a head coach in college basketball history. With the caliber of players Duke is able to recruit on a yearly basis, there is a very realistic possibility that Coach K could shatter this record as well before he hangs up his whistle and retires.
However, what may actually be the most remarkable statistic of Krzyzewski's career is that this season marked the first time in his 35 years as the head coach at Duke that Krzyzewski was forced to dismiss a player from his team. Rasheed Sulaimon will forever hold the infamous honor of being the first Duke player booted off the team by Coach K. To have only one such incident in 35 years on the job not only speaks volumes about the character of the players Krzyzewski recruits, but it also makes it clear that he is incredibly gifted at mentoring and developing his players from boys into men, as nearly all of them leave as successful members of society.
There is a strong case for Coach K being the greatest college basketball coach of all-time. There may be lower-level men's coaches, or Division-I women's coaches, who have more wins or more national titles, but to compare them to Krzyzewski would be absolutely ridiculous. The reality of the situation is that the only other coach that is in the same realm as Coach K is John Wooden. In fact, it would be fair to say that Krzyzewski is this generation's Wooden. It is highly unlikely that Krzyzewski will ever eclipse, or even come close to eclipsing, Wooden's national title record. But with that being said, there is a good chance that Coach K finishes his career with the records for most wins and most Final Four appearances in college basketball history. Couple that with his five national title rings, and it's only a matter of time before Coach K is the namesake for basketball arenas and trophies all over the country. For now, he has firmly entrenched himself as one of the two best college basketball coaches of all time.
All statistics courtesy of Sports-Reference.