Is Colin Kaepernick Getting His Own Shoe and Will People Buy It?
Colin Kaepernick has been back in NFL headlines recently after a workout with several NFL teams that apparently won't get the 32-year-old back onto a roster. Despite this, Kaepernick is on the verge of dropping his signature shoe to go with a recently-dropped jersey from Nike. Although Kaepernick's name might be a bad word in some circles, in others he represents a brave activist who risked it all to stand up for a cause that was important to him. Because of this, the shoes and jersey will likely become bigger than any NFL shoe to date.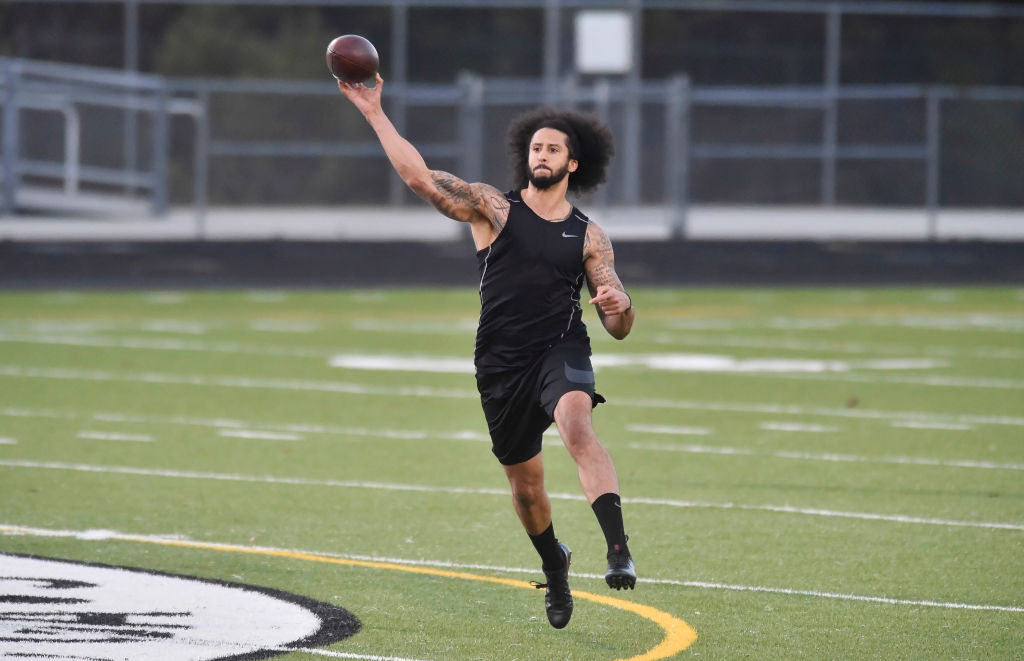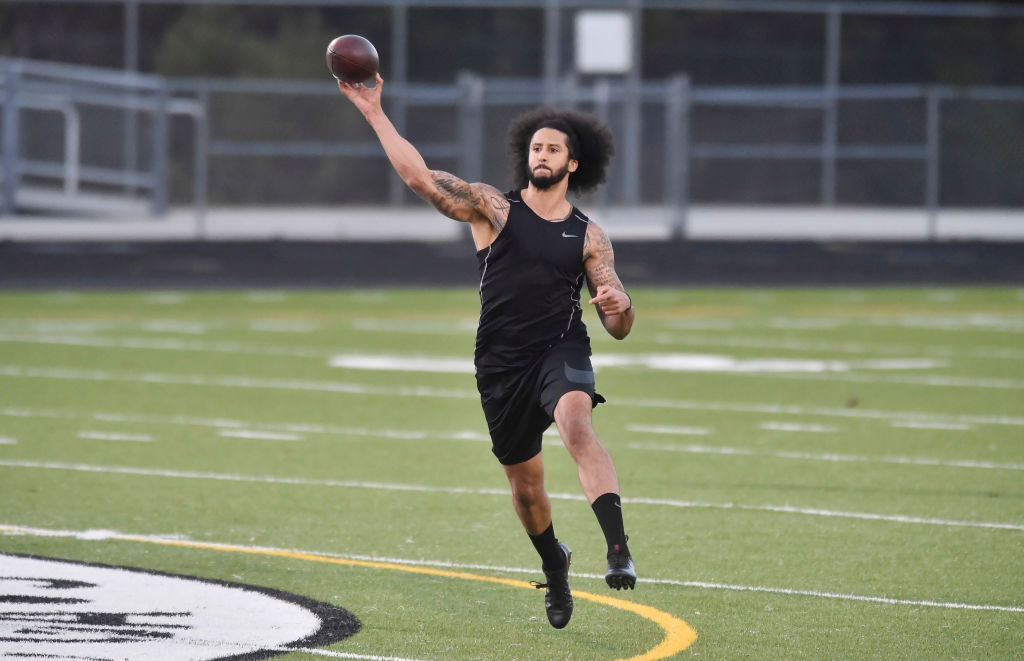 Colin Kaepernick's shoe deal 
Kaepernick is arguably bigger in post-retirement than he ever was as a player, even when he was leading to the San Francisco 49ers to a Super Bowl in an unlikely breakout season. Although he had some rough seasons in the years following his breakout, Kaepernick's departure from the league in 2017 was viewed as collusion among the owners who did not like his political stances by taking a knee during the national anthem. 
Since then, Kaepernick has stayed in the news despite not throwing a single snap in three years. Whether Nike was joining in on his political stance by signing him to a deal in 2018 or simply following perceived dollar signs, the company made headlines when they signed Kaepernick and included him in an ad campaign focusing on those who made a difference on and off the field. 
The exact details of the deal are still unknown, but Kaepernick is believed to be making a comparable deal to other NFL stars even though he is not in the league, and while other deals may involve shoes and occasional branded content, Kaepernick's seems to include a little bit of everything. 
First products
Among the first products that Kaepernick dropped was a jersey with his traditional number seven but no team name. The jersey is all black except for the name and number, and the absence of anything where a team logo and NFL logo would typically be is not a coincidence for those who know Kaepernick's story. Despite its minimalist design and $150 price tag, the jersey was a major hit with fans of his. 
Upon the release of the jersey, Nike backed up the former star quarterback. 
"We believe Colin Kaepernick is one of the most inspirational athletes of this generation, who has leveraged the power of sport to help move the world forward," a Nike spokesperson said to The Undefeated in a piece about the jersey. "The jersey marks Nike's continued product collaboration with Colin."
The jersey has become a statement for people, and LeBron James even pulled up to a Lakers game against Golden State wearing the jersey before it was ever announced. Kaepernick also made sure to point out that 20% of the proceeds from the jersey are going to his Know Your Rights Camp, an initiative meant to help youths with education, self-empowerment, and how to deal with law enforcement. 
The jersey sold out, and with the shoes on the horizon, it's safe to say that they may too. 
Colin Kaepernick's shoes
Colin Kaepernick's shoe is expected to drop in December, and it is not only for football players. Using a new colorway of Nike Air Force 1 lows, Kaepernick appeared to give a sneak peek of the shoes during his warm-ups before his workout.
They have a clean black and white design with the Nike Swoosh on the side. The tongue of the shoe has a K for Kaepernick, and the back of the shoe has a cartoon illustration of him above the heel. 
At least one person, Eric Reid, who famously boycotted alongside Kaepernick, has a pair of the shoes and took to social media to show them off next to the jersey. A price point for the shoe is not yet known, but if the jersey and other merchandise is any indication, the price point will not matter. Kaepernick will probably have fans and fellow celebrities alike rocking his shoes, and they are likely to sell out, as well.