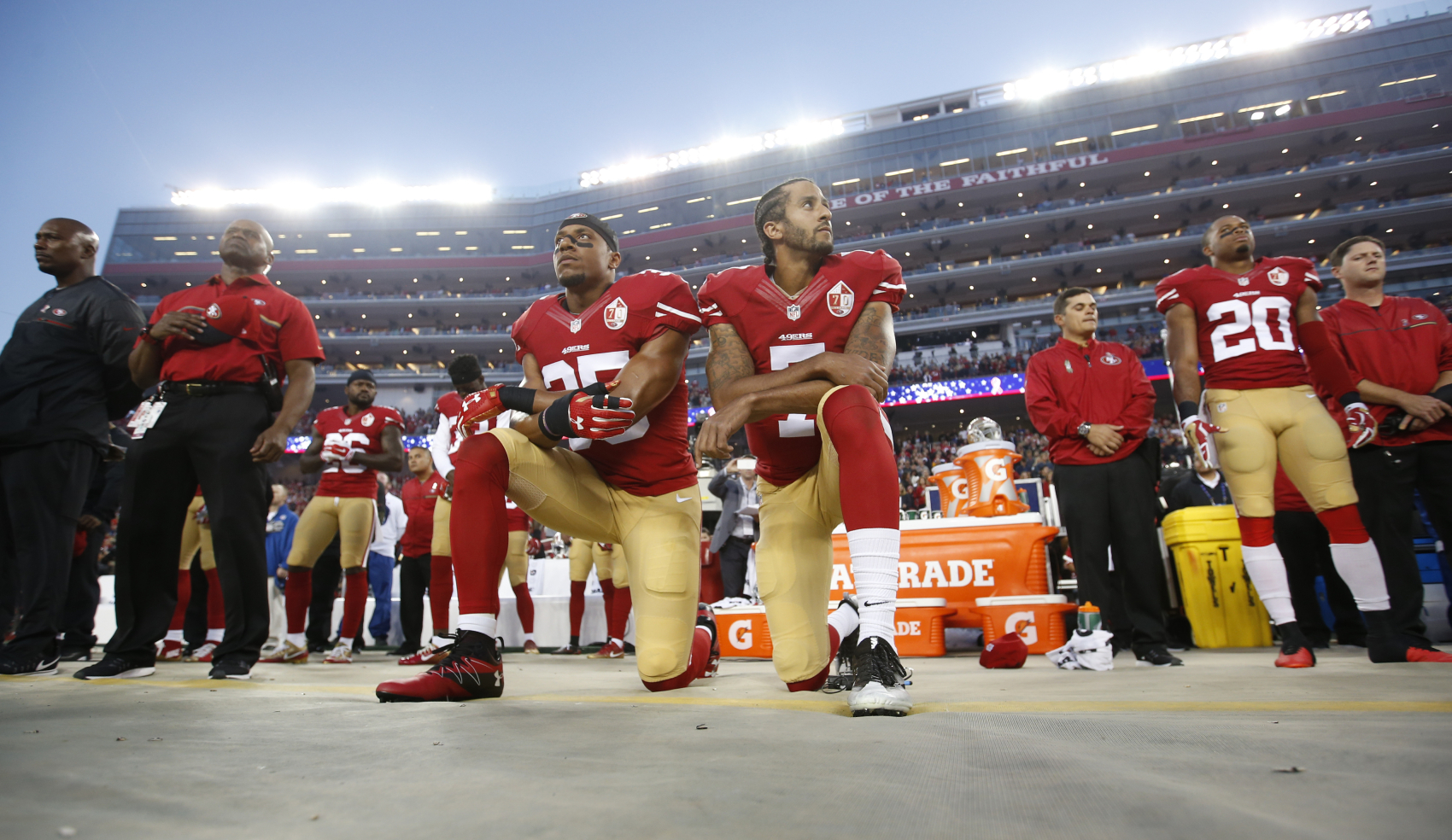 Is Colin Kaepernick Right About Eric Reid Being Blackballed by the NFL?
Eric Reid had an excellent season with the Panthers last year. However, Colin Kaepernick thinks he is being blackballed this season.
One of the best safeties in the NFL in 2019 was Eric Reid. After Reid had an excellent start to his career with the San Francisco 49ers, he then continued to excel for the Carolina Panthers. However, for some reason, one of the best safeties in the NFL doesn't have a team this season. He is still a free agent. Why is that?
Reid's former teammate Colin Kaepernick recently called the NFL out for blackballing Reid, similar to the way the league has blackballed Kaepernick, as they both have a history of kneeling during the national anthem and standing up against racial inequality in America.
So, is Kapernick right?
Eric Reid has been an excellent safety in his NFL career
After playing college ball at LSU, Reid went to the San Francisco 49ers in the first round of the 2013 NFL draft.
He became a star very quickly too. In his rookie season, Reid earned a Pro Bowl selection. He ultimately racked up 77 total tackles and four interceptions that year, and he defended 11 passes. He then continued to play well with the 49ers over the next four seasons. Reid had 41 total tackles and three interceptions in 2014, 71 total tackles but no interceptions in 2015, and then 62 total tackles and one pick in 2016.
The 2017 season was Reid's final season with the 49ers, and he had 67 total tackles and two interceptions.
In 2018 and 2019, Reid then played for the Carolina Panthers. After recording 71 total tackles and one interception in 2018, Reid absolutely dominated in 2019. He didn't pick off any passes, but he had a career-high 130 total tackles. However, the Panthers released Reid in March as he was about to enter the second year of a three-year, $22 million contract extension, according to Yahoo Sports.
Colin Kaepernick called out the NFL for blackballing his former teammate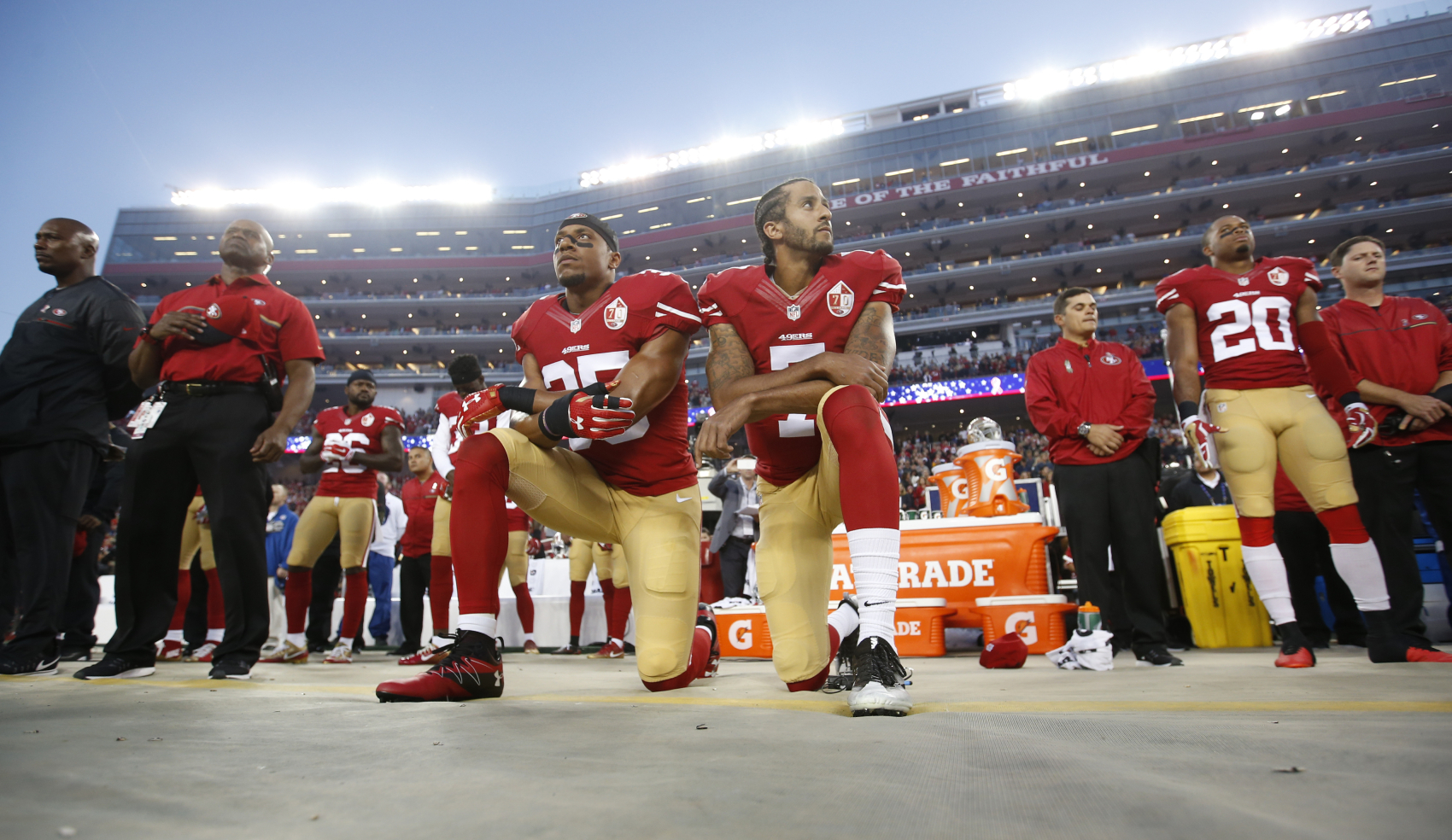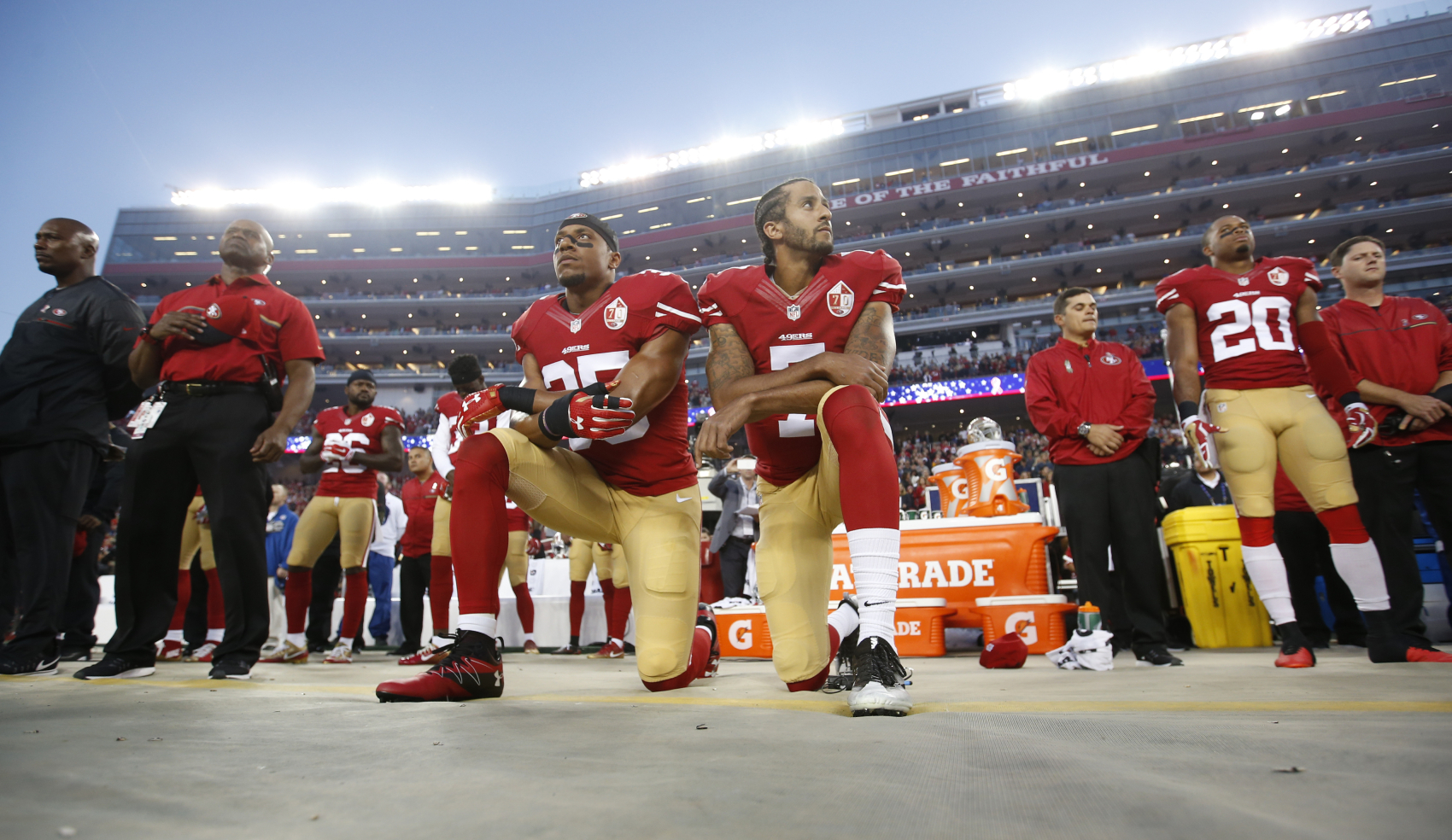 Despite playing really well last season, Reid doesn't have a team this year. Some believe that this has to do with his past social justice stances.
Reid took a knee with Colin Kaepernick when they were both on the 49ers, and he then continued to do it with the Panthers during the last two seasons, according to Yahoo Sports.
Kaepernick also has the belief that the NFL is treating Reid similar to the way it is treating him. He believes that the league is blackballing Reid.
"While the NFL runs propaganda about how they care about Black Life, they are still actively blackballing Eric Reid for fighting for the Black community," Kaepernick tweeted. "Eric set 2 franchise records last year, and is one of the best defensive players in the league."
So, is Kaepernick right?
Is the NFL blackballing Eric Reid?
When looking at how well Reid played in 2019, the argument that he is being blackballed is actually a pretty strong one.
Reid was third in the entire NFL in solo tackles last season with 97, and he had 130 total tackles. Additionally, he had career-highs in sacks with four, and tackles-for-loss with seven. Those are very solid numbers that warrant a spot on an NFL team.
Are there any teams that are (at least) interested in him?
"My agents have been in communications with teams daily, but there have been no developments," Reid said to Deadspin.
Why haven't there been any developments? The only reason that makes sense is that he is, in fact, getting blackballed. Reid seems to agree with the claim too. He shared the Deadspin article that said the league is blackballing him onto his Twitter. 
He also tweeted this, one day after Kaepernick's tweet.
"What the NFL is doing is half-hearted at best. [Roger Goodell] has gotten comfortable saying he 'was wrong' as if his mere acknowledgement reconciles his admitted wrongdoing," Reid tweeted. "He hasn't even called Colin to apologize, let alone reconcile, proving this is only PR for the current business climate. As such, Roger Goodell uses video of Colin courageously kneeling to legitimize their disingenuous PR while simultaneously perpetuating systemic oppression, that the video he's using fights against, by continuing to rob Colin of his career. It's diabolical."
So, does Reid have a point in saying that the NFL's stances against social injustices are just PR stunts? Unless teams actually sign both Kaepernick and Reid, he certainly does have a point. The last time Kaepernick played, he was still a talented quarterback. The last time Reid played, he was still a talented safety.
When looking at the amount of talent that both Kapernick and Reid still have, the only logical explanation as to why neither of them are on an NFL team is that they are, in fact, getting blackballed by the league.
Stats courtesy of Pro Football Reference