Is Cowboys Wide Receiver Amari Cooper Better Than Stefon Diggs?
Two wide receivers were in the news late on Monday night in Amari Cooper and Stefon Diggs. Cooper signed a five-year, $100 million deal with the Dallas Cowboys, according to ESPN, while the Minnesota Vikings traded Diggs to the Buffalo Bills. Both of these guys have been productive so far in their careers, and both guys were a part of the 2015 NFL draft class. However, Cooper was selected with the fourth overall pick while Diggs was selected in the fifth round. Since both of these guys had career-changing Monday nights, and since they have both been productive since coming into the league in 2015, which one is better?
Amari Cooper came into the league with high expectations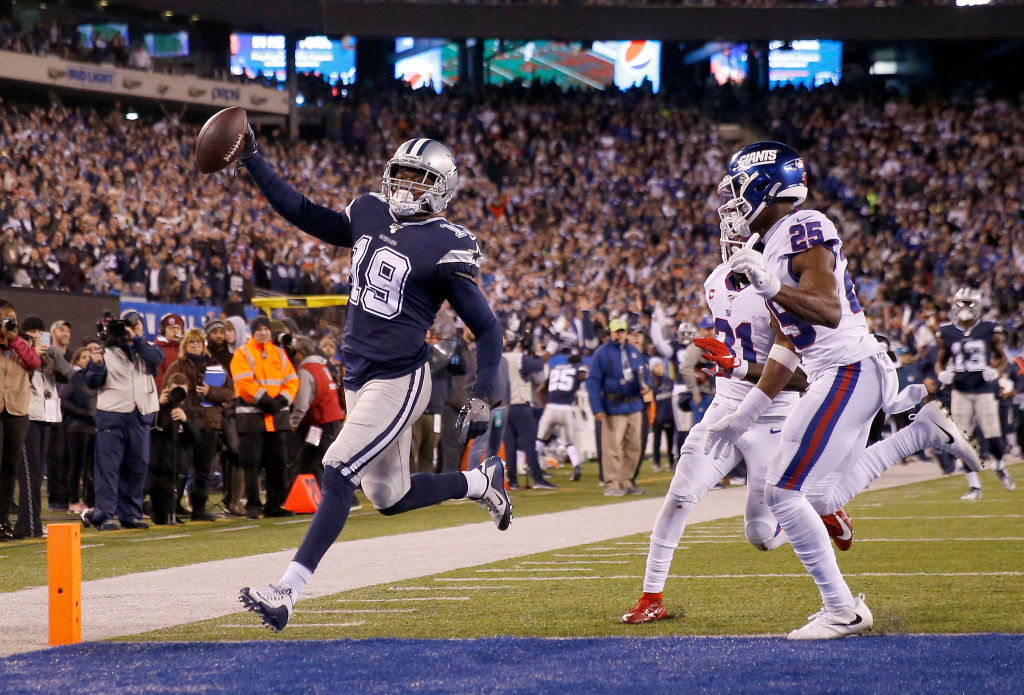 Cooper was a beast for one of the best college football programs in the country in Alabama. This led to the Oakland Raiders selecting the wide receiver with the fourth overall pick in the 2015 NFL draft. Cooper had a good rookie year for the Raiders, catching 72 passes for 1,070 yards and six touchdowns. He then improved his second year, catching 83 passes for 1,153 yards and five touchdowns.
In 2017, though, Cooper struggled. He only started in 12 games and only played in 14, but his numbers were very low, catching 48 passes for 680 yards and seven touchdowns. His catch rate decreased tremendously too. He caught 62.9% of his targets in 2016, but in 2017 he only caught 50%.
Cooper had another slow start with the Raiders in 2018 as he only had 22 catches for 280 yards and one touchdown through six games. Then the Raiders traded him to the Dallas Cowboys and Cooper had a strong end to 2018. Catching 53 passes in nine games, Cooper had 725 receiving yards and six touchdowns. Cooper then continued playing at a high level for the Cowboys in 2019, catching 79 passes for 1,189 yards and eight touchdowns.
Stefon Diggs has been better than expected
Stefon Diggs had a decent career in college at Maryland, nothing like Cooper's though. The Vikings then drafted him in the fifth round of the 2015 NFL draft as he did not have high expectations coming into the league.
In his rookie season, he caught 52 passes for 720 yards and four touchdowns. He then took that next step in 2016 as he caught 84 passes for 903 yards and three touchdowns. His numbers dipped a bit in 2017 as he caught 64 passes for 849 yards and eight touchdowns, but 2018 was when he became a star.
In 2018, Diggs caught 102 passes for 1,021 yards and nine touchdowns. Then in 2019, even though he had less catches, his receiving yards improved as he had 1,130 receiving yards on 63 catches to go with six touchdowns.
Diggs might be better than Cooper
Cooper has 357 career receptions for 5,097 yards and 33 touchdowns. Diggs, on the other hand, has 365 catches for 4,623 yards, and 30 touchdowns. While their numbers are similar, Diggs has had the better career.
In his rookie year, he played with a young Teddy Bridgewater who had a touchdown-to-interception ratio of 14-9 that season. Cooper played with Derek Carr that year who had a touchdown-to-interception ratio of 32-13. 
Cooper then played with Carr until he was traded in 2018. While Carr might not be the greatest quarterback, he never had less than 22 touchdown passes from 2015 through 2017. Diggs played with Sam Bradford in 2016 who has only started five games since that season. Then in 2017, Diggs played with Case Keenum. Nothing else needs to be said.
Since 2018, they both have played with the best quarterbacks they have ever played with, but Cooper is still playing with the better one. Cooper has played with Dak Prescott since the Raiders traded him to Dallas. While Prescott is young, he threw for 4,902 yards, 30 touchdowns, and 11 interceptions in 2019. Diggs has played with Kirk Cousins since 2018. Cousins had a better 2018 season than Prescott as he was a 30-year-old compared to Prescott who was 25. However, his numbers did not even touch Prescott's in 2019. Cousins threw for 3,603 yards, 26 touchdowns, and six interceptions last season.
Additionally, the last argument for Diggs is his catch percentage. He has a career catch percentage of 68.4% and hasn't had a season under 65% since his rookie year. Cooper's career catch percentage is 61.1% and he has had two seasons under 60%.
Both Cooper and Diggs are talented pass-catchers. While neither has played with top-five quarterbacks throughout their careers, Cooper has played with better ones, setting him up for more success. Cooper will get more recognition, being from Alabama and playing for the Cowboys, but Diggs has been the better overall wide receiver so far.