Is Dana White Losing Fighters Because the UFC Is Cheap?
The UFC is the largest MMA organization in the world, and it sold for $4 billion in 2016. This sale has made many people, including UFC President Dana White, extremely rich, but that isn't the case for the UFC's fighters. Here's a look at how the UFC may lose fighters because of its low pay.
The UFC stars we've lost along the way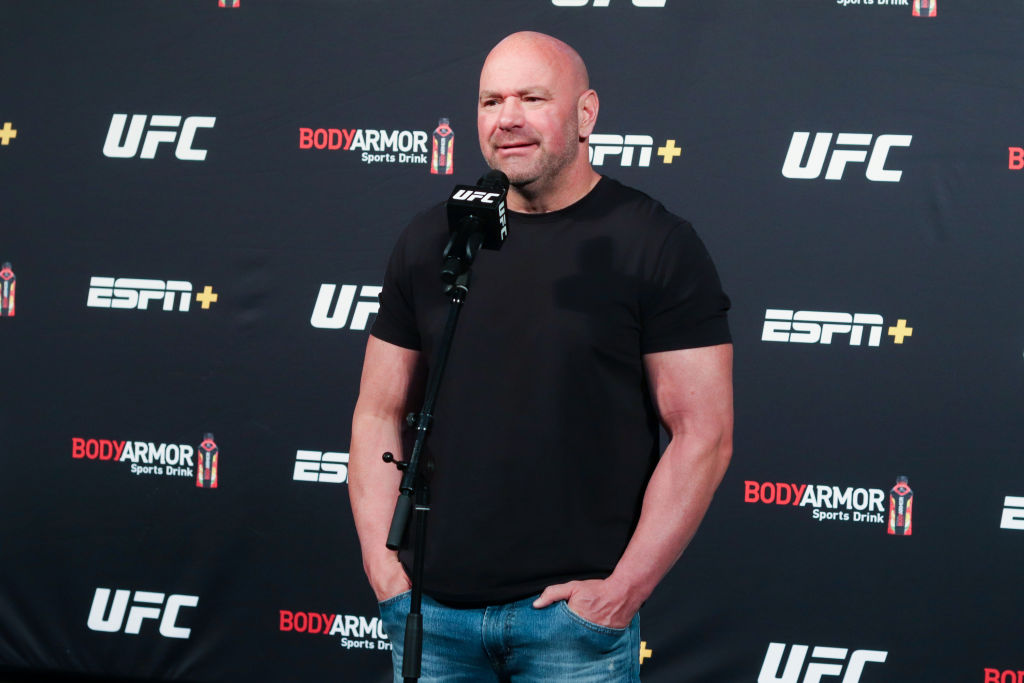 RELATED: How Long Has Joe Rogan Been Calling UFC Fights?
In the span of about a month, many UFC fighters have either quit or asked to leave the organization. Henry Cejudo retired after he knocked out Dominick Cruz at UFC 249. This was just the most high-profile retirement. Technically speaking, Conor McGregor has "retired" too. But it's less clear if his retirement is as permanent as Cejudo's retirement seems to be. 
Additionally, other high profile UFC fighters have asked the UFC to release them from their contracts due to negotiation issues. They include Jorge Masvidal and Jon Jones, both of whom are champs. While these are the most recent examples of fighters battling the UFC and its president, they aren't the only examples. 
In the past, champs like Demetrious Johnson and high-level contenders like Rory MacDonald left the UFC for other organizations. What all of these fighters have in common: They don't think the UFC pays them enough. 
The UFC's fighter pay issue
As Bleacher Report explains, the UFC more than likely pays its fighters less than what many other sports organizations pay their athletes. It's partly why so many UFC stars want to get a boxing fight, since one high profile boxing match will make them a lot more money than one fight in the UFC. 
Floyd Mayweather is probably the most extreme example of this. From 2010 to 2017, Mayweather made more money in a handful of fights than the UFC paid its entire roster in that same time span. Mayweather gets paid that much because of his fame and notoriety, but he isn't alone. Other boxers are paid millions for a fight, while a UFC champ may not get a million for a fight.
Some of the UFC fighters who're asking to leave the organization are saying similar things. For example, in a tweet, Jones said that he was paid less than $2 million per fight despite being one of the UFC's biggest stars. He said that he feels "like a fool" just thinking about how much money the UFC should've paid him. 
Will this be a permanent issue for the UFC?
RELATED: Has Joe Rogan Ever Fought in the UFC?
As Bleacher Report said, it's complicated. The UFC is the biggest MMA organization right now, but it has some competitors. Johnson, who is considered by Joe Rogan to be the best pound-for-pound fighter ever, packed up his bags and moved to ONE FC, a large Asian MMA organization. One of the reasons why he made the move was because ONE FC would pay him as well, if not better, than the UFC did.
That said, that's not the case for fighters like McGregor or Jones. There aren't many organizations that can afford to pay them what they're worth, let alone pay all of the disgruntled UFC fighters what they're worth. That's why Bleacher Report said that it's unlikely that many UFC fighters will actually leave the UFC for the time being.
But, on the other hand, with so many high profile fighters speaking up about pay, it's becoming more and more likely that UFC fighters will form a union. There have been fighter unions before, but none have been successful. If fighters like McGregor, Jones, Masvidal, and Cejudo can advocate for and start a union, then that union may stick around. With a union, UFC fighters can then negotiate for better pay in the long run.