Is It Smart for Marcus Mariota to Throw at the NFL Combine?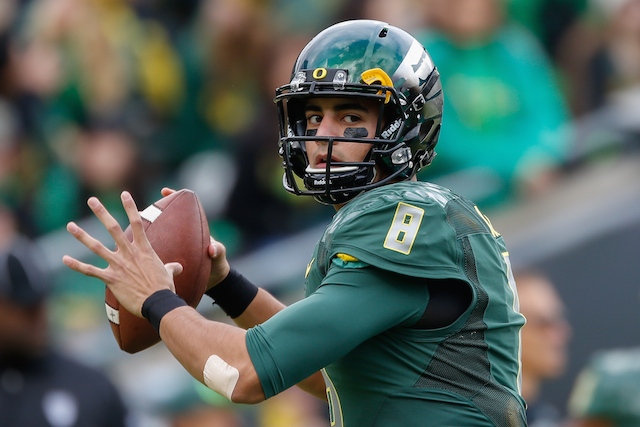 While Jameis Winston is still on the fence about whether or not he will throw at Saturday's NFL Scouting Combine, there appears to be no hesitation on the part of this year's other top quarterback prospect. Oregon QB Marcus Mariota is ready to go.
League sources have informed ESPN's Chris Mortensen that the former Ducks quarterback told teams that he will be throwing the ball at Lucas Oil Stadium this weekend. So when the rest of his position group takes the field on Saturday, you can expect to see Mariota out there slinging the pigskin. Apparently the only thing that was going to keep Mariota from letting the ball fly in Indianapolis would be the shoulder he sprained in the College Football Playoff championship game. At Monday's Davey O'Brien's award dinner, the Heisman Trophy winner said,"Really, I'm looking forward to throwing if I'm able to do that. It's going to be a decision that my agent and the team that I have around me will decide when I get closer."
It would appear that the decision has been made. On Saturday, Mariota will show the NFL and everyone who's watching the combine what he's got. The only question left to ask is, "Just because he can throw, does it mean he actually should?"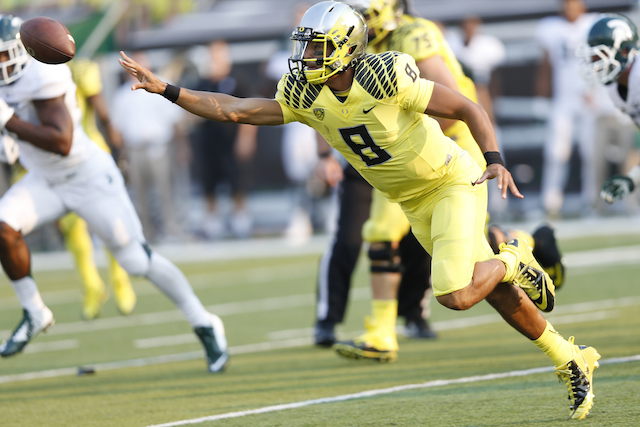 Mariota had an unbelievable junior season. His numbers speak for themselves: 4,454 passing yards, 42 touchdowns, 4 interceptions, 770 rushing yards, and 15 rushing touchdowns. He was a runaway winner for the Heisman, and he took home enough individual accolades to fill an entire trophy case. And yet, despite all that, there are still concerns as to whether or not his style translates to the NFL.
The Oregon Ducks are famous for their spread offensive, and Mariota spent most of his time working out of the shotgun. He has the athleticism and the character that teams go crazy over, but is he capable of handling of running a pro-style system? That's the only hesitation when it comes to Marcus Mariota. However, no matter the issues that surround Mariota's perceived limited skill set, he is still universally considered one of the top-two quarterbacks in this year's class. He's most likely going to be a first round pick at this point. If he has a bad showing, then there's a good chance his draft stock will suffer even more. There's no reason for him to risk it. Right?
That's not how we view it at all. If you're going to be the face of a franchise, then you better be willing to step up when the time calls for it. You can't shy away from a challenge. This is an opportunity for Mariota to silence some of his doubters, and we're glad that he's decided to seize it. As Mariota well knows: "You just have to get one team to love you." Here's to hoping that's he's earned their respect as well.
All statistics are courtesy of SR/College Football.