Is it Time to Call Devlin Hodges the Best Rookie QB in the NFL?
Devlin Hodges went the entire NFL Draft without hearing his name called. When he signed undrafted to the Pittsburgh Steelers, he did so as the third-string quarterback behind a future Hall of Famer and a coveted young quarterback.Thanks to a combination of poor injury luck and poor performances, Hodges ascended to be the starting quarterback for the Pittsburgh Steelers in 2019. But was he the best rookie QB of the bunch?

On top of that, he has started his season as a starter very well and is starting to make people wonder how he went unnoticed.

Where did Devlin Hodges come from?
Hodges was the quarterback for the Samford Bulldogs for four seasons. If the name doesn't ring a bell, it is because it does not ring any bells, it is with good reason. The Bulldogs of Birmingham are not a major school, and they do not get much attention when it comes to the NFL. Hodges, however, spent four years with the team and was quite good in the process.
Over four years, Devlin "Duck" Hodges threw for over 13,000 yards, completed at least 69-percent of his passes over three seasons, and threw for 107 touchdowns against only 39 interceptions. He might not have been in a major school, but throwing those types of numbers in any level of competition takes some skill, and while it makes sense that Hodges was undrafted, it also makes sense that he still found a way into the league.

How did Hodges get here?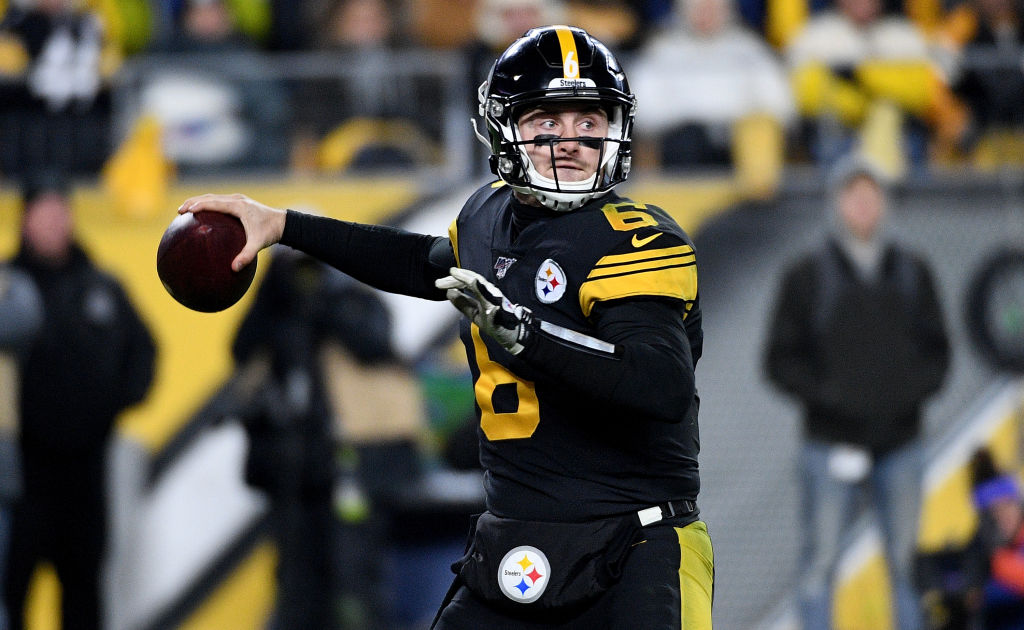 Hodges still got onto the radar of the Pittsburgh Steelers and was given a signing bonus of $1,000 to try out for the 90-man offseason roster. It was a low-cost move that, at the time, was likely to be based only on practices and insurance. When Roethlisberger was injured and Mason Rudolph showed some struggles, Hodges made the most of it.

He won his first start in Week 6 against the Los Angeles Chargers and completed 75-percent of his 20 passes en-route to the victory. He won the next two games as well with great performances, including an 84% completion rate against the Arizona Cardinals in his victory against them. The Week 14 loss to Buffalo, however, was a step back as Hodges threw for four interceptions after only two in the first three starts.

It is still a small sample size, but Devlin Hodges has shown an ability to find his targets and get wins, although it might be early to make it a bigger thing than it was.

Is Devlin Hodges the best rookie QB?
It is too early to say where Hodges is on the rookie quarterback scale. Sure, there are signs of promise, such as the fact that he led the Steelers over Kyler Murray's Arizona Cardinals. However, Hodges is part of an established team and system, while Murray's Cardinals are at the beginning stages of a total rebuild.

Daniel Jones shows some promise on the New York Giants, but the team was 2-8 during his initial starting stretch,and Jones has shown some vulnerabilities within his game. The third first-round quarterback, Dwayne Haskins, has only played in five games himself and has struggled to do much of anything in the process.

Funny enough, the quarterback who Devlin Hodges might best relate to is the Jaguars' Gardner Minshew. Minshew was not undrafted, but he had a strange journey to the NFL and found himself starting unexpectedly and saw immediate success when he did so. Minshew has shown struggles, as well, but the Jaguars are not doing him any favors. Drew Lock has arguably had the best start, but he, like Hodges, has limited time on the field.

Hodges is right up there with Murray, surpassing players like Jones and Haskins, and showing similarities to Minshew, and in five years we will know who was the real deal, and who was a short-term success. Until then, all we have is speculation.