Is Jerry Jones Making a Big Mistake With Dak Prescott's Contract?
The Dallas Cowboys had an incredibly disappointing season in 2019, but one player who didn't disappoint was Dak Prescott. The quarterback played anywhere from very good to brilliant last season.
But Prescott doesn't have a contract with the Cowboys, and for some reason, Dallas owner Jerry Jones is dragging his feet on paying Prescott the money he's seemingly earned. Is Jones making a mistake with the QB's contract?
Dak Prescott's contract situation
Prescott will be a free agent because Dallas didn't sign him to an extension before the offseason. However, it's unlikely he'll hit the open market. The smart money is on Dallas re-signing him or giving him the franchise tag. In his contract year, Prescott fared well. Here are his 2019 stats:
16 games played
Completed 65.1% of his passes
4,902 passing yards
30 touchdowns
11 interceptions
Three rushing touchdowns
Prescott's great season was overshadowed by a disappointing one for Dallas. The Cowboys faltered big-time down the stretch, allowing the upstart Philadelphia Eagles to claim the NFC East with key losses in the last month of the season. It wasn't Prescott's fault per se, but it doesn't help his case as he was the leader of an underachieving team.
It seems like an open-and-shut case based on Prescott's results. So what exactly is taking Jones so long to make the deal? 
Why Jerry Jones is dragging his feet on Dak Prescott's contract
There's no telling the exact reasoning for why Jones hasn't rewarded Prescott yet. While Jones is very open with the media, he often keeps his true reasoning for his decisions close to his vest. But there are a few potential explanations: 
Jones is gun-shy about handing out another big contract; he gave running back Ezekiel Elliott a sizable extension. Handing out another big deal to an offensive player — for an underperforming team — may be the last thing on his mind based on the Cowboys' returns last year. The problem with thinking: One can hardly blame Prescott for the team's failures. 
He also has to sign wide receiver Amari Cooper. He may try to juggle the multiple long-term deals he wants to hand out.
He's not sure Prescott is the team's franchise quarterback. While Jones' logic here is somewhat head-scratching, he may not see Prescott as being the ideal QB in Dallas for whatever reason. It's true that Prescott has room for improvement, but it's hard to believe this is how Jones views this situation. But it is a possibility. 
Has Dak Prescott already proven himself?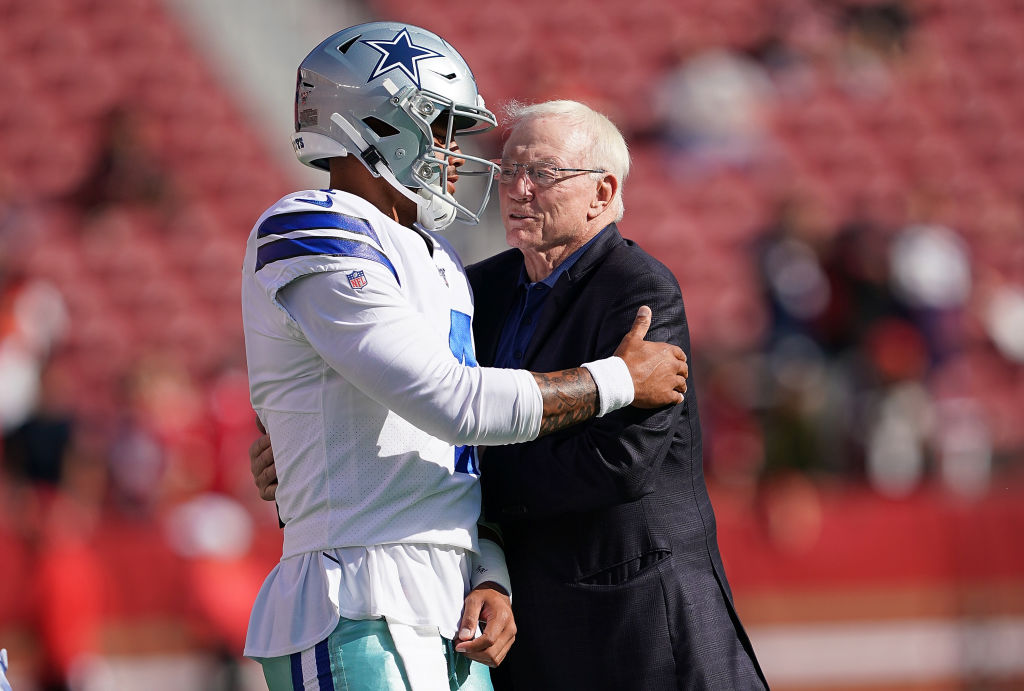 If it's true Jones doesn't think Prescott has proven himself, it's hard to defend that position. Prescott has a 40-24 record. He's thrown 97 touchdown passes in his career. He's shown the ability to consistently throw the ball downfield successfully and lead fourth-quarter game-winning drives.
It's clear the Prescott deserves to be the next quarterback given a big extension. Whether he gets that money this year or next, from Dallas or another team, remains to be seen. One thing's for sure: If Dallas doesn't pay Prescott this offseason, it will almost certainly damage his relationship with the team.
Letting him walk will mean he'll move on. But placing the franchise tag will leave Prescott unhappy and looking to get out of Dallas as soon as he can.
Expect Jones to do the right thing and give Prescott his long-overdue extension. He'll then see if Prescott can improve even more with an offensive-minded coach in Mike McCarthy.