Is Jimmy Garoppolo a Lock to Win NFL Comeback Player of the Year?
It's a good time to be Jimmy Garoppolo. The San Francisco 49ers' quarterback led his team to a Super Bowl. He spent the 2019 season guiding them to a 13-3 record and the top playoff seed in the NFC. But it wasn't always that easy for him. Garoppolo has had his fair share of trials and tribulations during his career, and he's fought hard to get into this position. Let's take a closer look at why Garoppolo is a lock to win NFL Comeback Player of the Year.

Jimmy Garoppolo's career overview
The New England Patriots drafted Garoppolo with the 62nd overall pick in the second round of the 2014 NFL draft. While the Patriots didn't immediately say Garoppolo would one day replace Tom Brady as the starter, using a second-round pick on a quarterback is a fairly good indicator that the organization values him highly. Garoppolo assumed backup duties from Tom Brady but showed flashes of ability that led some to believe he may be Brady's heir apparent.

Jimmy Garoppolo's career really took off when Brady was suspended in 2016. Garoppolo won two games that he started for New England. He had 504 passing yards and four touchdown passes in those victories. It was then that interest in Garoppolo grew around the league.

Garoppolo's path to San Francisco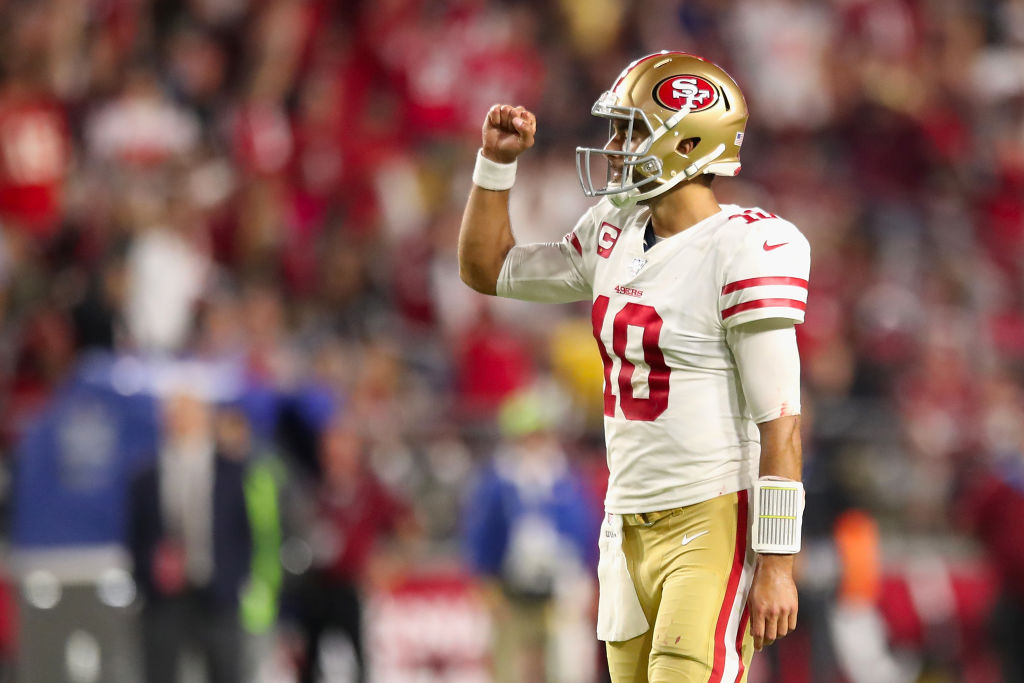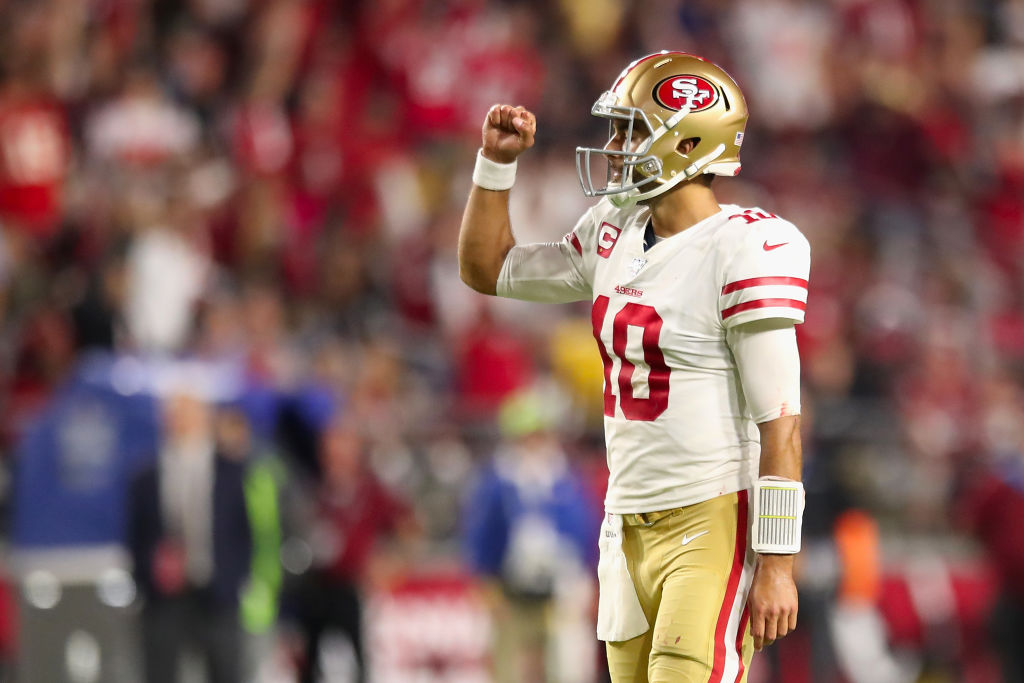 After rumors of an internal power struggle and that Patriots head coach Bill Belichick wanted to keep him, New England traded Garoppolo to San Francisco. It's unclear how much of the rumors surrounding his departure were true. Some reports said Brady felt threatened by Garoppolo's presence due to his youth and ability. Whatever the case, Garoppolo immediately showed that any fears on Brady's part were well-founded.

In Garoppolo's first action in San Francisco, he immediately impressed. He played five games for the Niners during the 2017 season, and he won all five. He also threw seven touchdown passes and 1,560 passing yards. He wasn't able to save San Francisco's season as they still missed the playoffs, but he did give them hope for the future. It was apparent that they had found their quarterback. Unfortunately, early into the next season, disaster struck.

Just give Jimmy Garoppolo NFL Comeback Player of the Year
Sadly, Jimmy Garoppolo's 2018 ended early. Only three games into the year, he was lost for the season with an ACL injury. It was a tough blow for a team that had given Garoppolo a big contract. San Francisco soon fell out of contention behind a rotating cast of middling quarterbacks. Garoppolo essentially had to start all over again, proving that the Niners were correct to invest so much into him and the early promise he showed in his career.

Garoppolo returned this season 100% healthy. He played like it, too. Here were his numbers for the 2019 campaign:
27 touchdowns
3,978 passing yards
69% completion percentage
13 interceptions
8.4 yards per attempt
Quarterback rating of 102.0
Garoppolo quarterbacked one of the best teams in football in 2019. The Ravens, Packers, Patriots, and Seahawks might feel otherwise, but they didn't make it to the Super Bowl. When it comes to the Comeback Player of the Year race, that definitely counts for something.

Garoppolo's main competition may be Ryan Tannehill. Tannehill played at a high level while leading the Tennessee Titans to a playoff berth and a surprise appearance in the AFC championship game. It's likely Jimmy Garoppolo will win it, however. Unlike Tannehill, he played a full season and guided his team to the Super Bowl, and he did so after recovering from a devastating injury.