Is Joe Rogan a Better Comedian, UFC Commentator, or Podcast Host?
Joe Rogan is a man of many talents. Not only is he a stand-up comedian, UFC commentator, and podcast host, but he's also been an actor, a TV host, and an amateur kickboxer. So, which one of these areas is he the most talented?
Joe Rogan as a comedian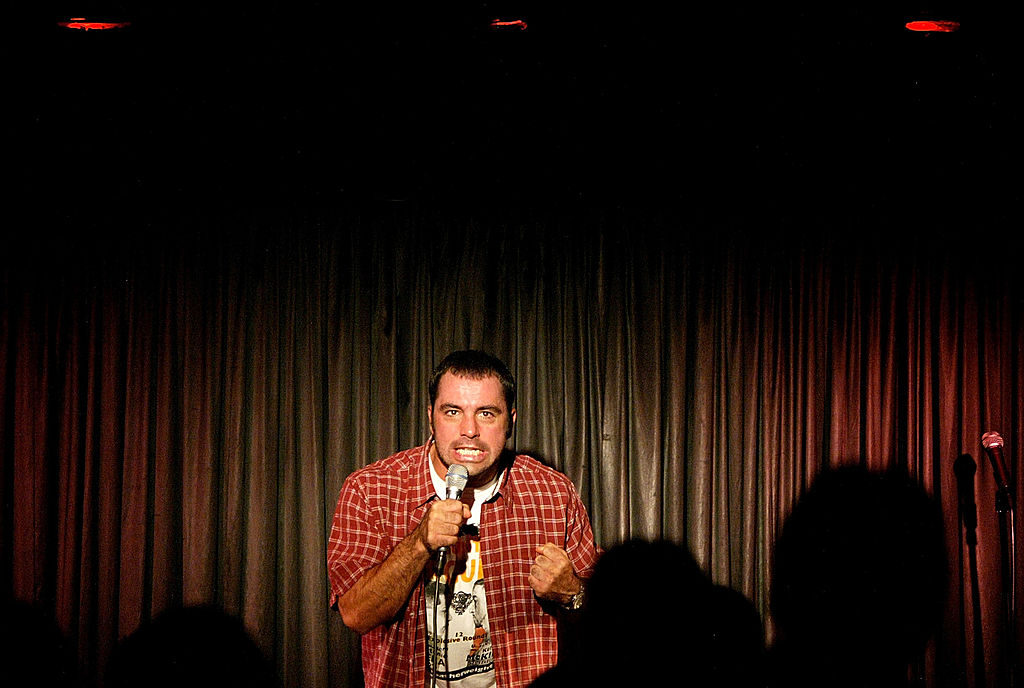 Rogan's career as a stand-up comedian may be the foundation of the rest of his skills, explains LiveAbout. Being funny is a good way to entertain, and this is one reason why his fans love hearing him talk. Even when Rogan is discussing a fight, he cracks jokes. So there's a good argument for saying that comedy is what Rogan's best at. 
Rogan has also left his mark on the comedy world. He called out fellow comedian Carlos Mencia for stealing his jokes. In fact, Rogan even confronted Mencia on stage in 2007. While Mencia is still a successful comedian, his image was tarnished by accusations of joke-theft.
Despite having a successful commentary career and a podcast, Rogan is still doing standup comedy shows. In fact, his most recent comedy special released on Netflix in 2018.
Joe Rogan as a UFC commentator
Rogan's long-time job as a UFC commentator is how most fans know him. Since 2002, he's done commentary for the UFC. For younger UFC fans, this means he's been commentating since before they were born. 
It's impossible to know how much of an impact Rogan's had on the UFC. Dana White, who bought the organization with business partners in 2001, had a lot of work to do. The UFC was in a bad place both financially and in terms of public relations. It needed to change its image, and White realized Rogan could help with this. 
With the help of both Rogan's knowledge about combat sports and comedy chops, the UFC grew to become the sports giant it is today. However, some criticize Rogan's commentary for the UFC. Like any person, he's been wrong about a few things, and it's angered some fans.
Regardless, Rogan is without a doubt one of the few people who helped transform the UFC into a successful organization. But this is not his biggest talent.
Joe Rogan as a podcast host 
Arguably, Rogan's popular podcast, the "Joe Rogan Experience," is what he's best at. It can be controversial, as Rogan brings on people like conspiracy theorist Alex Jones to discuss various conspiracies. But Rogan interviews a lot of credible people, too. Guests have included Democratic presidential candidates Bernie Sanders and Andrew Yang as well as tech billionaire Elon Musk. 
The variety of guests, which includes MMA fighters and other comedians, allows Rogan to bring a diverse cast of voices onto his podcast. His guests may not always be truthful or accurate, but Rogan provides a platform for them to speak their minds to his millions of listeners.
This is why podcasting is Rogan's biggest talent. It combines everything he's good at in a format that's easy for audiences to absorb. Plus, one of the perks of hosting a popular podcast is that Rogan can promote things. This includes helping out people and causes he cares about.
Follow more updates from Sportscasting on our Facebook page.