Before the Oakland Raiders hired him last year, Jon Gruden seemed like one of the most sought after coaches in football. Every year rumors of his return to the game popped up.
Now that Gruden's back and armed with a monster contract, it seems fair to evaluate his ongoing legacy in the game. While he has a championship ring under his belt, there are also mitigating factors that make his resume a little harder to evaluate. 
Is Jon Gruden overrated? Let's take a look.
Evaluating the Super Bowl victory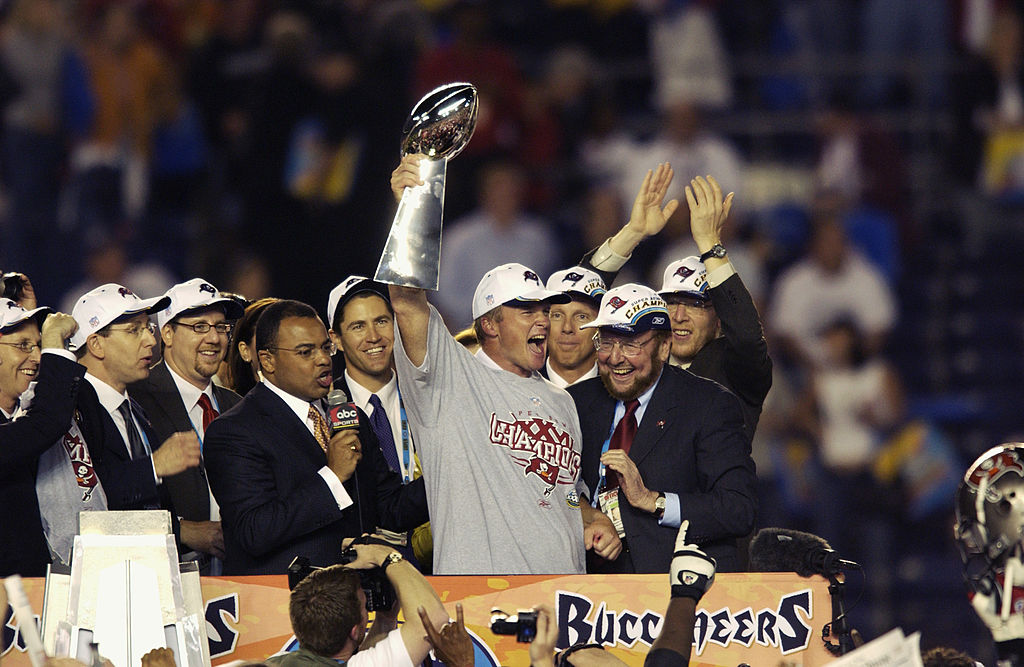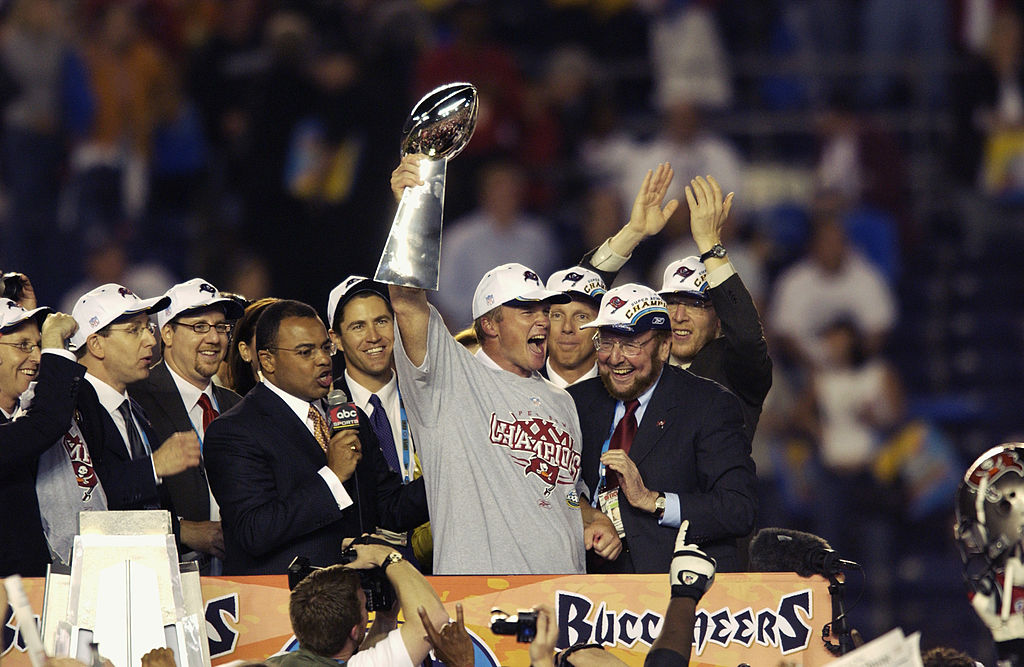 Much of Gruden's legacy comes from his Super Bowl victory as the head coach of the Tampa Bay Buccaneers. You can't take the win away from Gruden. It's tremendously difficult to coach a team to a Super Bowl no matter what the circumstances. However, two facts keep this achievement from being as impressive as it may initially seem: 
Gruden was in his first season as head coach, taking over a team that had been to the playoffs several times under Tony Dungy. Many of the team's players on their vaunted defense remained from Dungy's time as coach. The team also still had defensive coordinator Monte Kiffin as well.
The team Gruden had coached prior to Tampa Bay? Their Super Bowl opponent, the Oakland Raiders. One Raider claimed Gruden knew what plays they were going to call.
Both of these combined gave Gruden a tremendous advantage. That's not to say he didn't earn his Super Bowl victory – he had to do a lot of things at a high level to get his team in position to win. But having a solid infrastructure in place built by Dungy, along with having an intimate knowledge of his opponent's game plan is a leg up no coach in history has ever had heading into a Super Bowl. 
Jon Gruden's regular-season success
There's also the matter of Gruden's career win-loss record. It's a respectable 99-93 – not bad by any stretch, but not worthy of the genius label some have applied to him.
His teams have only reached double-digit figures in wins four times while reaching double-digit losses three times. And in 12 years as a head coach, he's only made the playoffs five times (meaning he's missed it more than he's made it). His teams have gone 5-4 in the playoffs overall. One other statistic that doesn't do Gruden any favors is that he's had 88 challenges in his career, hitting on only 32 of them. 
As a talent evaluator, Gruden also had some notable misses among his career first-round picks, including Michael Clayton, Cadillac Williams, and Gaines Adams.
Is Jon Gruden overrated?
When he initially coached the Raiders, Gruden was the darling of former owner Al Davis. After being fired by Tampa Bay and for years afterwards, Gruden's status as the lead color commentator on Monday Night Football gave him a prominent place in the game. His name seemed to come up whenever a big coaching opportunity was available. 
Gruden is not a bad football coach by any means. Any coach who could take their team to the highest level – a Super Bowl championship – cannot be categorized as "bad." It just seems as though his reputation may have exceeded his actual achievements.
Prior to last season, current Raiders' owner Mark Davis (son of Al) gave Gruden a 10 year, $100 million deal. The goal was to bring in a proven coach to turn around a listless franchise.
Last year, the Raiders struggled. It remains to be seen whether Gruden is the man to turn the Raiders around. If he isn't, it may be a long decade for the team.