Is Kobe Bryant the Best Passing Scorer in NBA History?
Kobe Bryant's got a thing for the Toronto Raptors. The last time the fourth-leading scorer of all time was playing on a team with very little championship viability, Kobe spent all season fuming about his teammates, like Smush Parker, and trying to score as many points as possible — an effort which culminated in an 81-point outburst against the NBA's only Canadian franchise. It is still awesome to watch, especially given that 27-year-old Kobe was a scoring machine, and 36-year-old Kobe isn't all that different.
So, when it was remarked upon that Bryant, who would finish the game with his 20th career triple double by notching 31 points, 11 rebounds, and 12 assists, was approaching the 6,000-assist marker, we thought about it in terms of his ability to put the basket through the hoop. After all, as one of only five players to ever crack the 30,000-point marker in NBA History (plus Dr. J if you include the ABA), it seemed somewhat perfect that his assist total was roughly one sixth of his scoring output: No one's putting Kobe in the game to pass the ball, even if he's a bit underrated in that regard.
But how do Kobe's newfound numbers compare to his five peers? For a player with such a notorious reputation for being a ball hog, surely he'd grade out at the bottom of the list, right? Right? All data courtesy of Basketball Reference.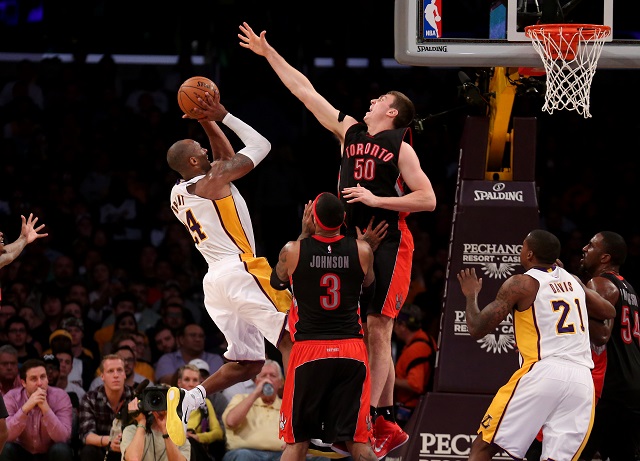 Aside from Bryant, only Wilt Chamberlain, Michael Jordan, Karl Malone, and Kareem Abdul-Jabbar have managed to hit the 30,000-point bubble. Not coincidentally, they're also the five highest scoring players in league history — and in that order, too, save that Kobe is fourth right now, between Wilt and Jordan. How does the list look if we rank them from lowest to highest, in terms of their assists?
Wilt, who is the only player on this list to ever lead the league in assists, remains at the five position, with 4,643 passes successfully converted into his teammates' baskets. Next up is Karl Malone, the power forward and half of the deadliest pick and roll combination of all time, with 5,248. Third comes Jordan, with 5,633 assists, and second by just 23 is Kareem with 5,660.
That's correct — Kobe is the only player in NBA history to have scored 30,000 points while notching 6,000 assists. Does this mean he's the best passing scorer in the league's history? Probably not, but the argument isn't nearly as outlandish as it seems upon first look.