Is Kyrie Irving a Bad Leader?
Kyrie Irving's post-Cavaliers career has not gone as it was expected to go. In both Boston and Brooklyn, Irving has had to be the leader that he didn't need to be alongside LeBron James. While he has had some success as far as wins and losses, Irving has found himself on several peoples' bad sides, be they teammates, media members, or fans.
With Irving continuing to garner headlines with his antics, the question has to be asked. Is Irving a real leader?
Kyrie's Irving's ups and downs as a leader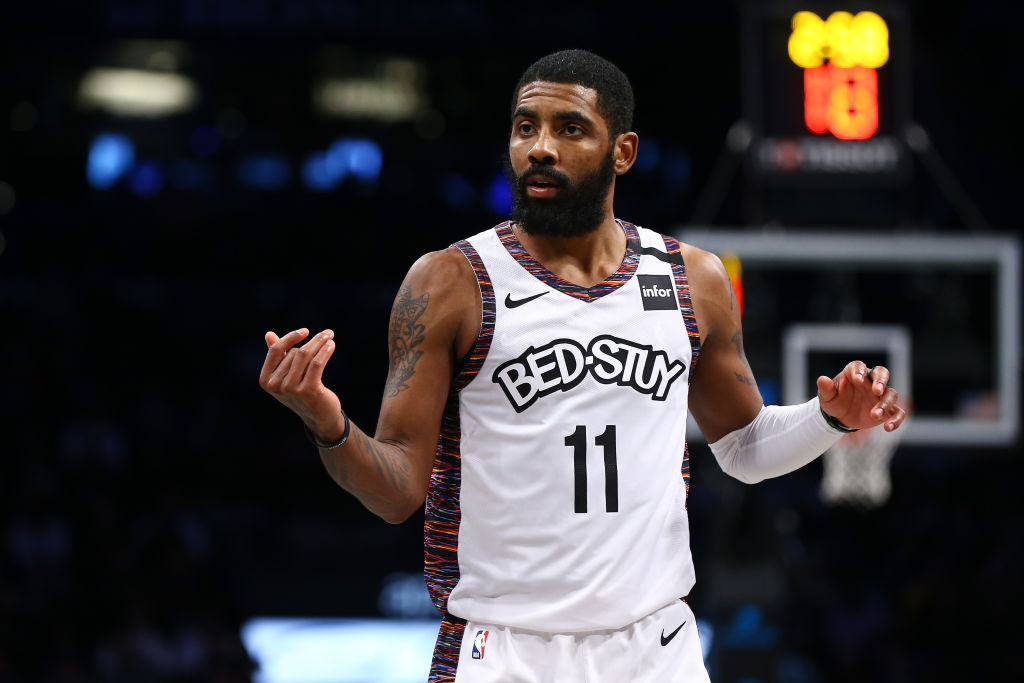 Although Irving was, in many ways, the leader of the Cleveland Cavaliers before James made his return to the franchise. Those years were marred with losing records and a sense of aimlessness in the franchise.
None of this was Irving's fault, as he was still a young star. However, while some young stars have shown that they can lead teams early on, Irving showed no such drive.
With youth on his side, however, Irving quickly showed his value to a winning team when he and James made three-straight NBA Finals appearances. After the Cavaliers' third-straight appearance with Irving, he shocked everyone and demanded a trade.
By the 2018-19 season, he was on the rival Boston Celtics. While the Celtics were winning a decent amount of games, however, Irving's leadership was being questioned, yet again. 
By his second year in Boston, there was a clear divide between Irving and the Celtics. He took potshots at the team and tended to alienate himself with the things he said. By the end of year two, with Irving headed into free agency, the once-promising marriage ended with a disappointing second season and Irving shipping off to Brooklyn with Kevin Durant.
In Brooklyn, Irving has struggled to stay on the court. Some of the same potshots that he was criticized for in Boston have made their way into the narrative on his new team. With Irving's recent election as VP of the players' union, however, people are wondering if Irving is a true leader or a big name who pretends to be.
Leader or a bridge-burner?
One of Irving's most vocal critics during his time in Boston was the ever-opinionated Bill Simmons. Simmons sent a scathing tweet lambasting Irving after he commented on his impending free agency.
"Kyrie needs to stop talking about leadership – he's terrible at it," Simmons Tweeted.
"He's incredibly fun to watch, but if they traded him within the next 6 days… I'd honestly be fine with it. Go to New York in July and play for the worst NBA owner of the 21st century. Good luck."
Although some could have speculated that Simmons' thoughts had less to do with Irving's actions and more to do with the fact that he appeared to be on the way out, others began to take notice in Kyrie's antics, as well. Criticisms of Irving's leadership followed him to Brooklyn.
Irving himself acknowledged that his Boston experiment didn't help his perception as a poor leader before the 2019 season, but with the season heading into the homestretch, questions remain. 
On ESPN's First Take, Max Kellerman offered a scathing take on Irving's leadership after Kendrick Perkins called out his leadership amidst his election to the Players' union. Kellerman sees Irving's lack of leadership as a harbinger for worse chemistry on the court. 
"Now we have a huge sample size," Kellerman said. "With the Celtics and the Nets. In both cases, both teams performed a little better without Kyrie than with him. At a certain point, it's not a coincidence.
Is Kyrie Irving misunderstood?
In response to criticisms about his leadership before his election, Irving offered a response to his critics who feel the need to dwell on his perceived thoughts after being asked about his unflattering portrayal by some in the media.
"I'm going to continue push and I'm going to demand greatness out of myself and demand greatness out of my teammates and we go from there," Irving said (per USA Today). "If it's harsh as a leader or it's too much for anybody, you're not in our locker room. Stay the f— out." 
Fans and media are good at prescribing motives to players' actions. Sometimes, it is warranted, but other times it can be the result of an age where social media and immediate access to everything make people feel closer to situations than they are.
Irving might be a good leader or a poor one, but if he wants to put meaning in his own words, he can still show his merit as a leader. Until he does, the same criticisms will remain as long as he keeps playing in the NBA.