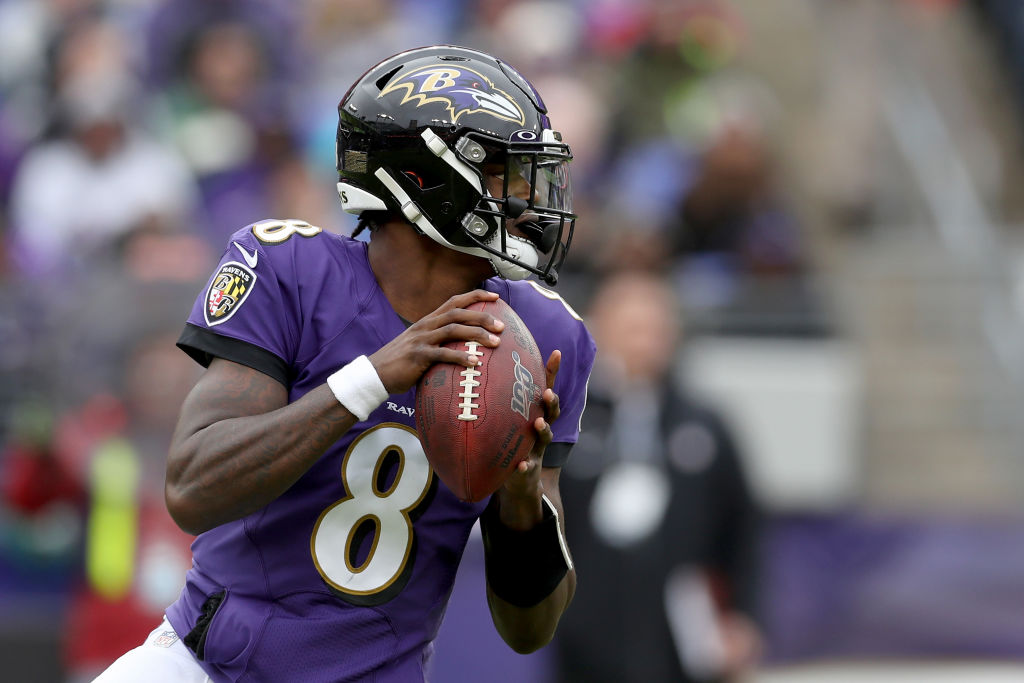 Is Lamar Jackson a Rookie?
Lamar Jackson is one of the best young quarterbacks in the NFL today. Is the Baltimore Ravens superstar a rookie?
Lamar Jackson has become a household name virtually overnight due to his incredible campaign in 2019. Jackson enters his Monday Night Football matchup against the Los Angeles Rams as the favorite to win NFL MVP this season; he has 2,258 passing yards, 19 passing touchdowns, 781 rushing yards, and six rushing touchdowns so far this season. The dual-threat quarterback is just 22 years old and is one of the most exciting players in the NFL.
While Jackson is fairly new to the league, he is not a rookie. 2019 is his second year in the NFL, but it is his first season as the team's full-time starting quarterback. Here's a look at how Jackson became the franchise quarterback of the future for the Baltimore Ravens.
Jackson fell in the draft despite a sensational college career
Lamar Jackson was spectacular as the starting quarterback for the Louisville Cardinals in college. In his last two seasons with the program in 2016 and 2017, Jackson racked up 7,203 passing yards, 57 passing touchdowns, 3,172 rushing yards, and 39 rushing touchdowns. He won the Heisman Trophy for his efforts in 2016, a season in which he accounted for 51 total touchdowns.
Despite his excellent college career, NFL teams and scouts were torn on whether Jackson would be a good enough quarterback to have success at the pro level. There was no doubting his athletic ability, but his relatively low 57% career completion percentage in college left doubts about his accuracy.
These doubts led to Lamar Jackson tumbling in the draft. Baker Mayfield, Sam Darnold, Josh Allen, and Josh Rosen were all drafted within the top ten picks of the 2019 NFL Draft. It wasn't until the final selection in the first round that the Baltimore Ravens traded up in the draft to select Jackson at No. 32.
He took over for Joe Flacco in his rookie season last year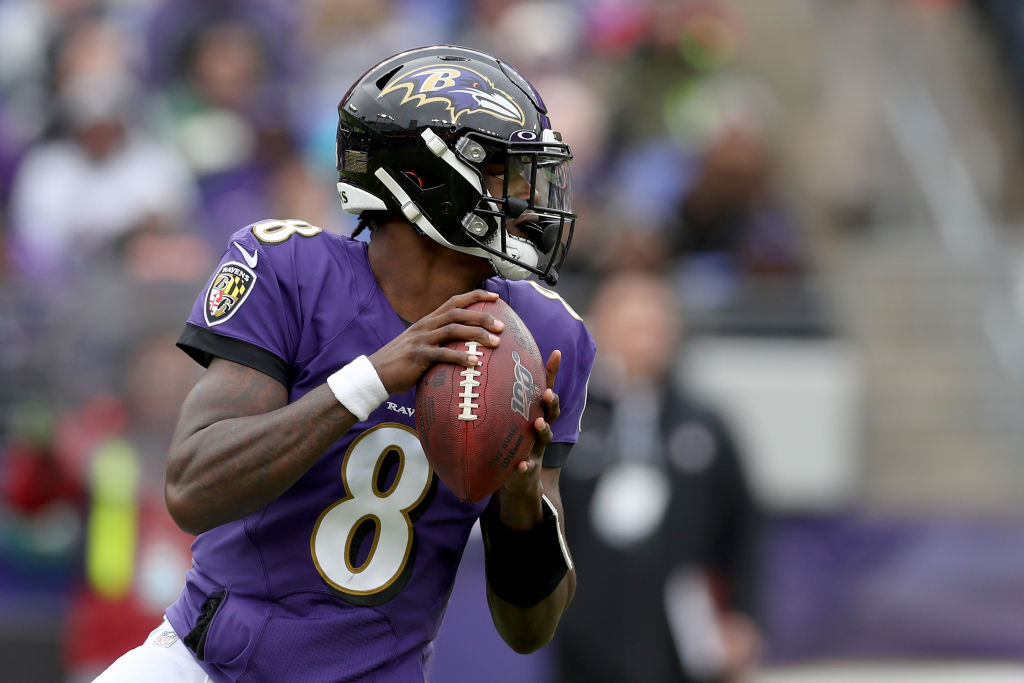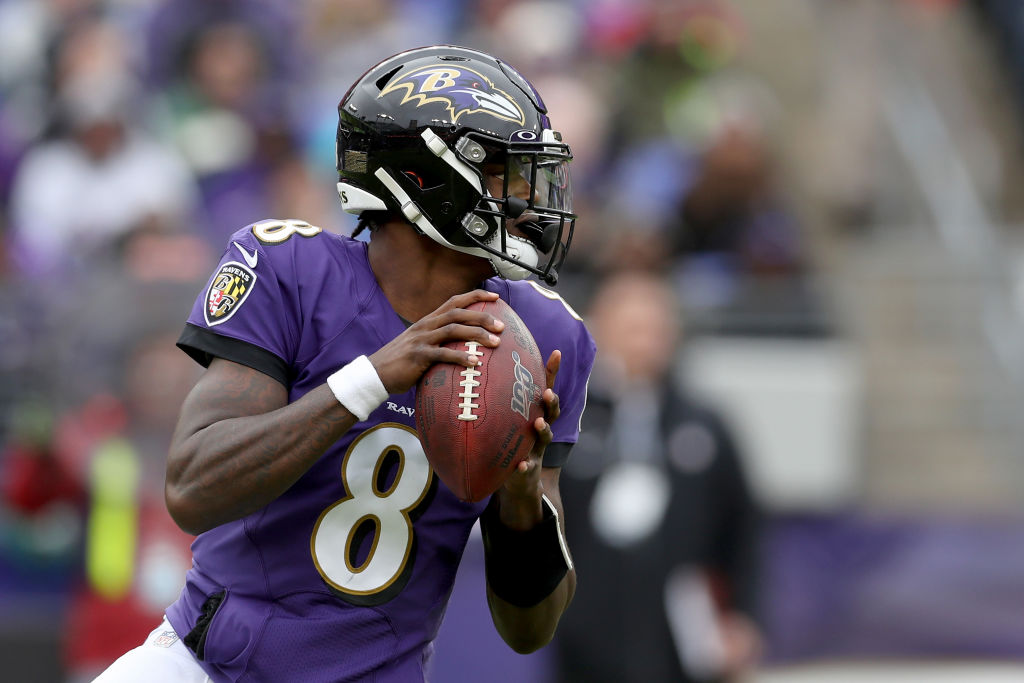 As a rookie in 2018, Lamar Jackson served as the backup quarterback to Joe Flacco through Baltimore's first eight games. Flacco led the Ravens to a 4-5 record before suffering a right hip injury that thrust Jackson into the starting role in Week 11.
Jackson relied heavily on his rushing abilities in his first career start, carrying the ball 26 times for 119 yards while leading the Ravens to a 24-21 win over the Bengals. He proceeded to lead Baltimore on a 6-1 run to end the regular season, helping the team make the playoffs for the first time since 2014. Even when Joe Flacco was healthy enough to play, head coach John Harbaugh stuck with his rookie quarterback as the starter.
Lamar Jackson's ability to win was undeniable, but his skills as a passer were still in question. Over his seven regular-season starts, Jackson completed 58.2% of his passes. He averaged only 22.6 pass attempts and 159 passing yards per game, and was used heavily as a runner with an average of 17 carries and 79.4 rushing yards per game.
Lamar Jackson developed as a passer this offseason
Jackson could have just rested on his laurels this offseason, especially after Baltimore decided to part ways with Joe Flacco and handed the starting job in 2020 to the second-year quarterback. Instead, Lamar Jackson worked diligently with his quarterback coach Joshua Harris to improve as a passer, and the results have turned Jackson into one of the best quarterbacks in the game.
The 22-year-old has a vastly improved completion percentage of 66.3% in 2019. He is throwing the ball far more often with 27.9 passing attempts per game and is averaging 225.8 passing yards per game. Jackson is also relying on the run less with 11.6 carries per game, but is maintaining similar levels of production in the running game with 78.1 rushing yards per game. Now that defenses need to respect his passing skills, it makes Jackson even more dangerous as a runner.
No one knows for sure what the future holds, but it's safe to say that there are a whole bunch of teams around the NFL kicking themselves for not drafting Lamar Jackson when they had the chance.