Is Lamar Jackson Playing for the Ravens Against the Packers in Week 15?
Baltimore Ravens fans collectively gasped when Lamar Jackson went down during the Week 14 loss to the Cleveland Browns. The fourth-year quarterback is battling an ankle injury, but his status for a crucial matchup against the Green Bay Packers in Week 15.
Here's the latest on the former NFL MVP.
Lamar Jackson is unlikely to play against the Packers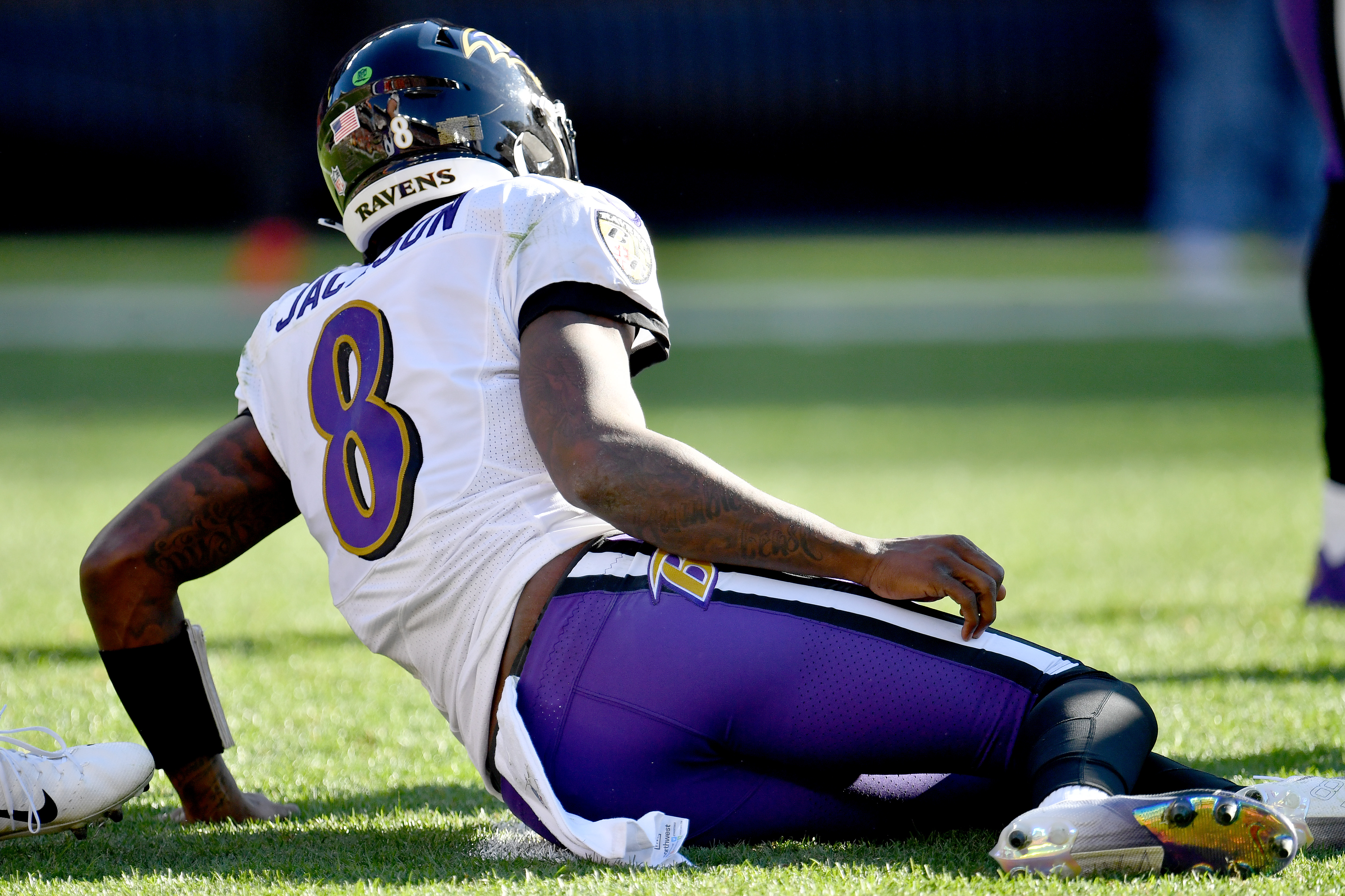 Lamar Jackson suffered an ankle injury early in the game against the Cleveland Browns. After an MRI, team doctors diagnosed the Baltimore Ravens quarterback with a bone bruise instead of a sprained ankle.
According to ESPN insider Adam Schefter, the Ravens initially expected to rule Jackson out prior to Sunday's game against the Green Bay Packers.
The Louisville product didn't participate in practice at all during the week, which is usually not a good sign for a player's designation for a Sunday game.
However, Ravens head coach John Harbaugh hasn't ruled out the possibility of the star signal-caller suiting up against Green Bay.
"I'd say he has a chance of playing on Sunday," said Harbaugh per Sports Illustrated. "If he starts feeling good, and we'll check him out prior to pregame, we'll see where we're at. But if not, we've got Tyler [Huntley], and he'll be ready to go also."
Tyler Huntley would get his second start for the Ravens
It may come down to a true game-time decision before we officially know whether or not Lamar Jackson is playing against the Green Bay Packers. However, the latest news doesn't exactly sound promising.
Baltimore will once again turn to backup quarterback Tyler Huntley if Jackson can't go.
The Ravens signed Huntley as an undrafted free agent in 2020. The former University of Utah standout filled in admirably when Jackson went down early in the loss to the Browns.
Huntley completed 27 of 38 pass attempts for 270 yards and one touchdown. He also added 45 yards on the ground.
If the 23-year-old South Florida native gets the start, it will be his second of the season (and his NFL career). Huntley started against the Chicago Bears in Week 11.
The second-year quarterback threw for 219 yards, zero touchdowns, and one interception against Chicago. Although Huntley didn't throw any touchdowns, he completed over 72% of his passes and made a clutch throw on the final drive to set up the game-winning touchdown. He also added 40 rushing yards.
Tyler Huntley is the perfect backup for Lamar Jackson. He's athletic and can make enough throws to keep the Ravens competitive.
Baltimore's playoff chances rest on Jackson's health
Even though John Harbaugh and the Baltimore Ravens have the utmost faith in Tyler Huntley's abilities, he's not Lamar Jackson.
The Utah product is much better suited to run Greg Roman's offense than Robert Griffin III or Trace McSorley were, but Jackson is a former MVP.
If No. 8 doesn't play against the Green Bay Packers, it would be just the third time he's missed a start in his four-year NFL career. It would be the first missed start due to an injury, though. Jackson came down with an illness before the other two games.
The Ravens are currently 8-5 and holding a slim lead in the AFC North. The Cleveland Browns and Cincinnati Bengals are just one game behind Baltimore at 7-6. With the division race so tight, every game is of ultimate importance for this football team.
Injuries have completely decimated the Ravens' roster, dating back to training camp. J.K. Dobbins, Marcus Peters, Ronnie Stanley, and Marlon Humphrey are just a few of the key players this team has lost to season-ending injuries.
The entire AFC is a crapshoot right now, so every week is a must-win from here on out. As banged up as the Ravens are, their only hope to make a deep playoff run is a healthy Lamar Jackson playing like an MVP.
Update: The Ravens have ruled Lamar Jackson OUT of Sunday's game against the Packers.
All stats courtesy of Pro Football Reference.